DECATUR — It's not every day a published author who was once a student there comes to your school.
Emilie Kefalas, a "proud alum," as she puts it, of Holy Family School, visited on Wednesday to read her newly published book, "A Capitol Dream" and talk to students about pursuing their own dreams.
"We're so proud of you," the Rev. Joe Molloy said after she noticed his quiet entrance into the room where she was talking to fourth- and fifth-graders. "How neat is it to know that someone who sat in the same seats you're sitting in is now an author?" he added to the students.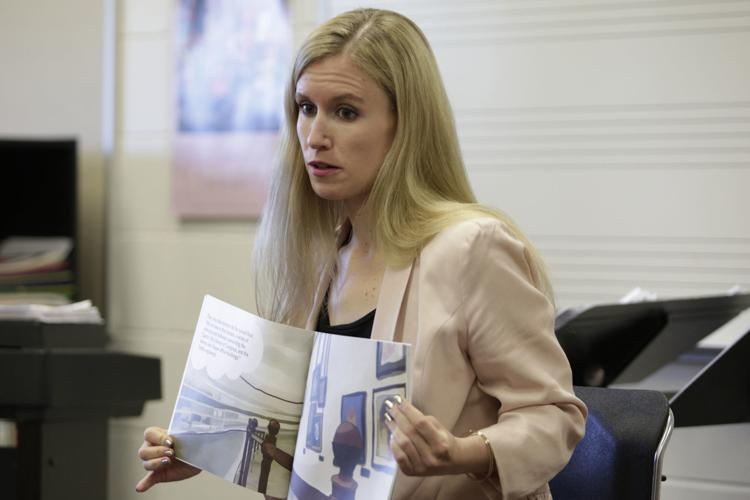 "Pretty cool" is the reaction Nora Jerabek had. The fourth-grader said she enjoyed the book and was looking forward to learning more about the places and people mentioned in it, but knowing Kefalas was a student at the school only a decade ago was the most interesting thing.
When she was a student at the school, Kefalas said, she doodled and drew and wrote things just for herself, realizing at a young age that she wanted to be a writer and illustrator someday.
"A Capitol Dream" has been in the works since 2015, when she'd written and illustrated a first draft and was in search of a publisher. She found one in Palmetto Publishing Group, and the book is out and available online from Barnes & Noble and Amazon.
"Between the revisions in the story and the revisions of the illustrations, because they're all real people and places and you want to make sure that they are as close to life and detail as possible, it took a few years to get those complete," Kefalas said. "As those became complete, the story evolved to meet those illustrations. They went in tandem."
You have free articles remaining.
Kefalas interned in U.S. Rep. Rodney Davis' office in Washington, D.C., in 2014, and as a history buff, she loved being on Capitol Hill. One of her responsibilities was to give tours to constituents who visited Davis (R-Taylorville). In "A Capitol Dream," a young tour guide named Emilie — "That's not a coincidence," she told the Holy Family students with a laugh — dreams that she gives a tour to George Washington, Frederick Douglass and Elizabeth Cady Stanton.
One of the staff members who was influential when Kefalas was a student was Colleen Richardson, who was then her religion teacher. Kefalas said Richardson taught them to pursue their dreams, but also to live their faith, and find ways to combine their God-given talents and dreams with Christian service.
Now she's in student support services, Richardson said, helping students gain the skills to realize their hopes and dreams.
"We have them write down what are their short-term goals, and then we ask them to think about long-term goals," she said. "We talk about how the things they do now, the decisions and choices we make and how we prepare in school, help us prepare to make those dreams come true. And I've been telling them that I'm so excited for Emilie to come back, because I remember her sitting in class and talking about how she wanted to write and how she wanted to do plays, and telling her that I knew that someday I was going to read about her in the newspaper and see her on TV and that she'd be doing amazing things."
Kefalas is an external communications coordinator for Disney Parks, Experiences and Products in Glendale, California, but she is still writing and illustrating, working on creative projects constantly. One of her newest projects is short animated films, which she's working on with friends from Savannah College of Art and Design. She's a 2013 graduate of the college.
Coming home to Decatur in the fall was especially important to her because California doesn't have fall, she said, and she loves fall.
"Tomorrow we're going to The Great Pumpkin Patch (in Arthur)," she said. "There are other pumpkin patches, but they're not that one."