DECATUR — One of the most important lessons of Camp Invention is to keep trying when something doesn't work the first time, and Micah Allworth takes that lesson to heart.
"The controls don't work the way I thought they would," Micah said, while working with a remote-controlled robot. "I'm going to have to figure out how they do work."
Micah, who's going into sixth grade in the fall, likes making things, so when his parents suggested Camp Invention, he was all for it, he said.
DECATUR — Brenda Salogga's brother, Randy Richter, was a proponent of environmentalism.
Camp Invention is meeting at the Lutheran School Association this week, giving incoming first- through sixth-graders five days of experimenting, creating and learning that science isn't always test tubes, white coats and laboratories.
"We were looking for something to fill that (science, technology, engineering and math) spot anyway," said Brenda Salogga, one of the LSA teachers helping to run the camp. "We're doing more and more STEM. At the high school level, they've been doing (camps) for a couple of years."
"We wanted to do something for the younger kids," added K-8 principal Joel Witt. "We have a lot of parents out there wanting to do something with their kids that's education-based. We have great offerings in Decatur of vacation Bible schools over the course of the summer, and art camps that go on for junior high and high school, and this came along and caught our attention right away."
Camp Invention is a national organization that provides curriculum and guidance and almost everything a school needs to put on a summer camp, Salogga said.
"It gave us a really nice structure, rather than us having to re-invent the wheel," Witt said. "It's for campers right at our age range, K-6."
The purpose of the camp, Witt said, is not only to give the kids fun and interesting things to do, but to teach them the process of thinking through things. Too often, kids hit a roadblock or try something that doesn't work, and figure that's the end of it. Learning that failure is part of the process and using it as a stepping stone is a life skill they need, he said.
You have free articles remaining.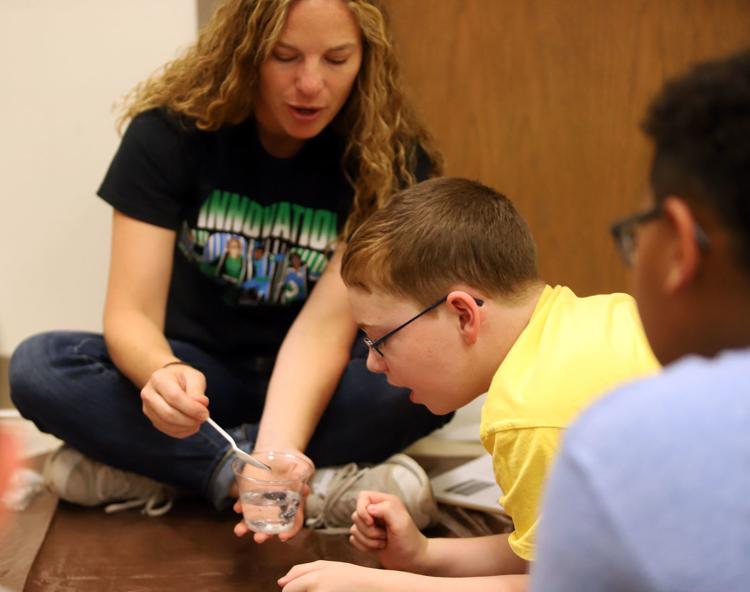 Mallory Harrison, who's going into fifth grade, was part of a group who were taking the plain robots and decorating them with googly eyes and stickers and bright-colored feathers for hair.
"We're just trying to make them pretty," she said, laughing with two friends.
High school students were on hand to help, and each age group, first through third grades and fourth through sixth grades, had a teacher as well as helpers.
The younger students spent Monday morning becoming superheroes and creating their costumes, decorating their capes with items that fit their superpowers and character.
Myra Billingsley, going into her junior year at LSA High School, is helping out and said one of her main goals is to connect with the kids. She helps redirect when they start losing focus, makes suggestions if they run out of ideas, and generally just encourages them.
"I'm trying to be the 'big sister' instead of the whiny teenager," Myra quipped.
The camp's theme is "Innovation Force," and includes a room full of discarded things like cereal boxes and egg cartons and other such items, donated by parents, which the kids can use to make new things. Part of Camp Invention is learning to "upcycle," Salogga said.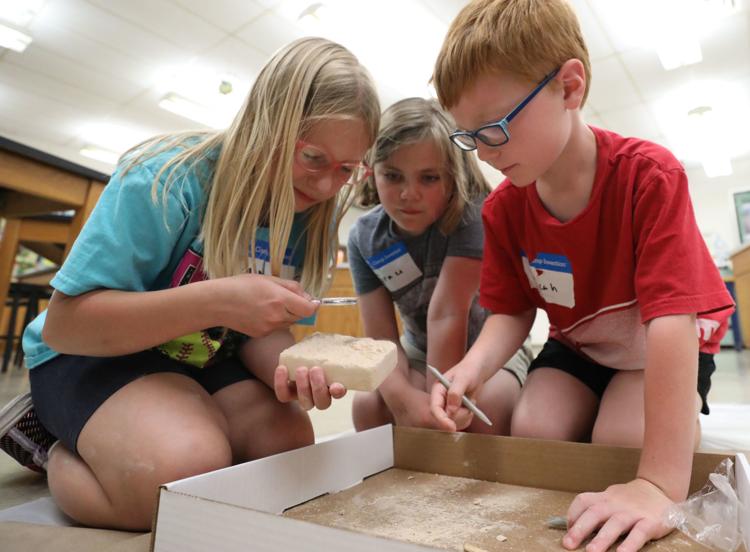 The biggest goal, Witt said, is to learn to apply the skills of thinking things through and of perseverance. That's the basic scientific method, experiment, fail, try again and keep trying, which is what he hopes the children will learn.
"When we look at what we're doing with our kids, we always looking at it (asking) 'Is it process-based,'" Witt said. "This is a great way of moving our kids and our teachers, too, in the direction of 'Science can look like this.'"