Taught by the Rev. Steve Hohm, associate pastor at Life Foursquare Church, and teacher Joe Braun, the classes complement the after-school robotics club and provide students with the basic technology skills they're going to need in the future.
"The baseline for (the curriculum) is Arduino," said Superintendent Randy Grigg. "And it's a structured format. I don't know of any other school in the area that's doing that."
Arduino is a micro-controller, which requires students to plug wires into sensors and write programs in the computer language C Plus, Braun said.
"My class is also programming in JavaScript, so we're doing two different computer languages," Braun said.
He said they're exposing students to STEM — the term used for science, technology, engineering and math, a major educational focus — "but we're actually calling it STREAM," to incorporate religion and the arts.
"We're just trying to get them ready for the world of technology," he said. 
Students are learning coding and how to apply their knowledge, how to create things from the ground up, Grigg added. Younger students have robotics classes weekly, learning to build and program robots, while the older students are eligible for the coding classes.
Arduino comes with 33 lessons and the students have already gone beyond that, and taken several concepts they've learned and combined them to make their own projects, Braun said.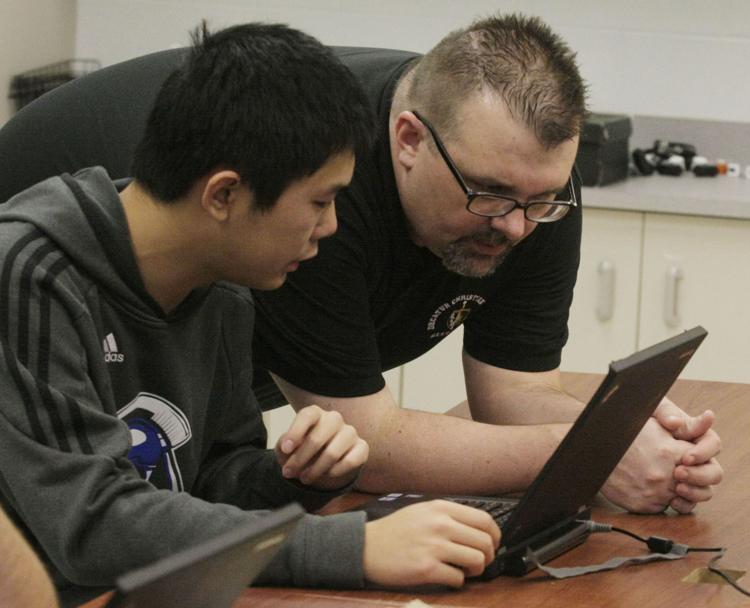 "What my kids did at the end of the lessons, they were given the assignment to build a project," Braun said.
Bryce Shew wrote a Bible quiz, which has an LED screen, while Nathan Weaks built a lockbox that has several different entry points and a motor that unlocks the locks. Wayne Zhao's project can measure the distance between a vehicle and an object, and can alert the driver when he or she is getting too close to it.
Along with learning the coding and programming, the students are also learning problem-solving skills. Zhao has only been in the United States for three years, moving here from China, so there are some language barriers to overcome. The students have figured out ways to rephrase things and Zhao's English language skills are pretty solid for the most part.
"One of the issues we've had is that all the wires are color-coded, and Nathan is color-blind," Grigg said.
"I usually just ask Bryce or Wayne what color things are," Nathan said with a grin. "It's more the small stuff that's more difficult to see. I can tell the difference in the wires, but when it came to the resistors, you can't see the colors on those."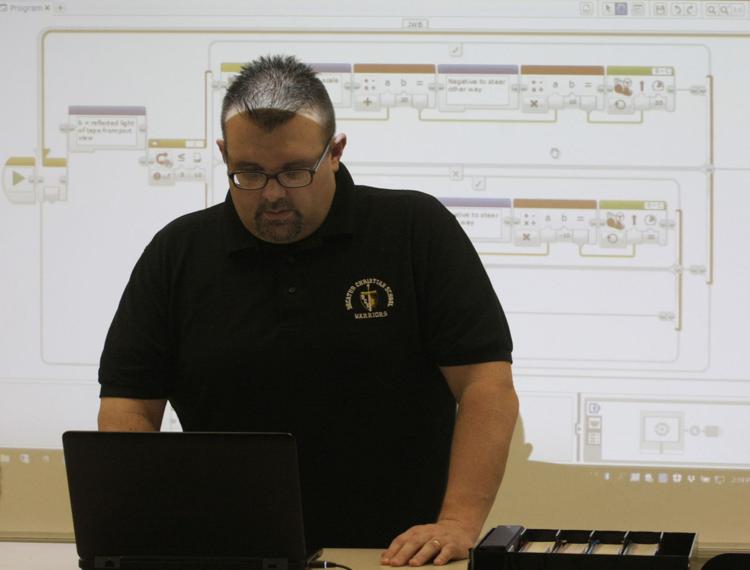 One way to overcome that difficulty was to give Nathan a box with each item separated into compartments, with little slips of paper in each compartment identifying the items, Braun said.
"They would help him tell what they were, but we organized them for him," Braun said.
Nathan has considered computers as a career, but he enjoys coding and that's why he took the class.
Bryce is thinking of computer programming and possibly designing robots.
"I've always liked computers and messing around with them," Bryce said. "I've kind of grown up with it, because my dad's an electrician. It's kind of come as a second nature and it's fun doing it."