DECATUR — Marley Schoneman already knows what career she'd like to pursue and is preparing now.
The high school junior is taking the revamped construction trades class at MacArthur High School and learning the basics of being an electrician. The class spends several mornings a week working on a Habitat for Humanity house to get hands-on experience.
"I've been supervising the people doing the wiring and electric work and stuff," Schoneman said. "We've been wiring the house but not connecting it (to a power supply). We've already started hanging the fans and running wire to that."
Schoneman has worked with her dad on construction projects, she said, and knew early on she wanted to do that sort of work as a career.
The trades have been expecting a shortage of qualified workers for some time now, said Mike Goode, recording secretary and organizer of the Sheet Metal, Air, Rail and Transportation union. At one time, there was a lot of competition for slots in the apprenticeship programs, but for the most recent generation, students have gravitated to a college track and interest in the trades fell off. With so many skilled trades workers reaching retirement age, the trades are working hard to recruit young people to replace them.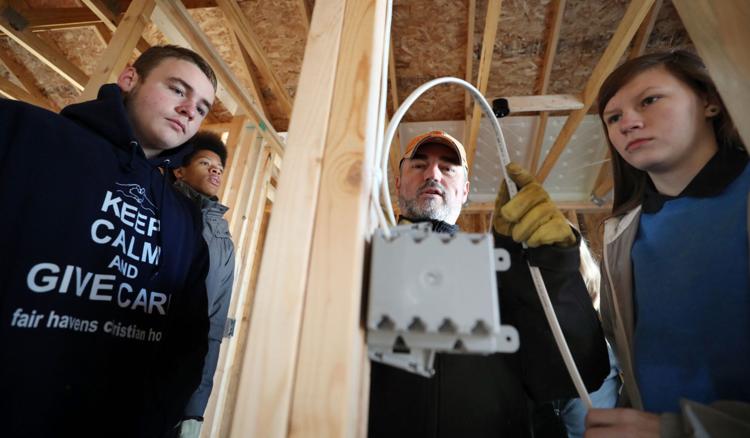 He spoke to students in the construction trades class at MacArthur recently, one of a series of trade union representatives to visit to answer students' questions and acquaint them with the opportunities available. Apprentice steelworkers, for example, can work during the day, earning a paycheck, while going to school at night at no charge to them, and at the end of four years can be a certified journeyman.
In the past, said teacher Ed Walton, the building trades class constructed a house at the district's expense, and then for a few years, the class was suspended altogether. This new class, which will also be added at Eisenhower High School next year, is more focused on introducing students to the trades and giving them the exposure to help them decide what they want to do. Unions are also actively recruiting minority and female students.
According to Forbes magazine, 44 percent of all workers in the skilled trades are at least 45 years old, and 15 percent of them are 55 to 64 years old. The jobs are more physically demanding than other types of work, and that means that older workers in the trades can't necessarily put off retirement. Electricians, plumbers, mechanics, welders and other skilled trades are always going to be necessary, and someone has to replace the people who are retiring.
The Habitat house the students are working on is a Dennis School project. Students at Dennis raised money to get the house started, and Habitat will find a family who will eventually own it.
"We're doing electrical work, some of the carpentry work, hanging drywall, and even the things that require a professional, we're partnering with those professionals for the students to come alongside and learn how it works," Walton said.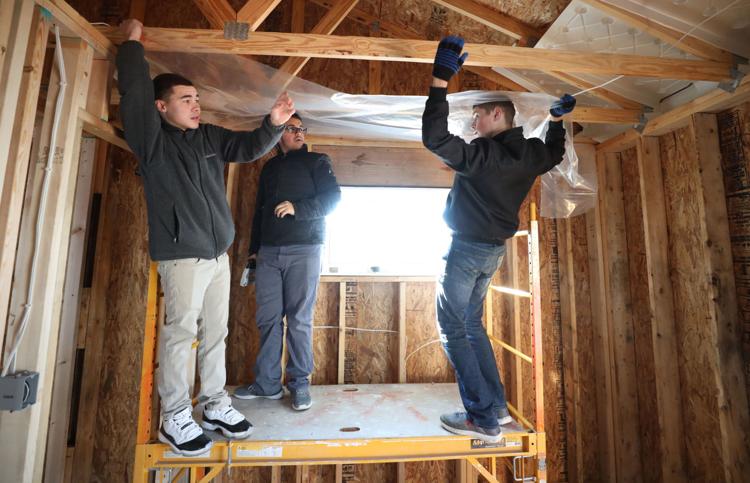 "The idea of the program is, when they're finished, they can make an informed decision (about what they want to do)," he continued. "We've also partnered with the union trades council, and each Friday, the trades are coming in and introducing students to their different trades, talking about what it takes to get into those trades. We'll be going out to their training facilities and getting some experience there."
Like Schoneman, sophomore Gary Trotman worked with his dad's guidance and found his interests connected with becoming an electrician.
"Out of all the elective classes, this is what I wanted to do. I want to become an electrician after high school," he said. "I'm in Scouts, so I took the electricity merit badge and then I took a class out at Richland (Community College), and I'm kind of set on that path. It's what I want to do."