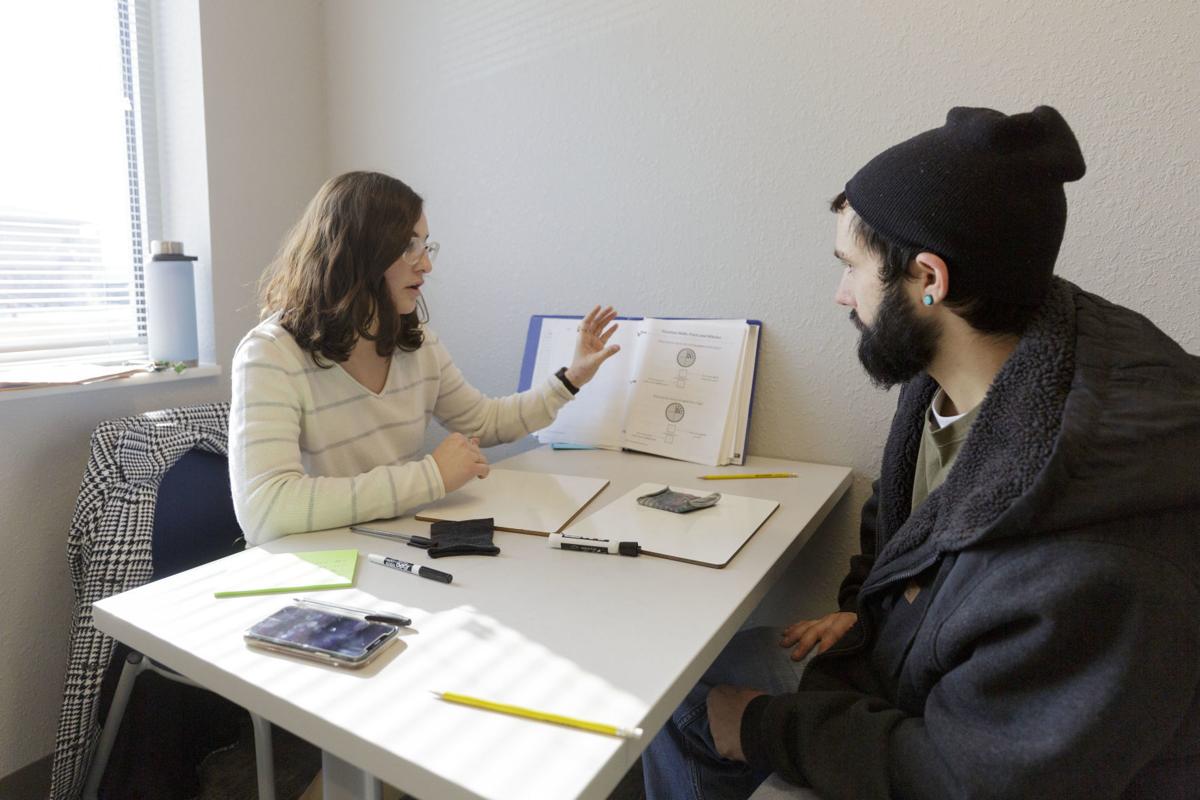 DECATUR — Julie Pangrac remembers one of her students saying it. 
"If I just follow the rules, I could solve my problems."
The student, an inmate at the Macon County Jail, was talking about a Project Read Plus math problem he was working on. As his tutor, Pangrac used the moment to connect the math problem to life's problems.
Pangrac is the director of Project Read Plus. The program provides adult education tutoring in reading and math. Although the tutors are known for teaching and assisting among the community, they are now going to the jail and Crossing Healthcare Recovery Center to help others who need it as well.
"We began to see that doing math was a way to practice many of the character skills, many of the things they have struggled within their lives," Pangrac said. "Teamwork, patience, not giving up, asking for help, giving help, all the things that will make them good employees."
The tutoring, especially the math lessons, have provided success in students who never thought the could find it. "There are students who would never have thought that they would have been able to do the math or enjoy it," said Shannon Mittleman, director of education at Crossing Healthcare. "They would have thought it was impossible."
Project Read Plus provides tutoring in reading and math. "Along with whatever it takes to reach your goal, which might be time management, how to study, how to test, all of the different things that go into getting trained, getting a job, graduating from Richland, getting certificates," Pangrac said.
A contract for health services was developed in the Macon County Jail 18 months ago. In May, they introduced the Restore Program for men with substance use disorder through funding from the Howard G. Buffett Foundation. The clients are given substance use treatment as well as an educational element. They identify people who would be a good fit for the program based on their history, both legal and medical history. The group meets for 40 hours a week.
"We get them more job ready," said Tanya Andricks, executive director of Crossing Healthcare. "But we also provide the substance use treatment to help them deal with some of the behaviors and thought patterns that may underpin addiction."
The program directors witnessed self esteem could grow through mastering of tasks such as math facts. "What we found is that it has practical purpose" Andricks said. "It builds up people who otherwise haven't been built up academically."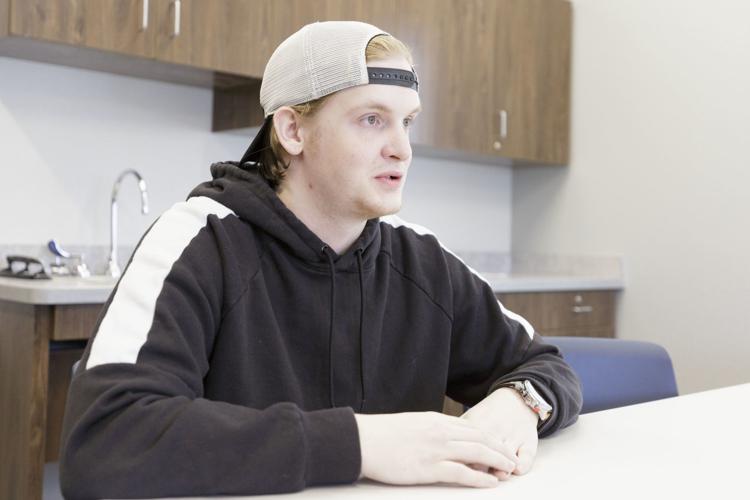 Ryan Stogner, 22, has been part of the program for nearly five months, beginning with the Restore program. High school was a challenge for Stogner. He said drugs were a part of his life since he was 13 years old. He couldn't find any resources available for him.
"I need my education," he said. "I didn't see it as important when I was younger."
Stogner said he tried living on his own, but ended up with the same results. "I would get arrested or go back to drugs," he said. "I know this is my best option for success."
Project Read began 36 years ago. The program originally focused on reading. "But as we helped people improve their reading, we realized they were still hitting a brick wall," Pangrac said.
The directors learned most jobs require some level of math.
Mittleman worked in the education system before she began with Crossing in 2019. Adult education was not a focus in her previous career. She introduced future teachers to Project Read as a class project and was enlightened. "After hearing the stories of the clients who came through and their experiences in schools, how they got left behind, how they were treated in schools when they couldn't read, the class sizes being too big to get the help they needed," Mittleman said. "They got all the way through school. But that impacted their behavior, it impacted their entire life."
Project Read Plus created their own curriculum to fit student needs. "The students we have worked with are incredibly different," Pangrac said. "A lot are lacking very basic skills." According to Pangrac, an adult education student is estimated to gain one year of education in 100 hours of tutoring. "But our students are gaining four to five grade levels in less than 60 hours of tutoring," she said. "It is the intensity and the one-on-one and our focus, starting at the ground up."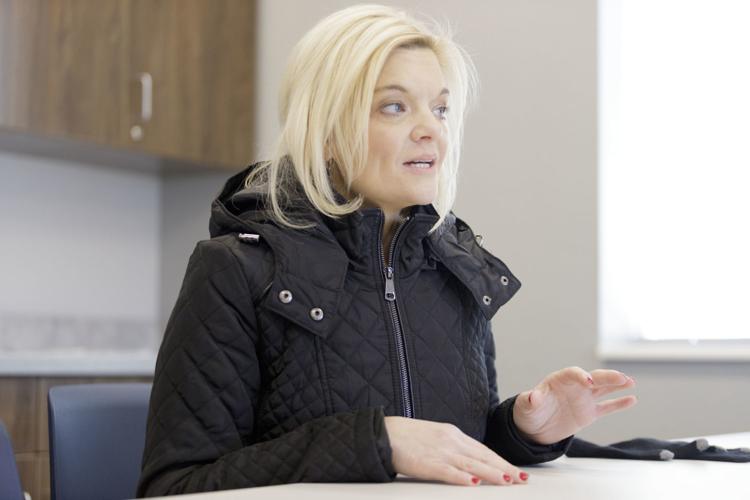 The Restore Program utilizes Project Read Plus in working with inmates. Many inmates will move to the Crossing Recovery Center. The treatment facility provides transitional housing and other opportunities. "They want to extend their chances of success," Mittleman said. "They finally have a chance."
According to the directors, the inmates' hopes and confidence grow as they progress through Project Read Plus. "They feel maybe there's other options that they didn't feel before," Mittleman said.
Danielle Morgan, 21, is a tutor and has witnessed the ambition and drive in her students. "They work hard," she said.
She has also seen the challenges they have faced. Therefore, her approach to teaching is different than what would be seen in a classroom setting. "I'm meeting the clients where they are at," she said. "If they don't know whole numbers or rounding, that's where we start. It's their pace."
The program has already begun to see positive results. According to Andricks, the Restore clients at the jail continue progressing through programs offered at Crossing Healthcare or Project Read Plus.
Stogner meets with a tutor for an hour twice a week at Crossing. His goal is to earn his GED. "I struggle with math," he said. "I'm pretty well rounded on everything else."
Study skills he has learned include the use of repetition, showing your work and flashcards. When he began the program, Stogner said he was unable to complete five basic math problems, including addition, subtraction, multiplication and division, in a timed test. "Now I'm doing algebra," he said. "I've come a long way in a short amount of time."
The one-on-one attention has helped him advance. "If you are struggling with something and need to take a month to practice, they will take that month to practice," Stogner said.
Stogner continues to progress. He said he is motivated to improve. "It helps me with my confidence," he said. "And I know it's okay to ask questions."
---
Kids are encouraged to improve literacy skills 
Willfong_Mikenna 1 1.3.19.jpg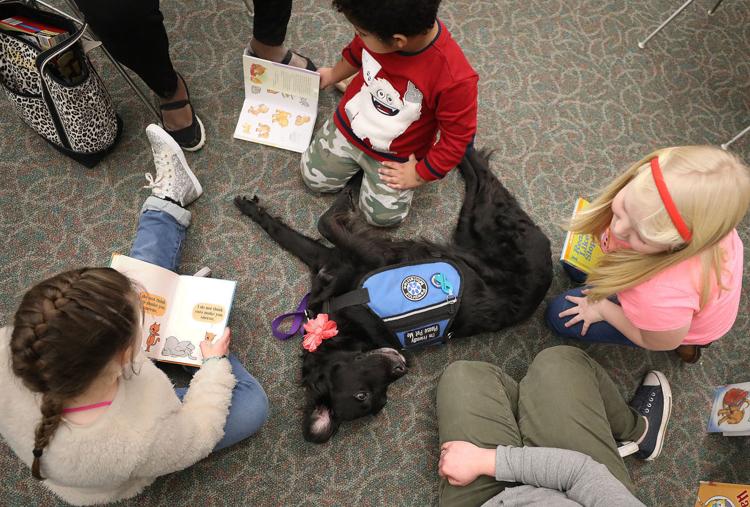 Willfong_Mikenna 2 1.3.19.jpg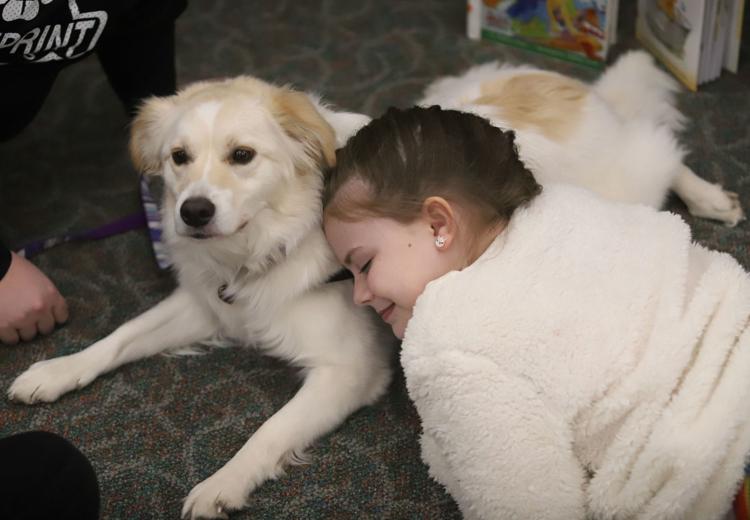 Enzo 1.3.19.jpg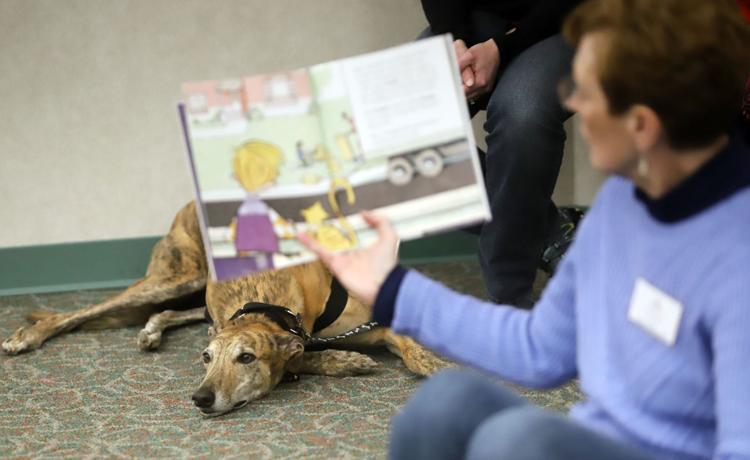 Steele_Emily 1.3.19.jpg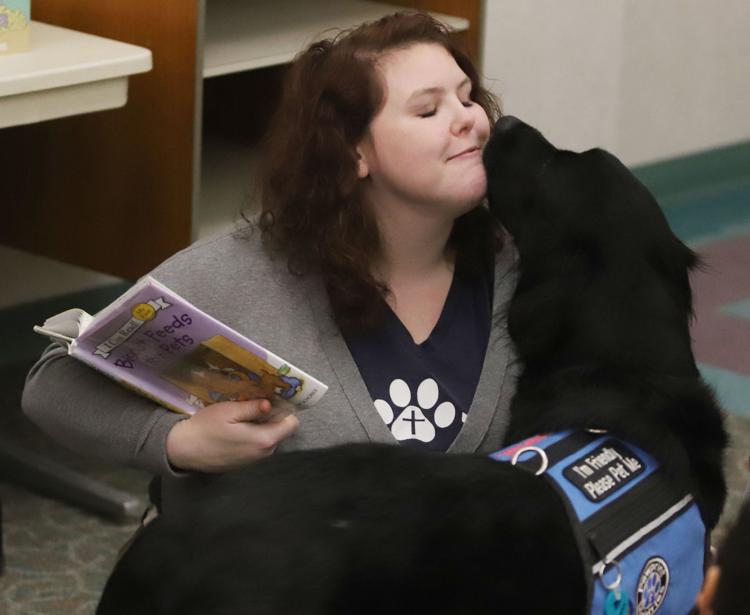 PawPrint Reading 1.3.19.jpg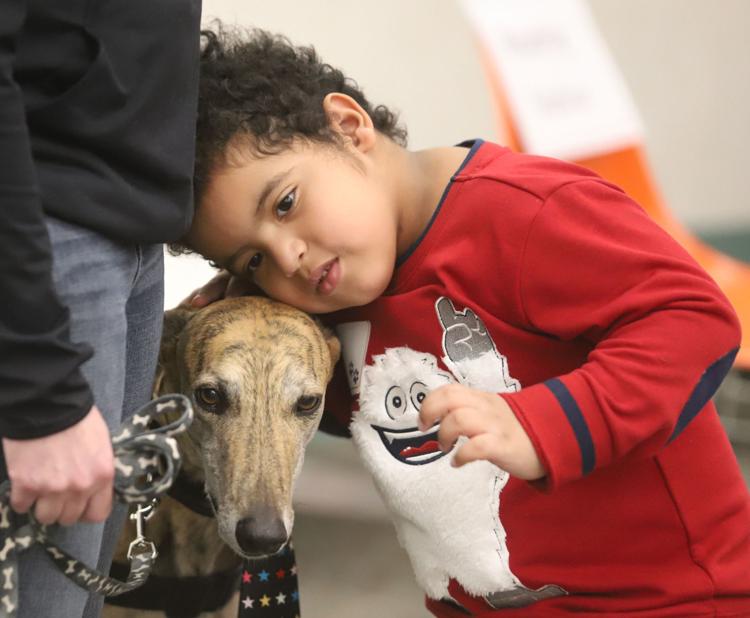 PawPrint Reading 2 1.3.19.jpg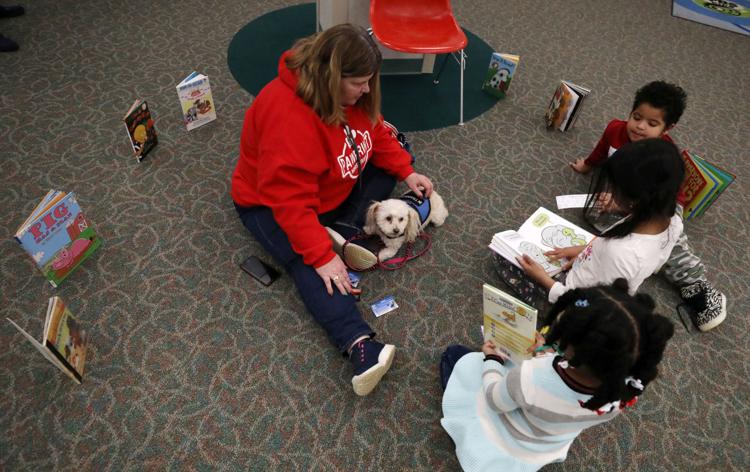 PawPrint Reading 3 1.3.19.jpg
PawPrint Reading 4 1.3.19.jpg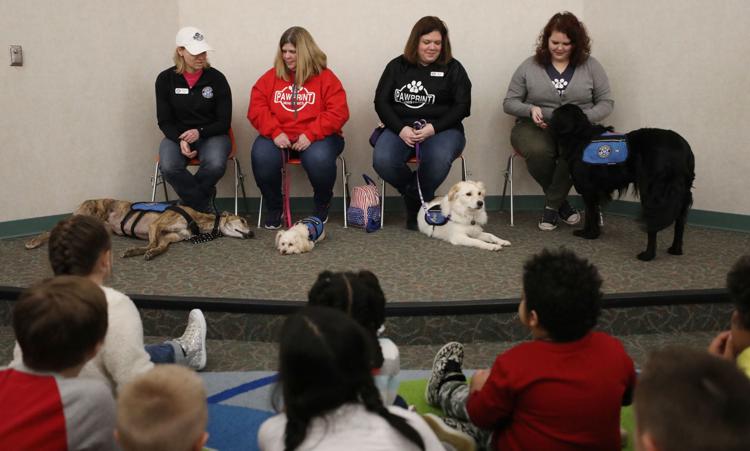 PawPrint Reading 5 1.3.19.jpg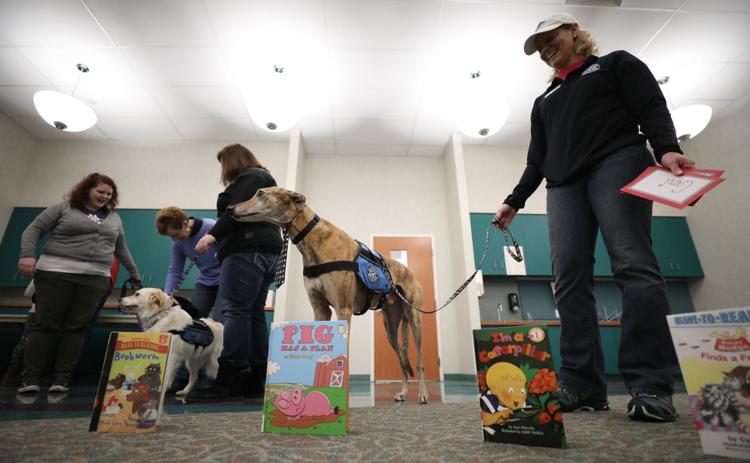 PawPrint Reading 6 1.3.19.jpg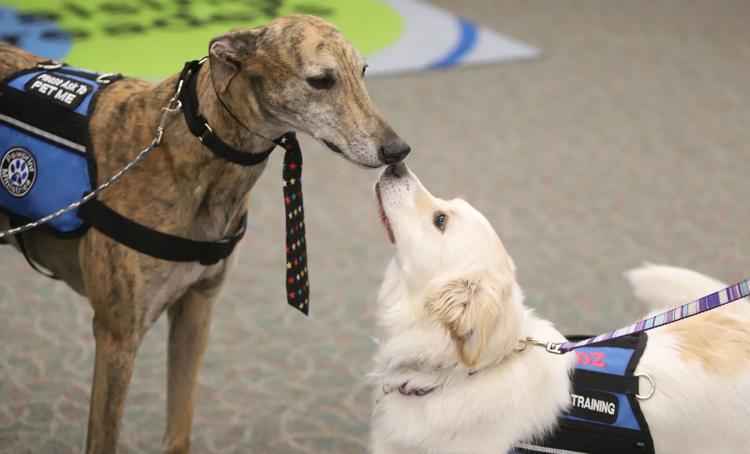 PawPrint Reading 7 1.3.19.jpg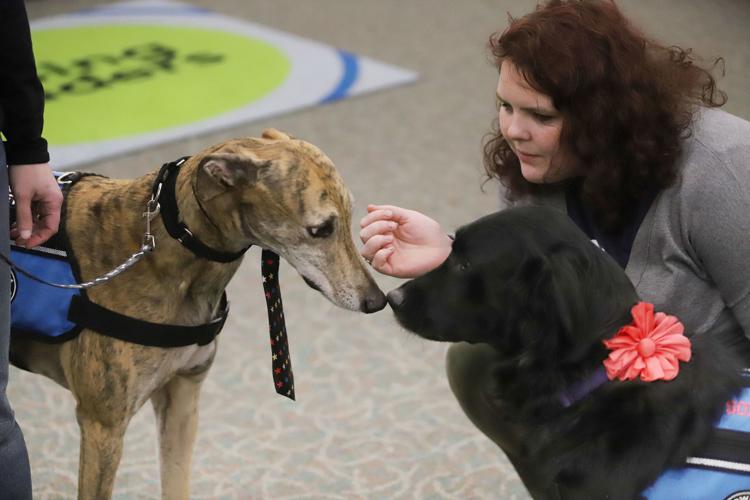 PawPrint Reading 8 1.3.19.jpg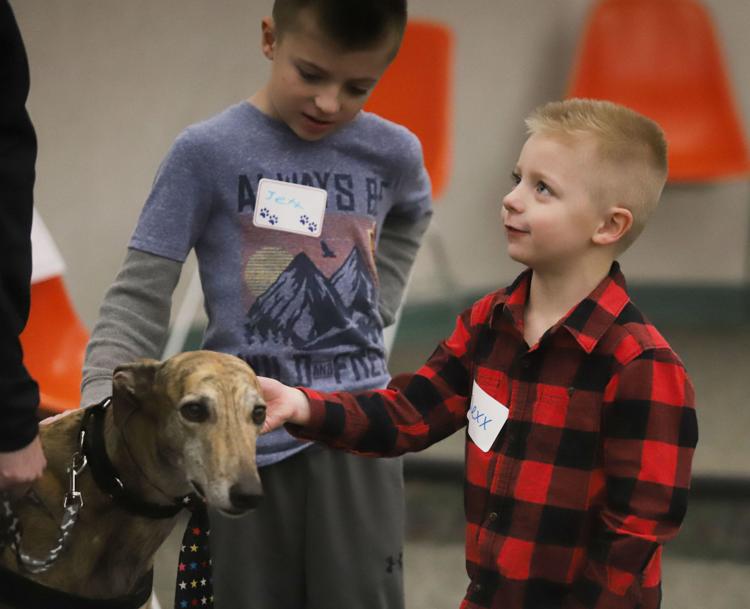 PawPrint Reading 9 1.3.19.jpg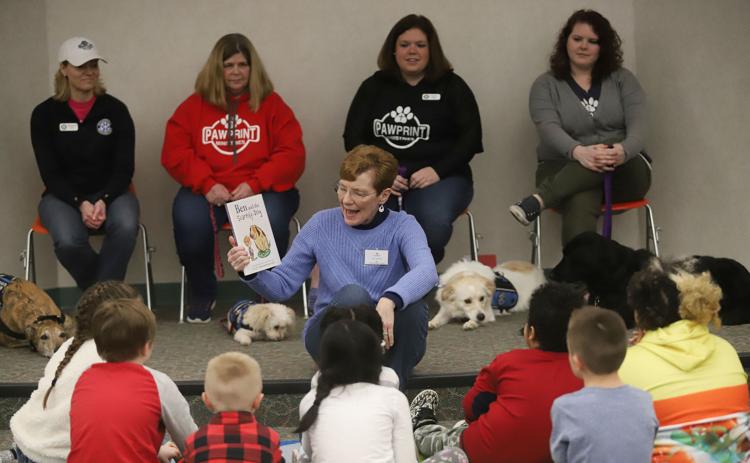 PawPrint Reading 10 1.3.19.jpg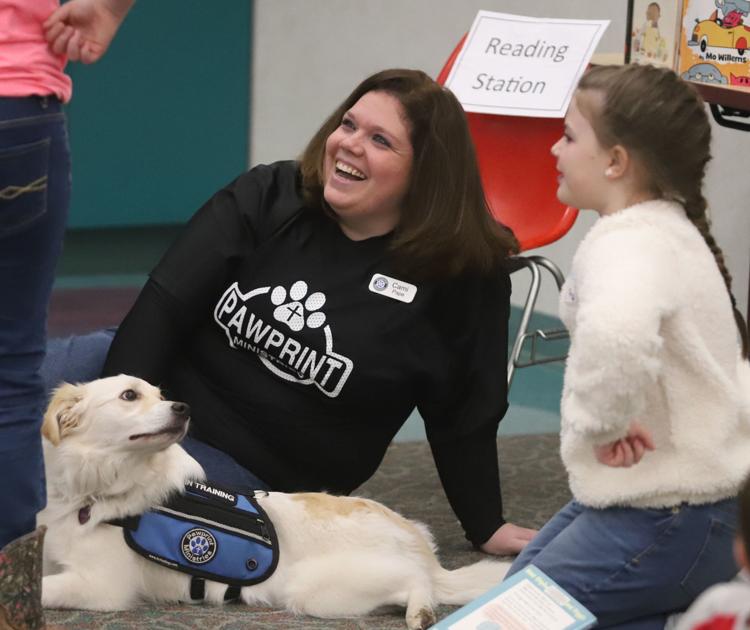 PawPrint Reading 11 1.3.19.jpg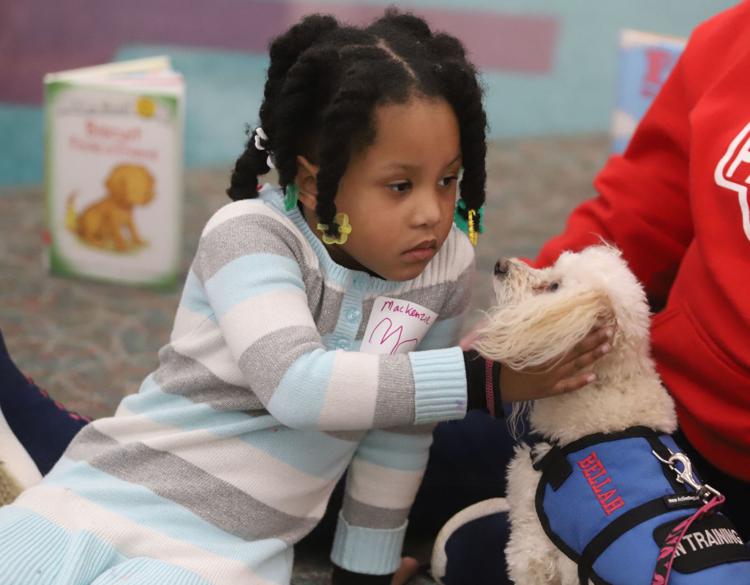 PawPrint Reading 12 1.3.19.jpg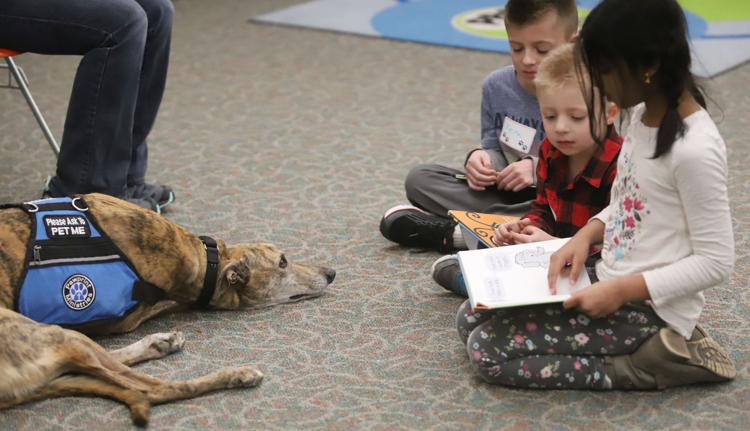 PawPrint Reading 13 1.3.19.jpg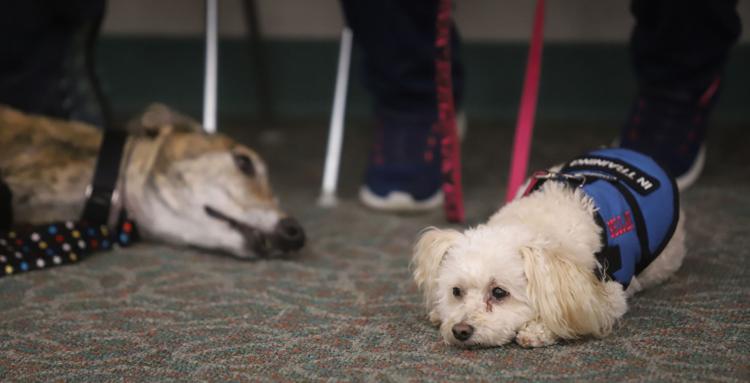 PawPrint Reading 14 1.3.19.jpg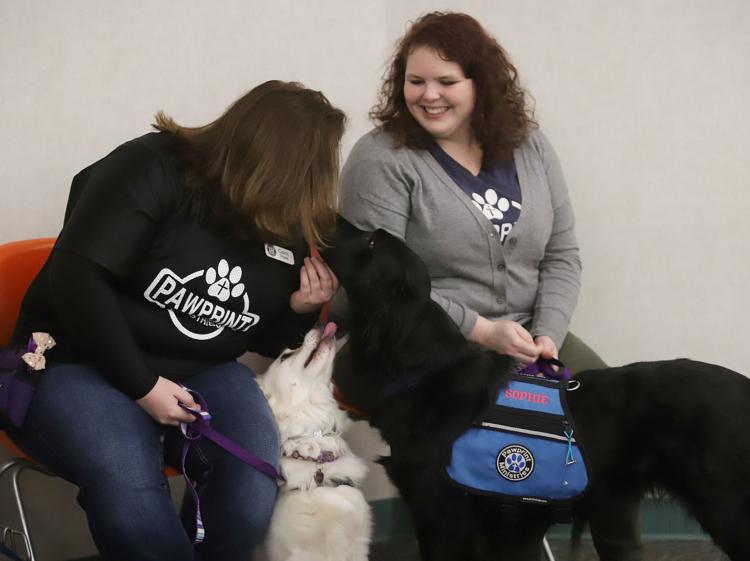 PawPrint Reading 15 1.3.19.jpg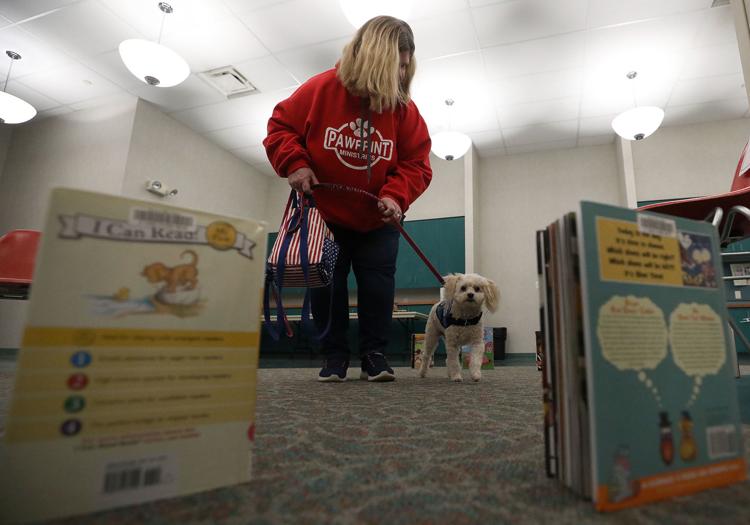 PawPrint Reading 16 1.3.19.jpg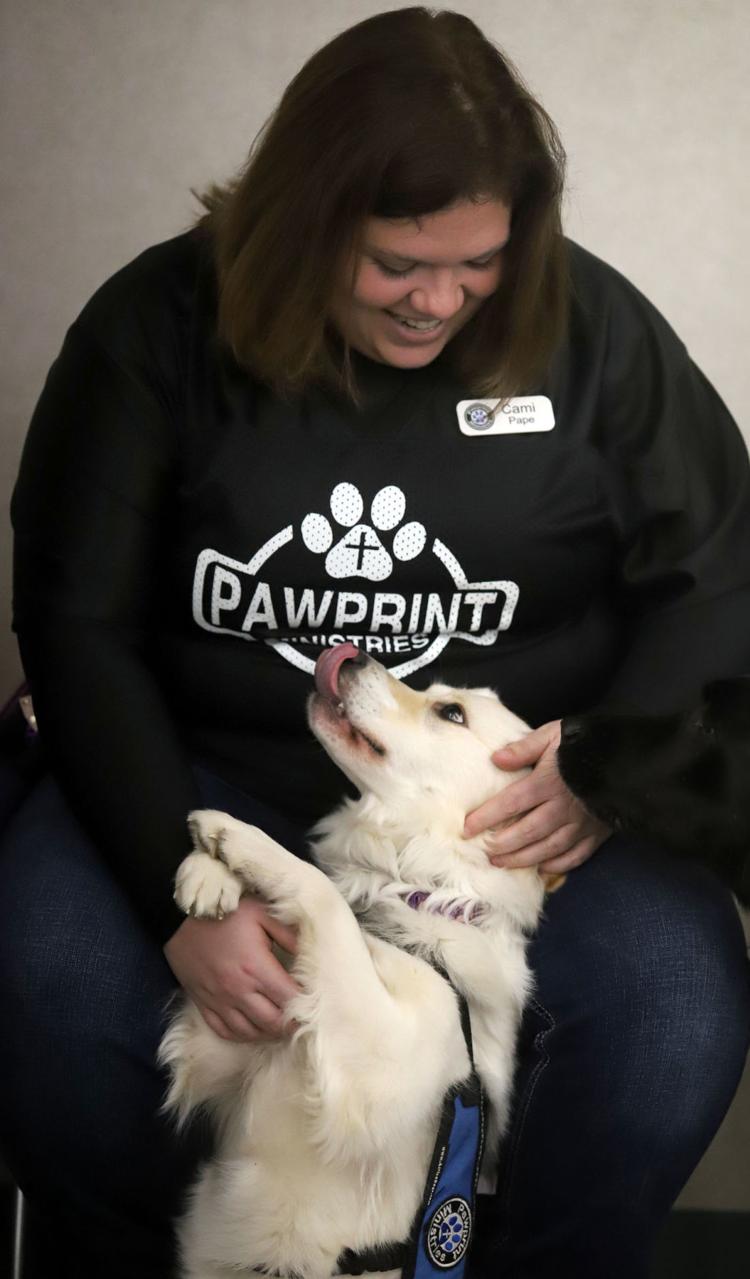 PawPrint Reading 17 1.3.19.jpg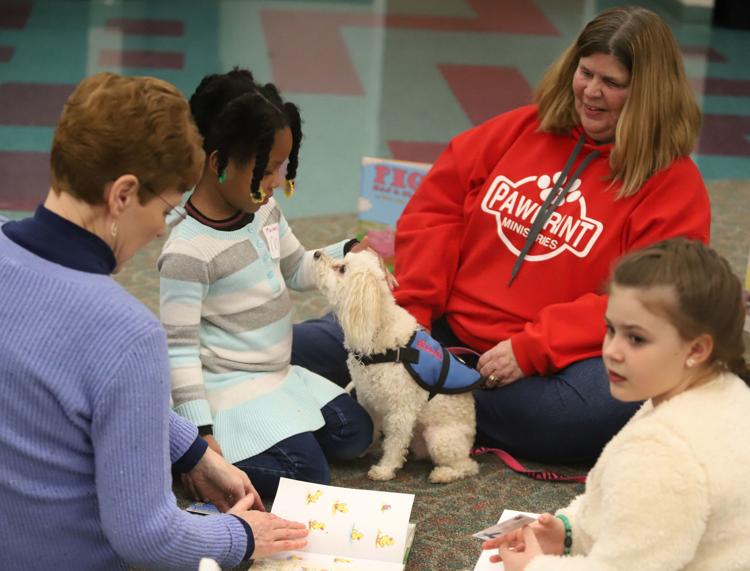 PawPrint Reading 18 1.3.19.jpg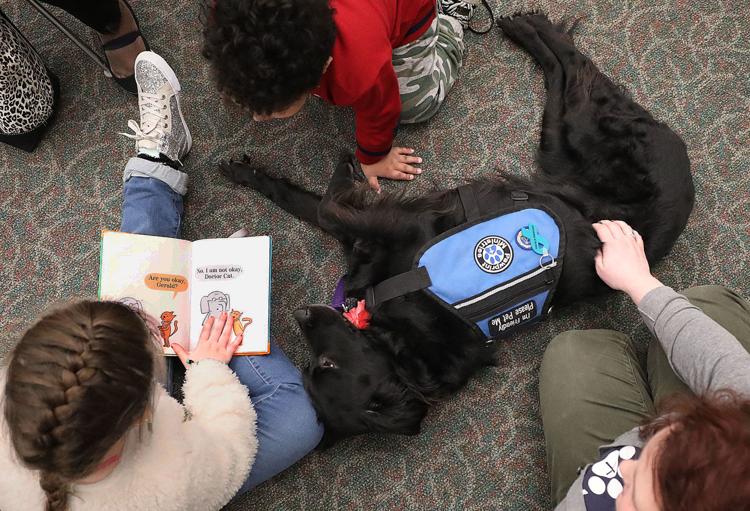 PawPrint Reading 19 1.3.19.jpg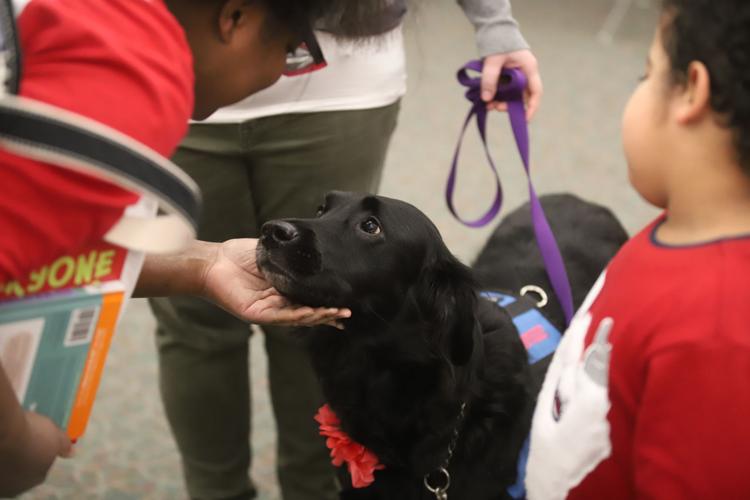 Contact Donnette Beckett at (217) 421-6983. Follow her on Twitter: @donnettebHR
Be the first to know
Get local news delivered to your inbox!