DECATUR — Mahoganie Johnson Cook came into the room at HSHS St. Mary's Hospital with a cheerful greeting to the patient.
"Hi, Nickie, I'm here to take your vitals," she said, before approaching the bed and realizing Nickie was unresponsive. After a check of Nickie's pulse, she pushed the alarm above the bed, calling, "Courtney, come here!" and began chest compressions.
Courtney Maner entered the room seconds later and took over the bag mask to pump air into Nickie's lungs. When Nickie remained unresponsive, they called for Kyla Jones, who brought the automated external defibrillator.
Nickie is a mannequin used for training at St. Mary's. All three girls are soon-to-be seniors at Eisenhower High School who have completed their certified nurse assistant training and passed their exam. They are working at the hospital this summer as part of the Decatur School District's Career Pathways program.
The first group of students in the Pathways program were part of a signing ceremony in May when they accepted offers of employment from Caterpillar Inc. after completing the first two-year program. Ashley Grayned, director of innovative programs, said the nursing program is modeled after that one.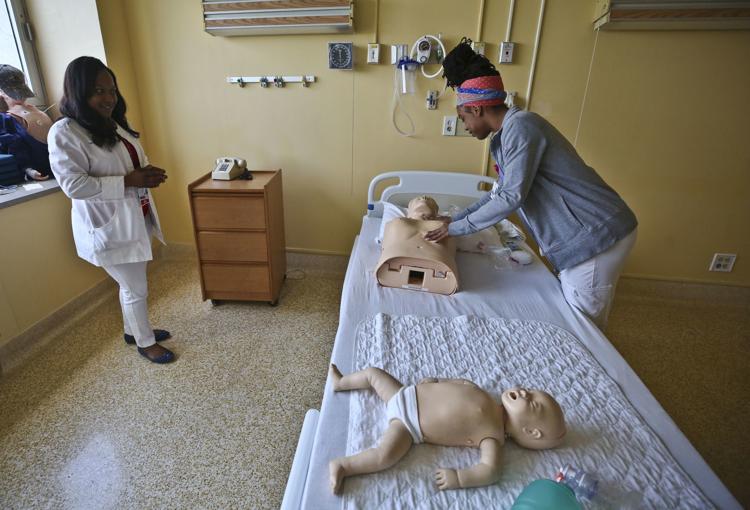 "Students had to apply, go through the interview process, drug screening and background checks even to be considered," Grayned said. "In May they completed a full year of certified nurse assistant training and tested to be certified as CNAs and were hired by St. Mary's."
The three girls are getting paid to work full time this summer alongside nurses and doctors and spending time in various departments to get as much experience as possible, she said. In the fall, they'll go to school half a day and work half a day.
St. Mary's is delighted to participate, said human resources director Melissa Tipton. Not only does it offer the students job experience and tuition assistance when they go to college, but the hope is that they'll come back to St. Mary's during school breaks and after they graduate. It's a "grow your own" way to train future employees from a young age so they'll understand St. Mary's and fit in immediately.
You have free articles remaining.
Mahoganie wants to become a registered nurse and said her mother, who is a nurse, is her role model.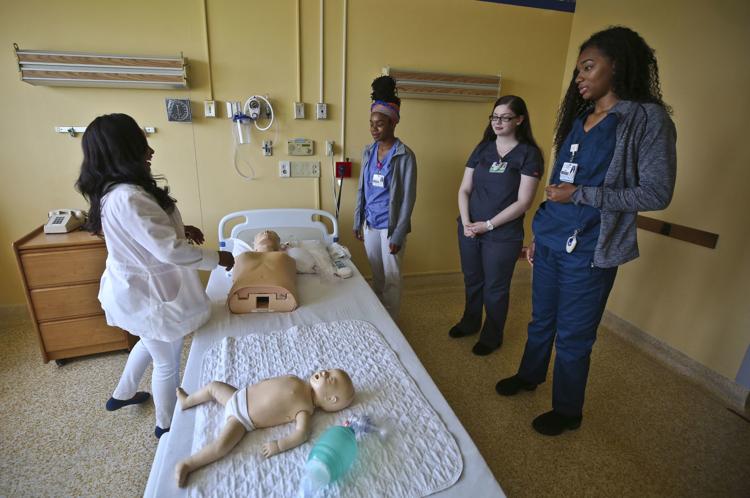 "I'm just so grateful for this opportunity," she said. "We're blessed to be able to do this."
"I like helping people," said Kyla, whose ultimate goal is to get her nursing degree and eventually work in a Third World country in healthcare. "The CNA class was like a path. You have the opportunity to do (the CNA training) while you're still in high school and it gives you an opportunity to find out, do I really want to do this? I had never seen half the things I know now before taking this opportunity."
Courtney would like to work in neo-natal care one day, she said. She has twin sisters who were born prematurely and spent a lot of time in the hospital, and watching the nurses care for them inspired her to want to do the same one day, she said.
Tanya Boyd, a registered nurse and the hospital-wide nurse educator, is overseeing their orientation and training. She said her role is to ensure that the clinical portion of their training includes all the skills they need to begin working as colleagues with other health care professionals as soon as their orientation is complete.
"We're also providing life skills classes," she said. "We go through safety and all that sort of thing, so we're getting the best of both worlds."
The most important quality a good nurse needs, Boyd said, is compassion, and that is the one that she can't teach.
"That has to be innate," she said. "You're born with that."