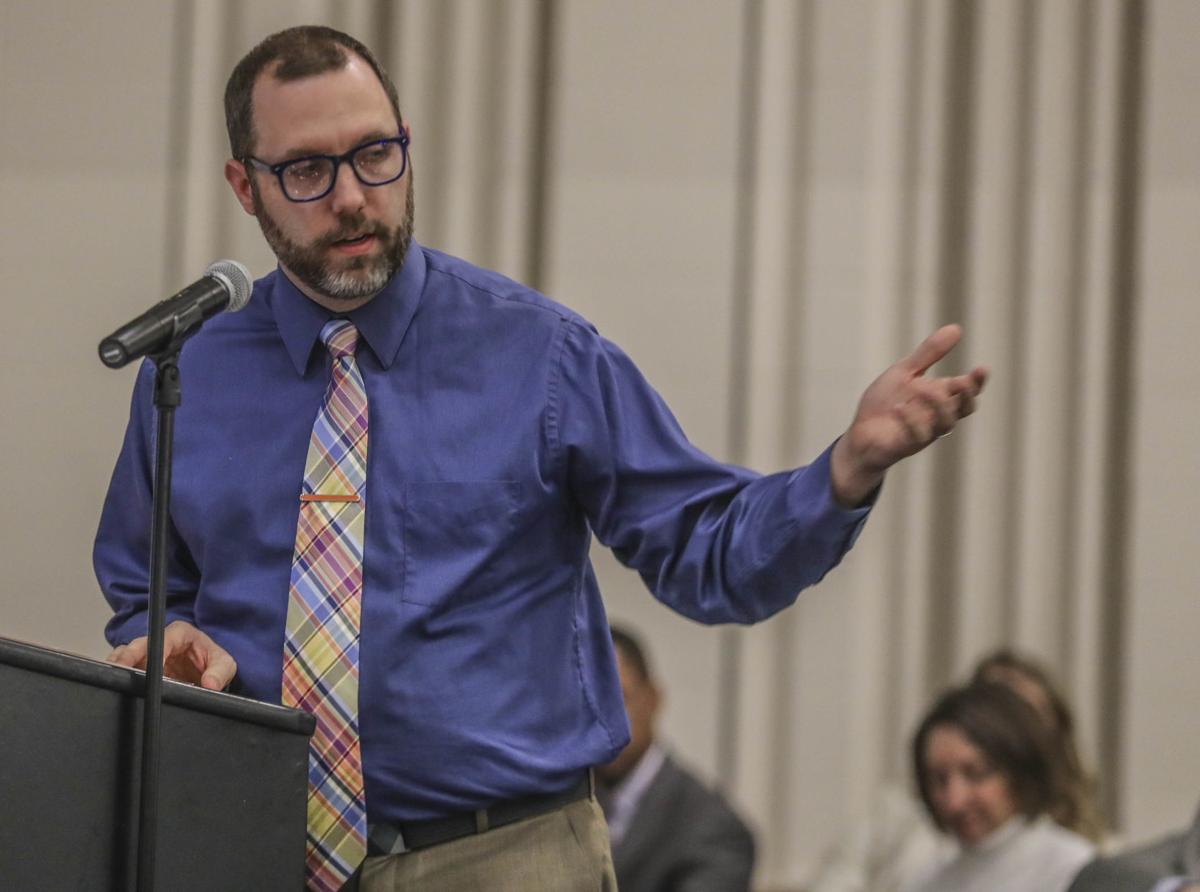 DECATUR — Dennis School students would be spread over two campuses with new grade-level configurations next year if the Decatur school district moves forward with plans presented to the board Tuesday.
The move, meant to address issues of capacity at one of the district's most popular schools, would have second, third, sixth, seventh and eighth grade students stay at the current facility, 1499 W. Main St. Students in prekindergarten through first grade, plus fourth and fifth grades, would attend what is now French Academy, 520 W. Wood St. 
"Time and time again, Dennis demonstrates that it takes a village to raise a child," said Keith Creighton, Dennis assistant principal. "This split helps to continue the legacy we are already building."
A group of educators worked together to develop the dual campus plan, unveiled to the board in a presentation during its meeting at Hope Academy. The schools would adopt a schedule with staggered start and dismissal times for families that have students attending separate campuses.
"If we didn't move the middle school over, our sixth graders would be segmented from our middle school," said Cassie Mann, a first-grade teacher and committee member. "We didn't want to isolate those students or teachers."
Benefits of the arrangement outlined in a school board packet include that the plan would build a strong educational foundation through an early childhood center. Creighton said it would connect middle school students to Millikin University and develop partnerships between downtown businesses and Dennis through project based-learning among other things.
"This wasn't easy," Superintendent Paul Fregeau told the group, "and I appreciate the creative thinking to try to do what is best for the kids."
The school board could vote on the changes in January.
Additional staffing could be in the dual-campus' future along with some classroom upgrades, new furniture, the addition of lockers, more laboratories and secure front offices among other features.
Also as part of the facilities plan and a larger five-year strategic plan, district leaders are working to change the boundaries that determine where students attend school. A committee of 20 people have been working on the proposal for the past 10 months, and it was presented to the board Tuesday by Fred Bouchard, assistant superintendent of support services.
"We are looking to address the inequities that exist in our current school boundary system and ensure that DPS students have equal access to a high-quality education in their own neighborhoods," Bouchard said. The new boundaries developed by the committee would affect 184 elementary students, according to district records.
The boundaries had not been comprehensively assessed in over 20 years, Bouchard said.
Board President Beth Nolan said it would be easy for school board members to say they would let the next board take care of the boundaries. "This hasn't been touched because it's hard," she said.
The district took multiple steps to involve the community in the process of changing the boundaries, officials said. District staff participated in community conversations and open houses, and talked with parents, staff and stakeholders. The district also drew upon results from a survey with over 700 participants, 80% of whom said students should have the opportunity to attend their neighborhood schools.
"Some of the schools really lack a neighborhood emphasis in those schools," Bouchard said. "They have boundaries nearly a half mile from school, and it is not in their attendance area."
Students would not be assigned to their new boundary until August 2021. Parents can pursue the appeal process to stay at current schools outside of neighborhood boundaries. Swarthout said the district would participate in a communication plan so that parents and staff are informed about the new boundaries.
An interactive mapping tool will allow parents to type in their address and view their boundaries, Swarthout said.
Under the new boundaries, Hope Academy would no longer be a magnet school, but would be categorized as a neighborhood boundary facility.
You have free articles remaining.
Bouchard said that decision was driven by feedback from families who expressed concerns that the school is over capacity.
"When we talk about 668 kids currently in this attendance area, getting too much bigger than that is part of the concern that we have heard from some of the folks at the podium today," Bouchard said, referring to parents who had spoken earlier in the meeting.
Among them was Canzetta Jackson, the mother of two Hope students. Before the meeting, she stood outside the school holding posters, pleading with school board members to fix what she said are poor learning conditions and overcrowded classrooms at the school.
"The schools have way too many students and not enough teachers," she said. "There are too many teacher openings at the school and the kids are not learning anything right now. We need change."
Chief Communications Officer Denise Swarthout said there were 76 openings districtwide as of Nov. 21. Sixteen of those, or over 20%, are at Hope Academy.
"The openings cover more than just teachers, and we are doing everything we can to get all of these positions filled," Swarthout said. "There is a teacher shortage across the state. We want these positions filled too."
Swarthout said the district did not have an explanation as to why so many of the openings are at Hope Academy.
The problem is not isolated to Decatur schools, as the Herald & Review has previously reported. A statewide survey of school districts, released in March by the Illinois Association of Regional Superintendents, found that 89% of respondents in Central Illinois had trouble filling teaching positions with qualified candidates. The survey also found that 85% of responding superintendents said they had either a major or minor problem with teacher shortages.
But Jackson said Decatur Public Schools leaders need to focus on the students at Hope and getting them the education they deserve.
"Don't say 'no child left behind' when you are allowing what is happening at that school to continue," Jackson said.
On its website, the district encouraged any parents who have concerns or want to speak to someone about the boundaries to email their name and phone number to welisten@dps61.org,
In other business, the board approved a tax levy increase of 2.7%, slightly lower than their November estimate of a 3.1% increase.
Chief Operational Officer Todd Covault said the change is because of a new, lower estimate of equalized assessed value, or property values, in the district. The board in November approved a 3.1% increase, which was based on a projected equalized assessed value of $703 million. Since then, the county's estimate has dropped by $2 million. Reducing the levy would keep the property tax rate from increasing more than anticipated as a result of the lower-than-expected property values.
The board also recognized Sam Johnson, principal of BLDD Architects, who announced his retirement. Johnson has been a key player in the rollout of the facilities plan with renovations and new buildings designed by BLDD staff.
Maria Robertson, the district's community engagement director, surprised Johnson with a video honoring his work. He had been under the impression that he was being interviewed for a video discussing the facilities plan.
"It has been an honor working with DPS," Johnson said. "People who put their minds behind great work get great things done."
---
 FROM THE ARCHIVES: Recognize these photos of Decatur High School?
Contact Analisa Trofimuk at (217) 421-7985. Follow her on Twitter: @AnalisaTro