Editor's note: This is the second of a three-part series about the Decatur School District's facilities plan. Read part one here and part two here. 
DECATUR — When they crafted the strategic plan to turn Decatur Public Schools into a destination for families, district leaders were thinking big.
They reimagined the use of buildings, confronted tough questions about which schools needed to close and grappled with the financial realities of such a sweeping transformation. By the time school starts in 2021, students will be housed in 17 buildings, all air-conditioned and some heavily renovated. Five buildings will have been decommissioned.
Called the BOLD (Building better Opportunities for Learning) Facility Plan, it is an ambitious, $55 million effort with a lot of moving parts. Even so, the big thinking didn't stop there, as officials have also begun to picture what the next steps could be.
Could the two public high schools, Eisenhower and MacArthur, merge into one? It's one of the future facility considerations laid out on the district's website and first suggested by Superintendent Paul Fregeau last year.
New playgrounds at elementary buildings
Upgrade outdoor athletic facilities
Innovation Center
Consolidating offices at the Keil Building, which would house district administration, buildings and grounds, student services and professional development
Officials caution that the ideas haven't even entered the planning stages.
"That's way down the road, because we have five years of things to do right now," board President Dan Oakes said. "I don't see us looking at future considerations for years."
Some of the proposals could change based on what happens to district enrollment. Fregeau has pointed to a declining number of students as part of the justification to reduce buildings. 
Decatur schools have 8,923 students as of the 12-day count taken last fall, the official number used for record-keeping. Of those, 2,116 are in high school. That's 200 fewer students enrolled in Decatur's public schools since 2015.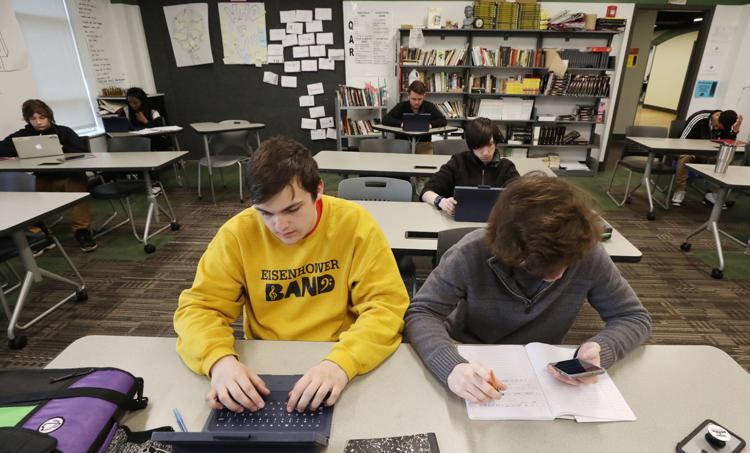 It's a different direction than the numbers were trending a few years ago, when the district renovated both high schools using proceeds from a 1-cent sales tax increase passed by referendum. Between 2013 and 2015, the district gained 588 students.
Parts of the facilities plan already in motion are geared toward increasing the capacity of popular programs, shortening waitlists, offering more course choice to middle-school students and expanding alternative education options.
Increasing market share
The first changes come in August, when Thomas Jefferson Middle School and Stephen Decatur Middle School will combine at Stephen Decatur's campus. Alternative education, in a much-expanded form, will move to Harris School, and those students will move to Hope Academy.
Work has already begun, and much of the construction is being done by the district's own buildings and grounds staff. Director Steve Kline told the school board at its most recent meeting that he expects most of that to be completed by summer.
building a new Johns Hill Magnet School and demolishing the existing building;
closing Durfee Magnet School, Baum, Oak Grove and Stevenson elementary schools and moving those students to Muffley, Franklin and Parsons after renovations and additions to those buildings;
installing air conditioning in all buildings that lack it;
splitting the Dennis School program into two buildings, Dennis and French Academy, while French Academy would move to Enterprise's building;
combining the two Montessori programs into one building at Thomas Jefferson.
The board has hired a demographer, Oakes said, and one of the things that person is studying is market share, or how many kids in Decatur attend the public schools. Using that as an indicator, district leaders can gauge how well programs in the district are drawing families.
The Montessori programs at Garfield Montessori School and Enterprise Elementary are another strength. In many places, Montessori schools are private and charge tuition.
For example, Oakes said one of the district's teachers is moving to Georgia, he said, and it will cost her over $1,000 per child to enroll her kids in Montessori there.
Assistant Superintendent Fred Bouchard said the district could add 200 to 250 seats in the Montessori program by moving.
Dennis Lab School, popular in part because of the experience provided through its ongoing partnership with Millikin University, has drawn new families to move to the West End, Bouchard said. While 221 of the 878 students within the boundary attend magnet schools, the building at Dennis can't accommodate 164 students who would otherwise attend.
Allowing the program to expand into the French Academy building should solve that problem as well, officials say.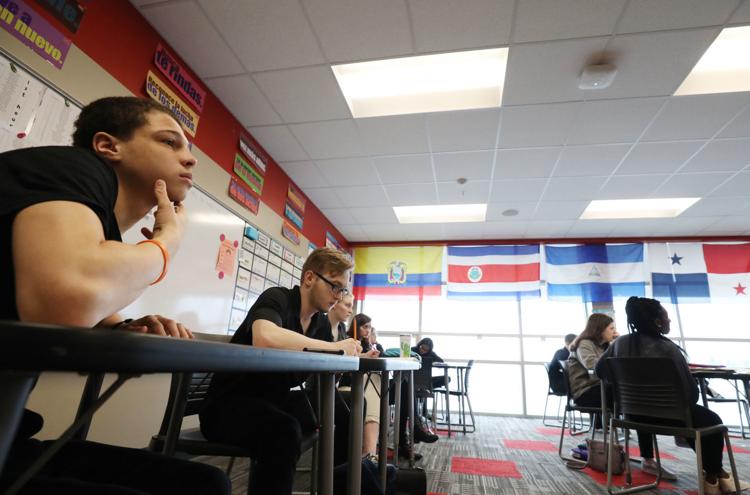 The middle-school merger, too, is meant to appeal to families by giving students more choice in electives. To keep a small-school feel and allow for some specialization, students will be divided into three academies: STEAM (science, technology, engineering, arts and math); public service, which includes law enforcement, nursing and teaching; and agribusiness.
You have free articles remaining.
"There are more electives in the middle school than I had at the U of I when I was there," Oakes said.
The combination of buildings will also make students safer, he said, because the remodeling will create secure entries.
Next year, construction should begin on the new Johns Hill and remodeling at Thomas Jefferson for the Montessori school there, while the consolidation of elementary buildings and redrawing of district building boundaries is likely the year after that.
The entire project should be complete by August 2021.
Five schools would be decommissioned: Durfee, Baum, Oak Grove, Stevenson and Garfield. The school board has discussed demolishing Durfee, which was built in 1925, but no firm decision has been made. Other future plans for the buildings haven't been decided.
Oakes said some possible uses for the emptied elementary schools could be an expansion of the preschool program or the Innovation Center, which the board has discussed as a possibility for the future; it would include technologically advanced classrooms and equipment.
Someone has inquired about buying Stevenson School eventually, which Oakes said includes a lot of land along with the building.
One high school? 
When Fregeau last year broached the possibility of merging high schools, he was not the first person to propose it.
Past Superintendent Gloria Davis also suggested having only one high school, when the High School Task Force began meeting in 2009, prior to the renovations of MacArthur and Eisenhower. The four choices that task force presented to the community included a single high school, which the community rejected in favor of renovations.
Not everyone endorses the idea now, either. School board member the Rev. Courtney Carson said, when the idea was presented last summer, that he objected due to rivalries and tensions between the east and west sides of Decatur.
"Some people can't go to the west side without getting shot at or beaten up," said Carson, who works closely with troubled youth. "I'm just being honest here."
Parent Beth Fiala can understand the reasoning, even if she isn't a fan of the concept.
"I can say I think it's necessary, but not a good idea," said parent Beth Fiala. "Numbers are dropping and we just refinished both of those (high) schools."
Oakes said the district is likely five or six years away from looking at a merger.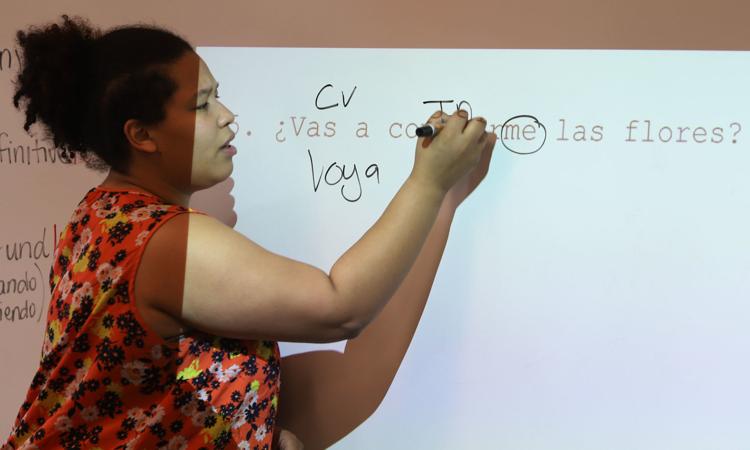 Each of the high schools, Oakes said, can hold a maximum of about 1,400 students.
"Unless there's a new program created that would justify using one of the high schools for it, you can't put them both in one building now," he said.
There are possibilities. For instance, the district's Dwayne O. Andreas Ag Academy, funded last year by a $1.65 million donation from the Howard G. Buffett Foundation, could grow, becoming a freestanding building with four grade levels. That could take the place of one of the high schools, he said — but the possibility is years away. 
"Right now, it's just one of those things that's way down the road," he said.
---
MORE COVERAGE