DECATUR – Middle and high school students in Decatur schools are learning about the "real world."
Land of Lincoln Credit Union's iBudget Financial Literacy for the Real World program is being offered to seventh- and eighth-graders in all of Decatur's public school. At Stephen Decatur Middle School on Thursday, students entered the gym in class groups and were given a slip of paper and a budget form. The paper contained their profession, income, family information like whether they had children and whether their spouse worked, and whether they had student loans or credit card payments.
Then they visited tables manned by employees of Dansig Insurance, Richland Community College, Ameren, Wells Fargo, Kroger, Xfinity, Vieweg Real Estate, the Decatur Family YMCA, the city of Decatur and Workforce Investment Solutions to find out how far that income would take them.
"I've got to be able to pay my bills," said Tonae Coleman, an eighth-grader, as she zigzagged among the tables figuring out how much she could afford to pay for rent or a house payment, how much groceries cost, whether she could afford cable, and what a monthly power bill looks like.
Darius Dodson, also an eighth-grader, had some idea of the cost of living already, as he has helped pay the bills at home.
The hope, said Ashley Grayned, executive director of innovative programs for Decatur schools, is that the students will have a realistic view of the potential income of various career paths, and maybe try pursuing something they hadn't thought about before.
At Kroger's table, Gretchen Hendricks offered students a look at three columns of groceries: the bare necessities; a typical family grocery list with some extras and snacks; and a luxury bag filled with whatever you wanted with no regard for costs. Depending on the number of people in the household, the bare necessities, for example, could cost as much at $425 for a household of six, and that only brings home food like macaroni and cheese, peanut butter and jelly, and ramen noodles.
Laughing, Hendricks said many of the students were stunned at the total cost.
You have free articles remaining.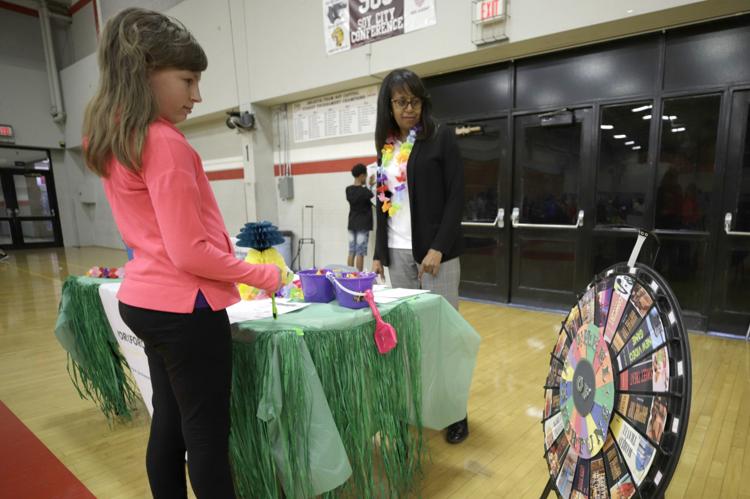 "They say, 'Our parents spend a lot of money on us,'" she said.
At Vieweg's table, real estate agent Tasha Cohen showed students photos of a rental for $400 per month, a house to buy for $400 a month, and another property to buy that cost $1,400 a month. The kids joked among themselves that they wanted to live in the $1,400-a-month house, but nearly all realized their incomes weren't up to that challenge. A stack of papers showed them various other properties, including such information as square footage, number of bedrooms, down payment required, taxes and insurance.
"Personally, I'd pick the house you can buy for $400 a month," Cohen told one group. "Why give money to somebody when you could be building up equity?"
After the activity, Grayned said, students would return to their classrooms and discuss the choices they made
"The goal of this is simply exposing (students) to financial literacy," Grayned said.
At Workforce Development's booth, a Wheel of Fortune contained a variety of discretionary spending choices such as "a new video game," "world travel," "movie night," and "shopping trip." Students spun the wheel and found out how much those activities cost and what kind of damage that might do to their budget.
"That's our distraction table," Grayned joked. "She's luring them off of their priorities."
---
---
Contact Valerie Wells at (217) 421-7982. Follow her on Twitter: @modgirlreporter