DECATUR — Now in his second year at the helm of the Decatur School District, Superintendent Paul Fregeau is clear about his goals for the city's public schools — and what it will take to reach them.
Since he started in July 2017, Fregeau has devoted himself to leading development of a wide-ranging strategic plan approved by the school board in May. It reimagines use of the district's buildings, emphasizes strong community partnerships and takes a comprehensive, student-focused approach that considers physical, emotional and mental health needs.
The goal is to transform Decatur into what Fregeau calls a "destination district." To do so, he is confronting one of its biggest challenges — a negative perception that he said conflicts with reality.
"I have to be the bell-ringer for the district," Fregeau said. "I try to focus on what's going well in the district, to let people know. Sometimes educators are humble people and don't do a good job of tooting their own horn, as my dad used to say. We're working with a variety of media outlets as well as social media to tell our own story about what's going well."
Because of his leadership in developing the sweeping, ambitious proposal, Fregeau is the Herald & Review's Newsmaker of the Year for 2018. The Herald & Review each year recognizes the person who had the biggest impact on the community. Last year's Newsmaker was Howard Buffett. 
Fregeau, an Illinois native with a bachelor's degree from Southern Illinois University at Carbondale, came to Decatur from the North Kansas City district. His background is in law enforcement, as he worked as a police officer in St. Louis County before entering education 29 years ago. He also has a master's from the University of Missouri-St. Louis and a doctorate from St. Louis University.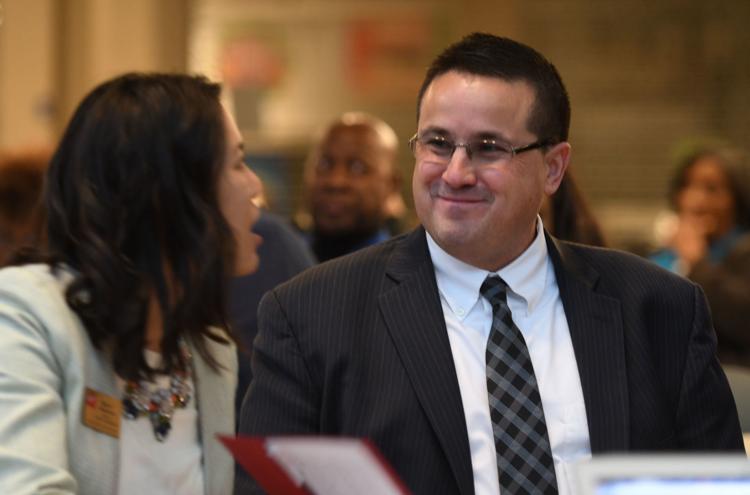 One of the challenges he faced when he first came to the district, he said, was simply getting familiar with it. With roughly 8,900 students, a staff of 1,400 and annual budget of about $120 million, Decatur is the 26th largest school district in Illinois.
"It's a large district," Fregeau said. "So getting to know everybody, to build that trust level, it's hard to do. To get into all the buildings and meet people, that's a big challenge.
"In education, there's always challenges, so I don't think there's that many (others) specific to Decatur."
Fregeau often visits different campuses and makes a point to attend games and other school events. He often documents his travels on social media, sharing posts on Facebook and tweeting with the username @SuptDPS61. For example, Fregeau recently tweeted a photo of the program for a play at Eisenhower High School and said he couldn't wait to see the production.
"That sends out the message that there's a positive thing at Eisenhower," he said. "You get that immediate feedback, and when I'm attending things where kids are doing great things in classrooms, I can get that out immediately."
But he also spreads his message the old-fashioned way: in person. Fregeau was among the speakers at the Oct. 4 Community Leaders Breakfast, where he spoke in detail about the strategic plan. He joined Mayor Julie Moore Wolfe at the State of the City breakfast in May, showcasing students' achievements before a crowd of hundreds at the Greater Decatur Chamber of Commerce Business Expo breakfast.
Fregeau said he also gets out to as many community events as possible.
"You go to as many things as you can to let people know you're not just here for the schools, you're here for the entire community," he said "And then you get to meet people you haven't met before, and parents and business people get to talk to you and find out that you're fairly approachable and easy to talk to and they say 'He's not so bad a guy, he's down to earth.' That's the image I hope to project."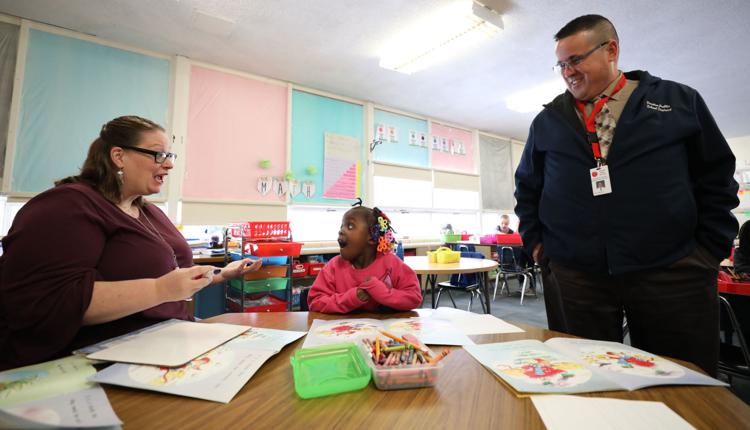 An ambitious goal
Before the passage of its strategic plan in the spring, the Decatur School District had been without one since 2012. Fregeau acknowledged that trying to achieve all of his and the district's goals at once would be counterproductive, so the five-year plan is broken into one-year increments.
In the first year, one project he is working on is a reconfiguration of the district's 22 buildings, dubbed Building better Opportunities for Learning in Decatur, or BOLD. Some, like Stephen Decatur Middle School, are underused, while others, like the two Montessori magnet schools at Garfield and Enterprise, have long waiting lists.
Johns Hill and Durfee are old buildings that would cost more to repair and bring up to current standards than they are worth, and Johns Hill's fine arts-focused magnet program also has a long waiting list.
combine the two middle schools, Stephen Decatur and Thomas Jefferson, at the Stephen Decatur building;
combine Harris and Hope Academy at Hope and convert Harris into an alternative education center;
move the two Montessori programs into the Thomas Jefferson building together, which would give them space to accept more students;
create a second campus at French Academy for Dennis School, a lab school program with close ties to Millikin University;
build a new building for Johns Hill and Durfee on Johns Hill's campus, close Durfee and reassign those students to other buildings.
The initial schedule of the project calls for construction to start at the end of this school year and finish before the fall of 2021.
Dennis teacher Sara Bodzin is excited at the prospect of a second campus for the school, which she said has been above its capacity for several years.
The staff is putting together a transition team to prepare for the change and make decisions. One suggestion made during school board discussions on the topic was to have elementary grades at one building and middle school at the other, but all that is yet to be determined.
"This is going to give our program the much-needed space that it needs in order for project-based learning to flourish," she said. "Our goal is to bring project-based learning into the community and having two campuses is going to allow us to do that," she said, adding that collaborations with Millikin University and Illinois State University also would have room to grow.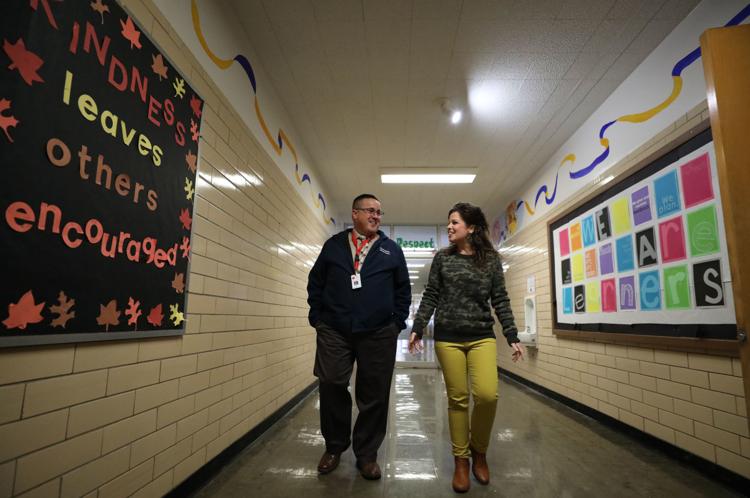 Johns Hill and Durfee are the two oldest school buildings in the district, and Johns Hill teacher Liz Bartimus said there's some sadness at the thought of its demise, even if the change will make the school more accessible to those with mobility issues. Johns Hill also has a long waiting list, and a new building will be able to admit more students.
"We are concerned it will change what The Hill is all about, but we also realize change is inevitable and necessary given the age of the building and the move to consolidate programs and expand others," she said.
It's not only the changes that will come to Johns Hill and Durfee, but to the whole district under the new plan that will be difficult to adjust to, she said, though overall she knows it's necessary.
"We need to be more fiscally responsible with what we have," Bartimus said. "It's tough because people are emotionally tied to 'their' building and now things will change for so many. Bottom line: as much as we don't want to lose identities, we have to try and think about what will be best for our students.
"We want to be a district that provides the best education possible with quality educators, programs and facilities that encourage growth in our students, staff and bring future students to our district."
Collaborative approach
In making Decatur a destination district, its leaders have sought to provide programs that attract students seeking pathways to careers that feed into the community's future. The Dwayne O. Andreas Agriculture Program has already shown what some of those successes might look like. With a $1.65 million grant from the Howard G. Buffett Foundation, the program taps into the region's deep agriculture roots and the prominence of international firms such as Archer Daniels Midland Co. and Tate & Lyle, which call Decatur home.
"What's exciting is the versatility," Fregeau said as the program began this year. "It's welding to Wall Street. Whatever students are interested in, they can do it here in Decatur or in Illinois or beyond."
This year has seen some changes to Fregeau's personal life as well. He got married in March. His wife, April, is a self-employed business organizer, home stager and hairdresser who often travels for work. They have three dogs and a cat. Fregeau's sons from his previous marriage, Brett and Bryan, are both adults, and Brett recently married, too.
Fregeau doesn't like talking about himself, preferring to give credit to others, and those who work with him say his signature style is collaboration.
Bobbi Williams, assistant superintendent-elementary, said Fregeau listens and values input from staff, families, community organizations and especially students. He uses information he has gathered to weigh the impact of any final decisions, she said.
"I personally like to see employees take risks to accelerate our organization and I am a firm believer that we must look at our past to learn from our mistakes," said Williams, who has been in the district for years. "Paul will always listen to what has been done in the past so we can use that information to improve upon our future.
"He is a genuine and caring person who believes in this district wholeheartedly."
As a way to gather more feedback, Fregeau has created a student ambassadors program, with two students from each high school seated on the school board. They have no voting rights, but they contribute to discussions and ask questions. He also has continued the Superintendent's Youth Advisory Council, a group of high school students who meet with him regularly to discuss district concerns.
Williams said she and Fregeau meet daily, along with Fred Bouchard, assistant superintendent of secondary education. From his first few weeks of school, she said, he has visited facilities, attended school activities and sports, and introduced himself to parents and staff.
"It is very comforting to know that Paul truly cares about our kids and this community as he has settled in so quickly," she said. "It feels like he has lived here for years."