DECATUR — One hazard of talking to kids about pediatric cancer is that they'll worry.
"It made me wonder if I'll get cancer," said Micah Tolbert, a fourth-grader at Dennis School. "When I get home, I'm going to ask my parents."
September is Pediatric Cancer Awareness Month, and Dennis students kicked off a project-based learning activity, Paint Decatur Gold. Gold is the color used for ribbons and clothing to signify all childhood cancer, while each specific type of cancer has its own color. Gray, for example, is used for brain tumors, which is the cancer that took the life of 14-year-old Tanner Gillen in January.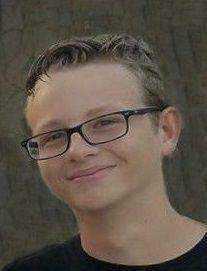 One of Tanner's two best friends, Savannah Redding, visited Dennis on Thursday, along with members of Tanner's extended family, to talk to students about pediatric cancer.
"Tanner is my best friend," Savannah, now a student at Warrensburg-Latham High School, told the children. "He's still my best friend, even though he passed away."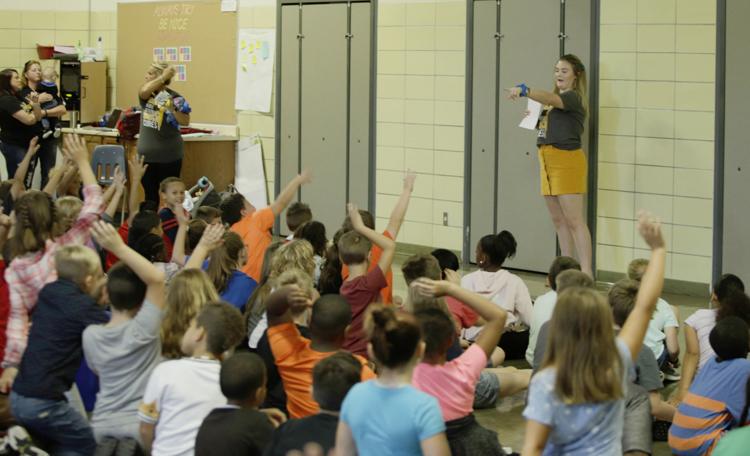 Pediatric cancer is described as cancers that strike between birth and age 15, though some kinds of cancers are considered "pediatric" in teens 15-19, Savannah said. The average age of diagnosis with pediatric cancer is 6, though it can be found at any age, and 1 in 5 pediatric cancer patients will not survive. Of those who do, 2 out of 3 suffer long-term effects from the chemotherapy and radiation treatments commonly used, which can range from learning disabilities to a recurrence of the cancer or a new type of cancer. And while childhood cancer is considered "rare," Savannah said, she doesn't agree.
"Every two minutes, a new child is diagnosed," Savannah said.
Tanner and his friends were only in seventh grade when he was diagnosed, Savannah said, and while none of them really understood, one thing she and Tanner's other best friend, Tanner "Deuce" Lowery, did understand was that Tanner was their friend and they weren't going to stop being friends because of cancer. She gave the kids some things to remember if they ever know someone who has cancer.
You have free articles remaining.
"Tanner's friends didn't know what to do," Savannah said. "It's OK to not know what to say. You don't have to say anything. Do something. Volunteer to walk the family's dog, or mow their grass or do their dishes. Don't ask, just do it. Don't stop hanging out with your friend. Create memories. And don't treat your friend differently."
One thing that annoyed Tanner, she said, was when people talked to him as if he were a small child. He was a teenager and wanted people to keep treating him like one.
"It's also OK if you're not OK," Savannah said. "Talk to someone you can trust about how you feel."
She's thankful she took a lot of photos and wrote a journal during that time with Tanner, she said. She can look back at those things now and cherish the memories they made together. She also brought a video to show the Dennis students of some of Tanner's last moments at home with family and friends.
He was able to spend his last days at home on hospice, and while it was sad and difficult, it was also a chance for those who loved him best to take care of him. He couldn't talk and he couldn't always open his eyes or respond, but it was important to them to be there with him.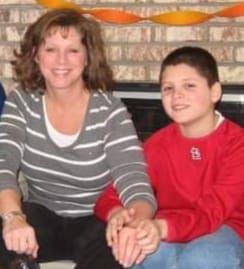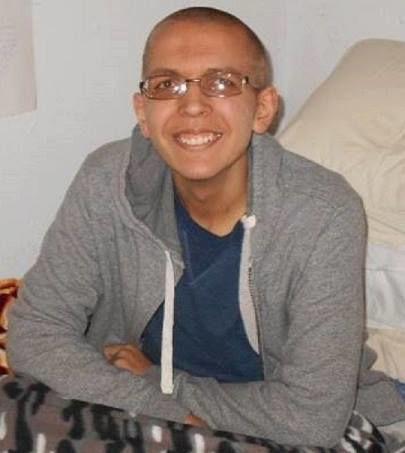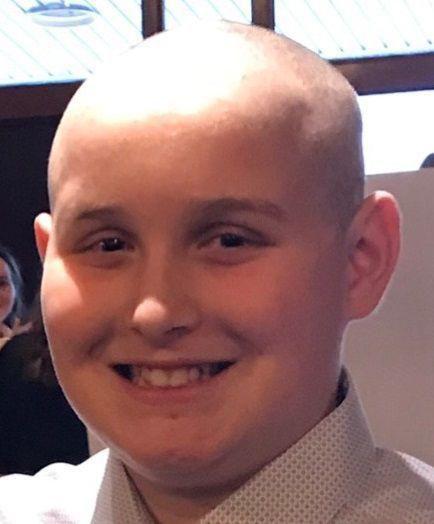 Savannah also showed the kids photos of five Decatur-area boys who all died in the last few years from pediatric cancer. Besides Tanner, the group includes Silas Martin, who died in 2014 at age 16 after battling brain tumors for 10 years; Adam Carter, who died at 12 in 2010 of Ewing's sarcoma, which in the end traveled to his brain; Brody Heinz, 14, who died in March; and Zach Berry, who was diagnosed at 14 and successfully treated, but died at 24 from a secondary cancer due to the treatments for the first.
One important factor in fighting pediatric cancer, Savannah said, is tissue donation. Tanner's brain and spine were donated to research, and Silas donated his brain tissue after death, also. Both the boys felt strongly that they wanted to do so.
The project Dennis students are doing, said fifth-grader Ariya Topps, is to make posters to place around the city, to work on teaching others what they've learned about pediatric cancers and perhaps also try to raise some funds for research.
"We're trying to raise awareness and if they want us to do fundraisers and stuff for the cancer survivors, then yeah, we will," Ariya said.
Contact Valerie Wells at (217) 421-7982. Follow her on Twitter: @modgirlreporter