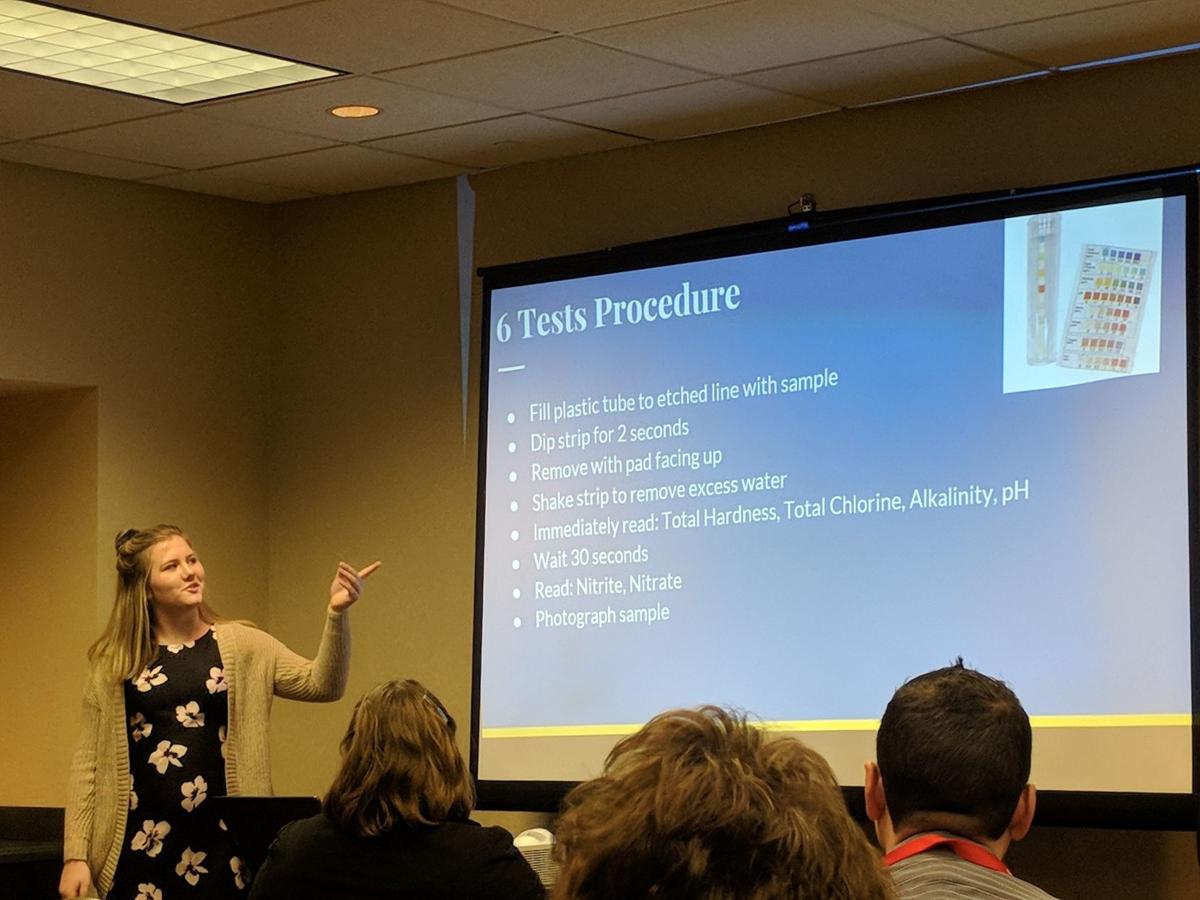 DECATUR — Holy Family School participates in the Illinois Junior Academy of Science fair every other year.
However, Madison Prasun enjoyed the experience so much as a seventh-grader that she wanted to do it again as an eighth-grader, and convinced Principal Debbie Alexander to let her. The school paid her entry fees.
"She was the only student from Holy Family who went, because she wanted to," said her mom, Melissa Prasun, who teaches at Muffley School.
Madison had done well enough as a seventh-grader to go to the state-level competition, though she didn't place. In her eighth-grade year, she won a gold award for her paper and poster and the Stockholm Junior Scientist Award, which qualified her for the state competition at Bradley University in April 2018.
At that competition, she won gold for her paper, silver for her poster and was named Junior Water Scientist by the American Waterworks Association. Her mother and her grandma, Dr. Marilyn Prasun, accompanied her to the conference.
You have free articles remaining.
She also gave a presentation of her work.
"I tested the quality of water fountains here in Decatur," said Madison, now a freshman at St. Teresa High School. "I checked a school, my house, the grocery store and a gym."
The keynote speaker at the conference was Thanet Natisri, who assembled the team that rescued the Thailand soccer team from a flooded cave in July. The students, including Madison, who were invited to the conference were given front-row seats for his presentation. He returned the favor by taking a front row seat for their presentations, which Madison laughingly admitted made her even more nervous.
"It was really fun," Madison said of the conference. "I'm going to try to do a project and go again next year. The exhibit halls I went to and the water industry people and their work on the environment made me feel that's what I want to do."
Her mother said Madison wanted to spend as much time as possible in the exhibit hall, and she collected business cards and talked to a lot of the industry professionals, making the most of her opportunity. The conference also included a tour of the Sugar Creek Water Treatment Plant in Springfield, conducted by the engineer who designed the plant, Prasun said.
"I feel it inspired her," Prasun said. "It was nice. The board members told them if they had any interest in internships, they could contact them, and we got their contact information."
Madison said she's grateful to her teachers at Holy Family and at St. Teresa, who gave her tips for creating a strong presentation.
"At the science fair, it's groups of four (judges)," Prasun said. "It's not as intimidating as a room full of scientists and engineers. The teachers were wonderful supporting her and guiding her to make it possible."
Contact Valerie Wells at (217) 421-7982. Follow her on Twitter: @modgirlreporter