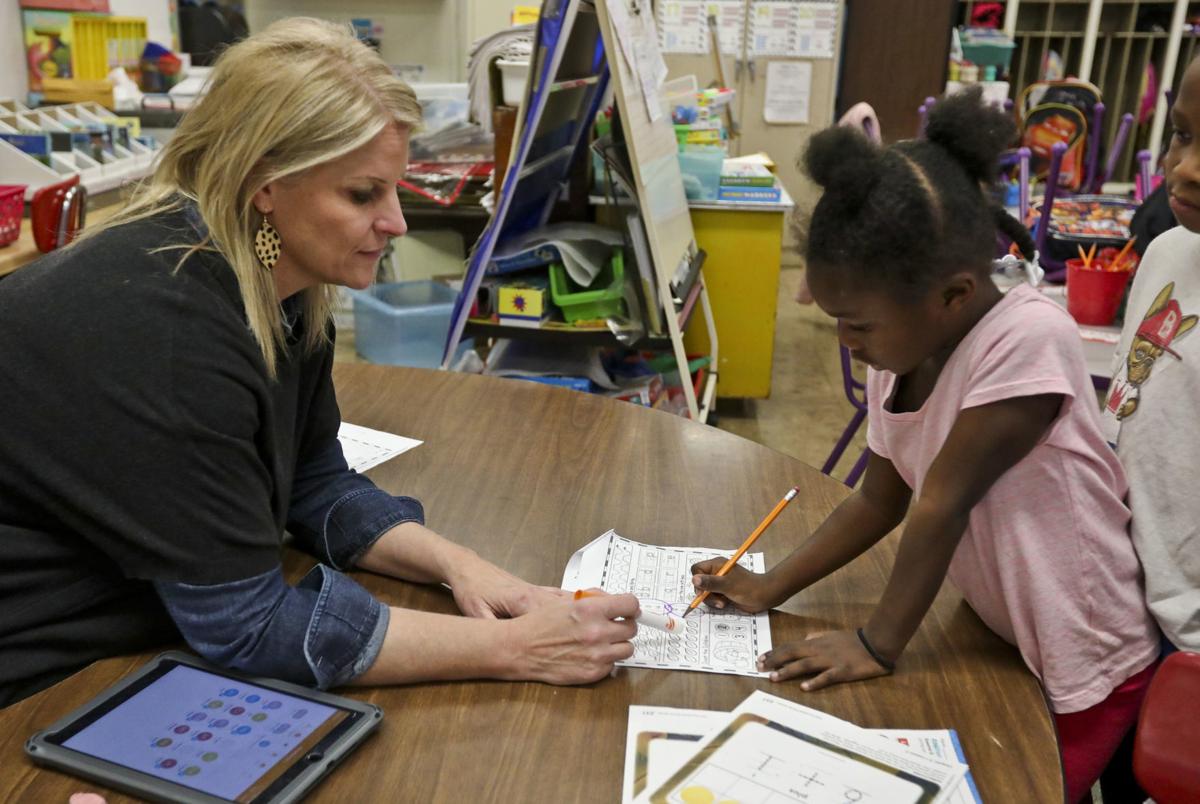 DECATUR — Parents of students at Durfee Technology Magnet School soon must decide where to send their children next year after the building closes as part of Decatur Public Schools' wide-ranging facilities plan.
The closure is one of several major moves scheduled for the coming school year, which will also see:
the combination of two Montessori programs in the former Thomas Jefferson Middle School;
expansion of South Shores Elementary;
growth of Dennis School into two buildings, including the French STEM Academy;
movement of French students into what is now Enterprise Elementary.
Decatur Board of Education members on Tuesday heard an update on the timeline and progress toward those measures, which are part of the larger strategic plan to turn Decatur into a "destination district" for families. The five-year plan will cost over $55 million and includes renovations, construction and some school closures, ultimately reducing district facilities from 22 to 17. Besides Durfee, four other schools are set to be decommissioned: Baum, Oak Grove, Stevenson and Garfield.
District leaders on Tuesday stressed the need for a tight timeline to accomplish all of the scheduled moves next year. Fred Bouchard, assistant superintendent of support services, said the district also has a contingency plan for the facilities if unforeseen circumstances delay the work.
"We are working smarter," Bouchard said. "We've also started transition conversations with all internal stakeholders."
For parents of the roughly 330 Durfee students, there will be two options: return to boundary schools or apply to another magnet school program. However, parents cannot yet make that choice because district leaders are still in the process of reconfiguring boundaries.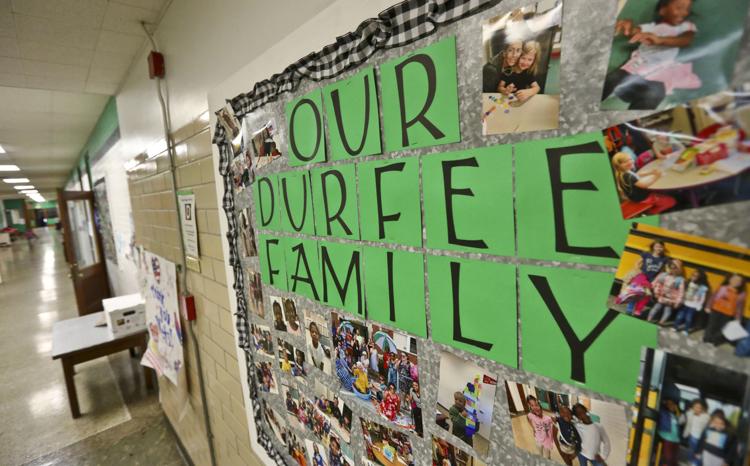 The magnet programs include: French Academy, Hope Academy, Johns HIll Magnet School and the two Montessori programs. Part of the district's plan also includes building a new facility for Johns Hill, which was built in the 1920s and is among the district's oldest buildings.
District leaders said they plan to host informational events about magnet schools for Durfee parents and students, and to share information as it becomes available. No dates have been set for those meetings, though officials said they could take place in the near future.
"We are trying to have the boundaries get settled (and) the magnet schools get settled," said Deanne Hillman, a human resources representative for the district, "because for us, staffing is dictated by number of students."
Durfee teachers can apply for current open positions at other district facilities, Hillman said. They can also wait until March, when they will be able to undergo a process to find positions for displaced employees. The district's human resources representatives will work with faculty to communicate options.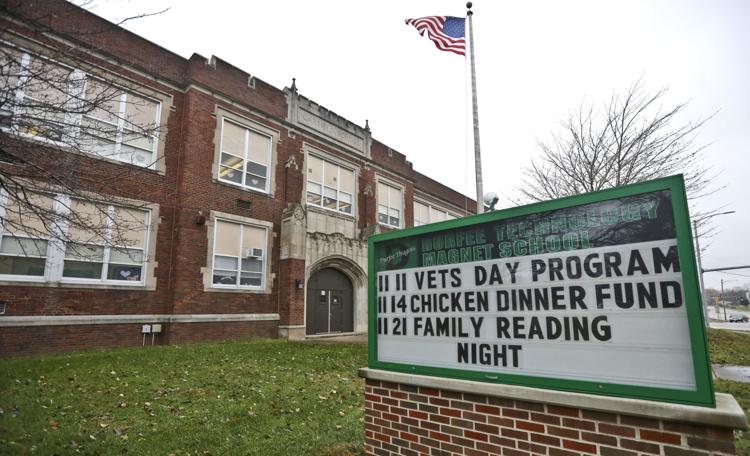 "The idea for allowing Durfee teachers to do this early is to be proactive to allow them to have security for a position next year," Hillman said.
You have free articles remaining.
In 2021, the new Johns Hill building will open, Muffley and Baum will combine at Muffley, Franklin and Oak Grove at Franklin, and Parsons and Stevenson at Parsons. All buildings will be air-conditioned.
Board member Andrew Taylor questioned what would happen with the facilities once they are closed. Bouchard said some potential buyers have expressed interest in the facilities, but further board discussion would be needed.
"We are looking for a solution for the demolition of Johns Hill, because it will be right on the campus of the new Johns Hill," Bouchard said.
Teaching assistants update
The union representing Decatur teaching assistants rallied prior to the board meeting Tuesday, urging school board members to bargain in good faith during an upcoming mediation session scheduled for 4 p.m. on Thursday at the Keil Building. The two sides have been working with a federal mediator in the talks, which began in April and have come to a standstill.
Decatur Federation of Teaching Assistants President Paula Busboom said she hopes the board will budge on health insurance costs, a main point of contention in negotiations. Teaching assistants have been working without a contract since August.
"We need the board to come down on the health insurance," Busboom said. "Based on the wage the teaching assistants make, we can't afford their current health insurance proposal."
Teachers currently pay over 18 pay periods, or nine months of the year, $900 annually for single employee coverage and $3,300 for family coverage. The district's proposal offers a high-deductible plan with lower monthly premiums in addition to a comparable level of coverage with higher monthly premium costs.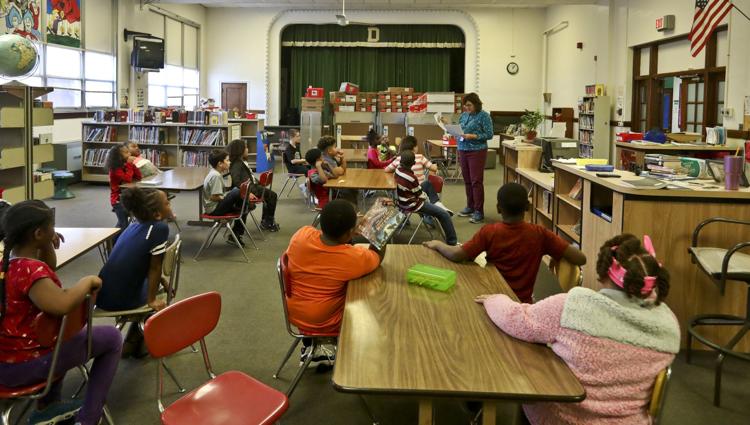 The lower-deductible plan would range from $1,471.56 for a single employee to $8,159.28 for family coverage in 2023, the final year of the contract. Under the higher-deductible plan, single employees' monthly premiums would be covered by the district. Those with family coverage would pay $3,864 annually.
The district would also offer coverage for an employee with spouse or employee with children. Those costs would range from $5,500 and $5,700 under the lower-deductible plan and $2,300 to $2,400 for those with the higher deductible.
The union represents 275 hearing interpreters, licensed practical nurses, hearing-vision technicians and teaching assistants. More than 500 special education and prekindergarten students whose programs rely heavily on teaching assistants were kept out of class for three days when the teaching assistants went on strike in late October.
The teaching assistants went back to work Nov. 1 after they said they learned their health insurance coverage by the district would be dropped. Board member Regan Lewis had announced that employees would lose their district coverage if they went on strike because they would not be working the minimum required hours per day.
When the employees returned to work, several found they could not use their health insurance. District officials said they had to reinstate each employee's health insurance manually, which caused the delay in restoring coverage. Busboom said teaching assistants had their insurance reinstated the following week.
Contact Analisa Trofimuk at (217) 421-7985. Follow her on Twitter: @AnalisaTro