DECATUR — "In fourteen hundred ninety-two, Columbus sailed the ocean blue," goes the poem by Jean Marzollo often taught to children to help them remember Columbus Day.
Students in fifth grade at Durfee Magnet School will remember it for another reason, too. They had to build the explorer a new ship.
"This is an emergency," said teacher Heather Herron. "We've got to leave tomorrow and one ship sprung a leak. There's no way 90 of us will fit on the remaining two boats."
Herron and fellow fifth-grade teacher Karen Walker often team up, digging into their ever-growing stash of odds and ends for the students to use in hands-on projects. For this challenge, which started last week with final testing of the ships on Tuesday, students received a small blue bin with various items in it, including mini-marshmallows, pipe cleaners, labels, straws, a piece of cloth, a clothespin and a piece of hard candy. "Columbus" was a large paper clip.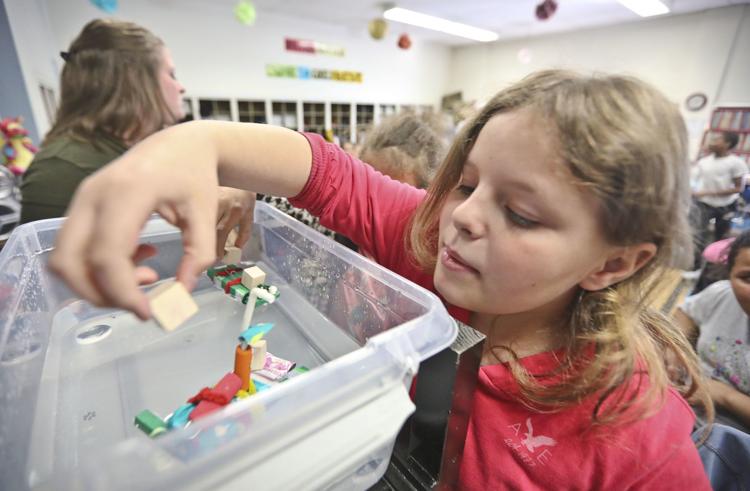 In groups of three or four students, they had to figure out how to take those items and build something that would float for a minimum of 20 seconds with their paper-clip Columbus aboard. They didn't have to use everything in the box, but they couldn't use anything that was not in the box.
While the students were working, the two teachers worked on a ship of their own.
"We like to see if we can beat them at the challenge," Herron quipped.
Some groups had more success than others.
"We failed," Shamaria Stowe said, watching as "crewmate" Tykeria Smith tried in vain to float their creation.
You have free articles remaining.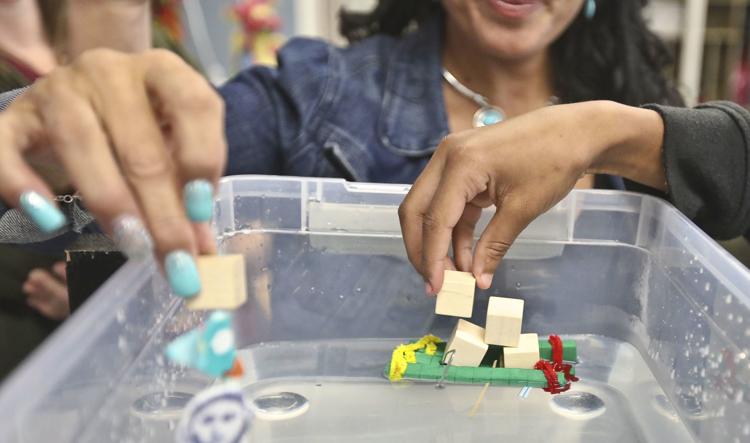 Tykeria, not one to give up easily, kept trying to figure out what to do to make their boat float.
"We put tape on it," she said. "But the tape got wet and it fell apart."
One reason Herron and Walker continue to do projects like this, Walker said, is that the projects develop teamwork and problem-solving skills. It also offers a chance for kids to shine who might struggle in other areas.
"Sometimes the kid who doesn't want to do his homework is the one who excels at these," Walker said.
The students were graded as much on cooperation and participation as on success for that reason and learned, hands-on, what "collaboration" means.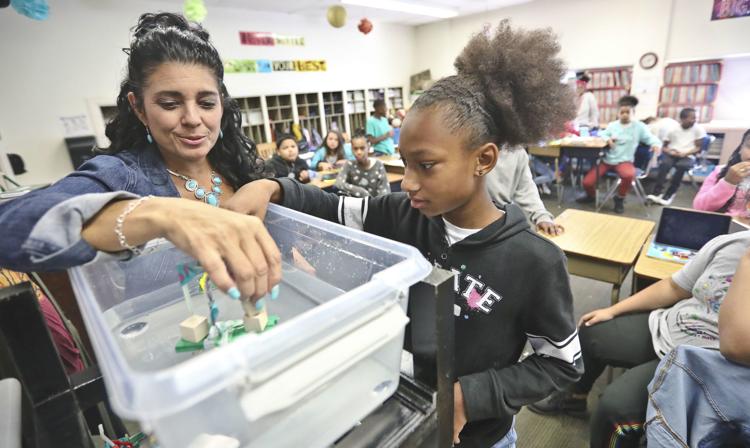 "This challenge is very complicated, but you also have to work with your partners and your teammates, and be supportive," said Amaia Jones.
"If we didn't have our partners, we'd have been stressed out," added JaPaul Comage.