FFA chapter gets award
CLAY CITY — The FFA chapter at Clay City has been named to the to 15 in Pioneer's Brand A-Series Soybeans Big A challenge.
A panel selected the top 15 chapters in a collaboration between Pioneer and FFA that focuses on the next generation of soybean varieties and growers. The chapters were chosen based on an essay highlighting how A-series soybeans benefit farmers and a sample design of their Big A statue. Chapters will decorate the statues through May and the top three will win cash prizes at the 2019 Farm Progress Show.
Student wildlife art contest
DECATUR — Rock Springs Center will sponsor a wildlife art contest for students in grades K-12.
Students may create an original work in any medium of their choice except photography depicting native Illinois plants or wildlife in their natural habitat. Entries are due Friday, Jan. 25.
Submit entries by mail or in person, and include the artist's name, age, grade, school and a phone number where the artist's parent or guardian may be reached. Send in care of Alysia Callison, Rock Springs Center, 3939 Nearling Lane, Decatur, IL 62521. Winners will be notified Feb. 11.
MLK Day celebration
DECATUR — Millikin University will welcome Willie Rockward, president of the National Society of Black Physicists, to a public presentation 3 p.m. Monday, Jan. 21, in the Bob and Debi Johnston Banquet Room on the third floor of the University Commons.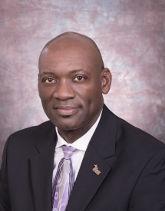 The event is free and open to the public. Rockward's talk is entitled, "Martin Luther King Jr., Albert Einstein and You."
Science Explorers 4-H Club
DECATUR — Millikin University will offer a 4-H Club for students in grades 9-12 who are interested in any kind of science.
The club is free and will meet 4 to 7 p.m. Thursdays, from Jan. 24-Feb. 21 in the Leighty-Tabor Science Center on campus. Projects will be exhibited at a science fair 4 to 7 p.m. Thursday, Feb. 21. Call the Macon County Extension, (217) 877-6042.
Family Reading Night, auction
WARRENSBURG – Family Reading Night and a silent auction will be 6 to 7:30 p.m. Tuesday, Jan. 22, at the Warrensburg-Latham Elementary School.
Doors open at 6 p.m. for space stations, book fair, games, snack, book walk songs, bingo, crafts, reading and writing. There will also be an all-school read aloud featuring Jessica Dobson from WAND and door prizes.