DECATUR — Scattered here and there in the galleria at Stephen Decatur Middle School are a variety of seating options: a few armchairs, a stool designed to rock and wobble, a couple of high-backed booth-style seats.
The library holds a temporary brainstorm and maker-space with a 3-D printer. A formerly open space in the galleria is now a project-based learning area.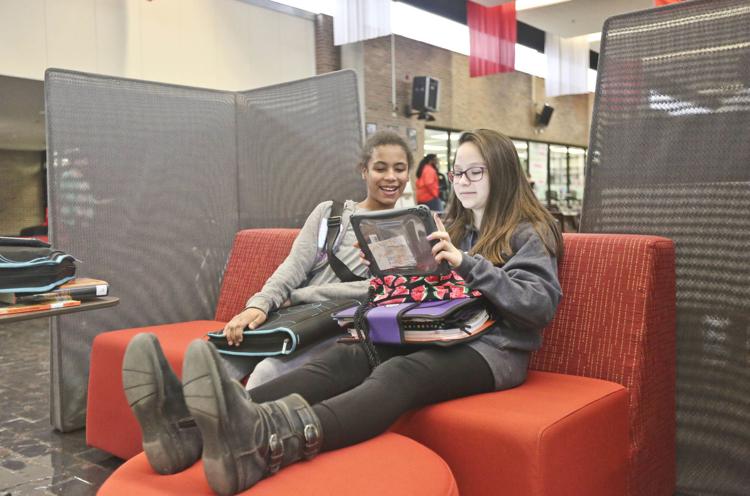 The Decatur School District is trying out some options at Stephen Decatur for students and teachers to use until Feb. 25. Whiteboards and sticky notes are available for leaving their opinions on what works and what doesn't. Starting in August, Thomas Jefferson and Stephen Decatur middle schools will be combined at Stephen Decatur, and BLDD Architects want to know what will be most useful for the changes in curriculum and student population.
"We've met with teachers, we've met with parents, we've met with students," Principal Matt Fraas. "As we think about the new programming and the new classes we're going to offer at the middle school, we got a lot of input from those groups."
Fraas said that working with BLDD, a menu of ideas that kept coming up repeatedly with the groups was developed, so they could be tried before the renovations were done.
The "hack spaces," as they're called, will be used for classes over the next couple of weeks so that teachers and students can report back before the design phase begins. On Wednesday, students from Thomas Jefferson also visited Stephen Decatur to view the spaces and leave their insights for district officials.
Sam Johnson of BLDD Architects said the suggestions of the staff and students will help the architects as they undertake the redesign of the building prior to construction planned for this summer.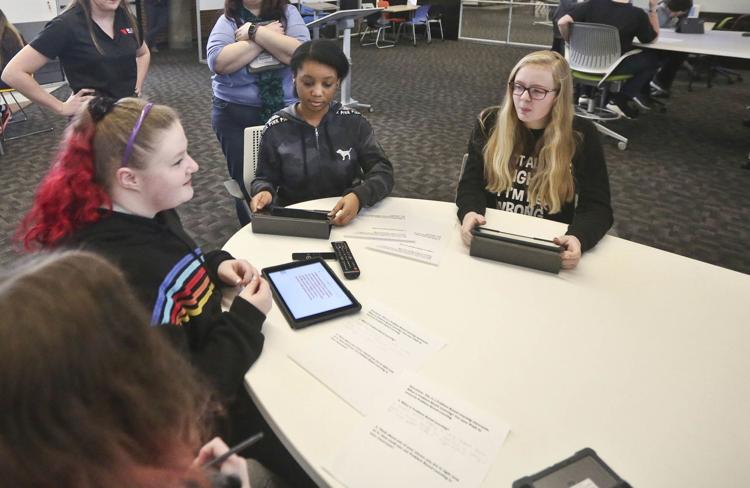 One of the things yet to be decided, Fraas said, is how to use the spaces in the school. At present, the classrooms are largely created by movable walls, and the center galleria space is unused except for the eating area. It's possible some of that middle space, which runs the length of the building, will be utilized for these flexible learning spaces.
The school district's $55 million facilities plan is called BOLD, for Building better Opportunities for Learning in Decatur. It is tied to the district's five-year strategic plan, which Superintendent Paul Fregeau announced last year. The district would go from 22 buildings to 17 under the plan. 
Plans are being made to accommodate 900 students at Stephen Decatur, though Fraas said estimates are that enrollment will be closer to 830 as of August. Stephen Decatur was originally built and used as a high school in the 1970s. Changing the curriculum and floor plan to accommodate nearly all of the district's middle school students — other than those who attend the district's four K-8 buildings — will provide middle school students with 16 elective courses to choose from. It will also leave Thomas Jefferson's building free to house the district's two Montessori programs together in the future.
In the "working cafe," the lunch area that now occupies the center of the galleria, seating includes booths and charging stations, which students will be able to use for reading, homework and projects during the day, not just during lunch.
"How do we make space more usable for kids in multiple ways?" Fraas said.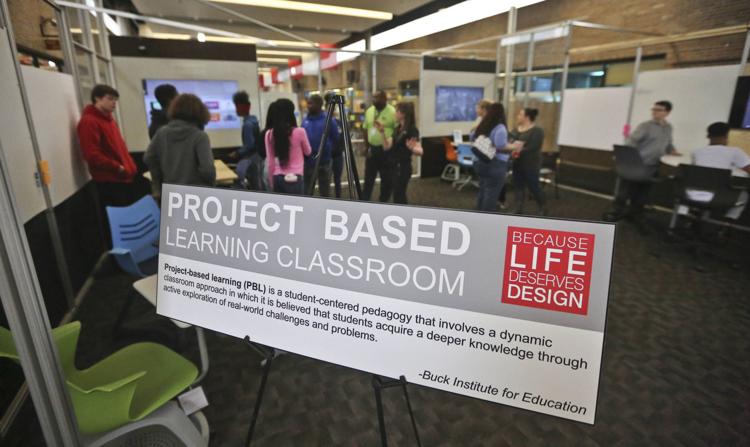 Stephen Decatur eighth-grader Christopher Walker said he could envision using those booths for reading and other quiet work.
The first year might be a little uncomfortable, said Kenraylee Carr, a seventh-grader from Thomas Jefferson, but she thinks Stephen Decatur will be a good building to house the middle school program.
"It's a nice building," she said. "It has a lot of room."
---
These former Decatur school buildings are still in use