DECATUR — Decatur students touring a local farm Tuesday had the opportunity to witness the various school subjects used on a working farm, including science, math and communication.
"It's everything," said Calel Walsch, a MacArthur freshman. "There is a lot to it. Every subject is put into one class."
"Our family has been farming ever since dirt," said Tom Leeper, who owns Leeper Family Farms.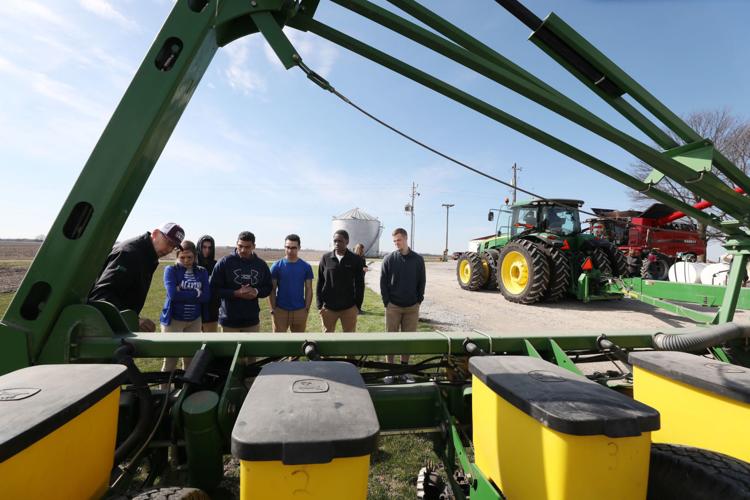 This is the first year the family has hosted an educational agriculture program.
"We feel it is really important that the urban kids have an opportunity to come out and see what production agriculture is all about," Leeper said. "We hope to educate them not only about production ag, but also about the different opportunities that are available in agriculture. These kids have a really bright future if they want to go into ag."
Cash corn and soybean production make up the bulk of Leeper Family Farms crops, according to its Facebook page, but the farm also has experience with many other crops including wheat, oats, sunflowers, seed corn, seed soybeans and hay.
"They've had a lot of good questions," Leeper's son Evan said of the visiting students. "They seem very interested in what is going on."
MacArthur agriculture teacher Andrew Klein said MacArthur and Eisenhower High School have more than 200 students enrolled in the ag program and nearly doubled the number of interested students for next year.
Eisenhower and MacArthur have ag academy programs, paid for by a $1.65 million grant from the Howard G. Buffett Foundation. The plans included an FFA chapter at each high school and 4-H in the lower grades, with the hope of introducing Decatur students to the many job opportunities available in agriculture and giving them experience that will help them even if they choose another industry.
The instructors encouraged students to join through social media and guest speakers who have been successful in the agriculture businesses. Technology, mechanics and business are just a few of the agricultural avenues that can lead to successful careers. In Central Illinois, agriculture represents the main economic driver, providing jobs from farms to production to trucking. Archer Daniels Midland Co. is Decatur's largest employer with more than 4,000 workers.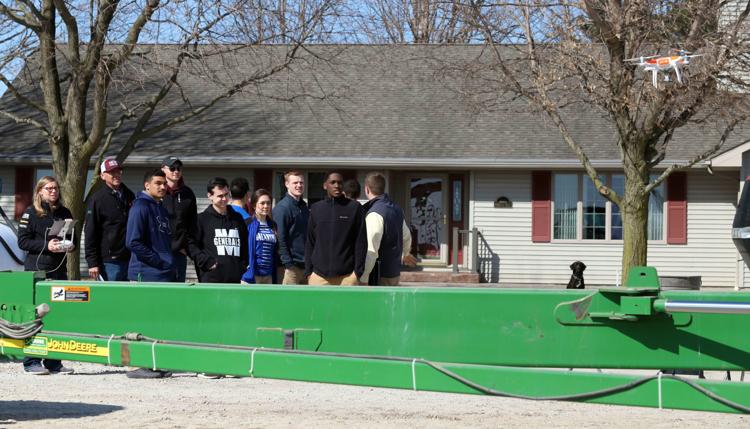 "There is a lot of agribusinesses and job opportunities in Decatur," Klein said. "A lot of the kids' parents work for ADM or Tate & Lyle, so I think that is a direct connection."
The Leeper Farms field trip allowed the students an opportunity to see another agriculture business. "Especially to kids who haven't grown up on a farm," Leeper said.
The teachers have taken the students to other agriculture field trips including the National FFA convention in Indianapolis, the University of Illinois ag program and local activities and competitions.
"(The activities) give a further experience than what they would get in the classroom," Klein said. "Everything we do reinforces what we do in the classroom. They can see the direct connection."
One of the activities is the 15-acre school farm with crops and animals located near Enterprise School.
Freshman Lillie Sherrerd is excited to spend time at the school farm. She said she joined the ag program because it seemed more interesting than the honors math class, and she has embraced the opportunities, which include being outside.
"This is really cool," Lillie said about the field trip to Leeper Farms. "And all the things that we have an opportunity to learn through this class."