DECATUR — The number of Decatur public high school students pursing federal financial aid increased 17 percent over last year as of this month — but time is running out for those who haven't acted yet.
The Free Application for Federal Student Aid, or FAFSA, filing period began Oct. 1, and high school counselors have been urging their students to take advantage of the online system and get their applications completed. Like yesterday.
"The process can be long if you're not really focused," said Aloni Jordan, a senior at Eisenhower High School, which had 111 students complete applications last year and 143 as of Dec. 1 for the current application cycle. "It's best to get it done as soon as possible to get the most money."
Aloni is one of about 20 million people to complete a FAFSA each year, according to the federal government. Some financial aid programs, such as Illinois' Monetary Award Program, award money on a first-come, first-served basis, which is why students who need financial aid should fill out the FAFSA as soon as possible, counselors say.
In 2016, 134 MacArthur High School students finished paperwork; the number was 143 this month for the current cycle. 
Despite its name, the FAFSA also is used to determine eligibility for state financial aid, some aid from colleges and some scholarships. The $150 billion in available federal financial aid may sound like a lot, but when it's spread out over millions of applications, it can go fast, counselors noted.
DeVos noted some students don't fill out the form because they're frustrated about how to do so. But for the best chance at financial aid, Eisenhower High School counselor Amanda Duckworth encourages students to overcome those feelings and finish it up before Christmas.
"I tell them, finish it sooner rather than later so you're eligible for the maximum amount (of financial aid) you can get," she said.
Easier on the paperwork
Even without the changes DeVos wants, the FAFSA has undergone several changes in recent years that are meant to make it easier for students to get the help they need to go to school.
It's a long way from the days when MacArthur High School counselor Cyndi Kraemer was a student, filling out many pages of paperwork. Recently, when she helped her own children fill it out, it was much easier with the online form at fafsa.ed.gov, she said.
"They've tried to streamline the process, so it's not so daunting," Kraemer said.
Another change came last year, when the earliest date to submit the FAFSA form was moved up from Jan. 1 to Oct. 1. That's helpful for a couple of reasons, said Rachel Brewer, Illinois Student Assistance Commission Corps representative for the Richland Community College district.
The state Monetary Award Program, which is administered by the commission, has limited funds, and those are usually gone by mid-December, she said. MAP provides grant assistance to eligible students demonstrating financial need. MAP grants are applied toward tuition and mandatory fees for undergraduate students.
Another reason is the tax filing deadline. Employers are not required to provide W-2 forms before Jan. 31, but financial aid forms can't be completed without tax returns. With the move to Oct. 1, families can use their previous year's tax forms. With each family's unique ID code, when filling out FAFSA for younger siblings, parents can import their already completed tax information into each of their children's forms without having to start over.
You have free articles remaining.
"The biggest challenge (to FAFSA) is it was so time-consuming," Brewer said. "When you work with the online forms, it runs much more smoothly."
And it's not that the FAFSA was or is complicated, Kraemer said. It's intimidating, but not difficult.
Students sometimes tell her they don't need to fill out a FAFSA because they have a college fund or their parents make too much money for them to qualify for financial aid, and she always tells them, fill it out anyway.
"A lot of students may get merit-based scholarships," Brewer said. "Institutions won't give out offers until you fill out the FAFSA."
Students learn fast
Heeding the advice of her counselors, Cassondra Mundy, a senior at MacArthur, got hers done the very first filing day, she said.
One reason it went smoothly for her family, she said, was her parents had already been through it with her older sister. And it's thorough. You have to list every asset.
"They even want to know how much cash you have in your pocket," she said.
Statistics provided by the FAFSA bear out students' eagerness to get their applications in earlier this year. Many schools as of Dec. 1 showed a greater number of students with completed forms on file with FAFSA for the current cycle compared to the previous cycle on Dec. 1, 2016: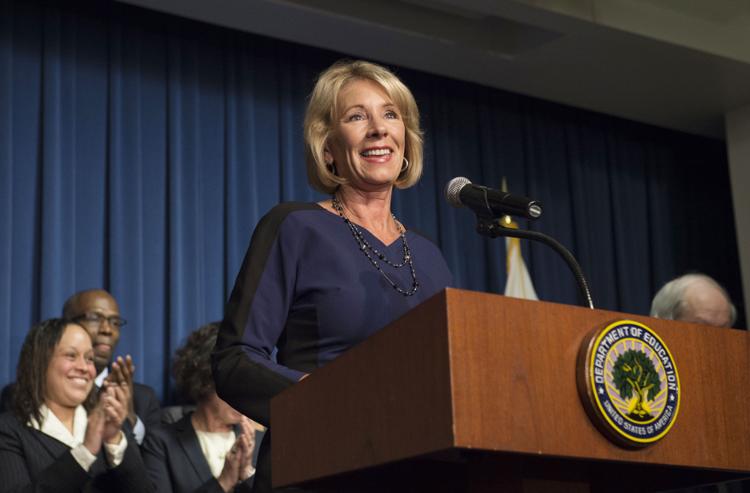 Lutheran School Association — 17 to 38
St. Teresa Catholic High School — 45 to 51 
Mount Zion — 116 to 148
Maroa-Forsyth — 58 to 63
Maaz Haji, a senior at MacArthur, wants to be a physician and would prefer to go to the University of Illinois for his pre-med major of molecular and cellular biology. He filled his FAFSA out in October and has already heard back from Bradley University with an offer, but students don't have to make a final decision until May.
Once the FAFSA is filled out, students get an estimate of how much financial aid they're eligible for immediately, but final results depend on the universities to which they apply and whether they're accepted, and other factors such as merit scholarships, he said.
Gayge Gaona-Willis said he's already been accepted by the University of Indianapolis and Eastern Illinois University, and he's been offered merit-based financial aid already. He's leaning toward Indianapolis because their pre-med program appeals to him, he said.
The process took a little longer for his family because Gaona-Willis is the oldest child, and his parents haven't been through it before, he said.
"I'm sure it's a lot easier (to do) online (than on paper)," he said. "Plus, I was getting a lot of guidance from these two (Kraemer and Brewer)."