SPRINGFIELD — Illinois' financial mess is hurting almost every entity in the state, and school districts have felt the pain in their budgets as much as any.
Transportation and special education reimbursements for mandated services have not been fully paid this year, though in late April, the Illinois comptroller sent out the first quarter's payments for the fiscal year that began July 1. When the Illinois State Board of Education's annual financial rankings came out in mid-April, some districts pointed right back at the state.
Meridian's ranking dropped to "early warning," with a score of 2.8 out of 4. Rankings are based on revenue to fund balance, expenditure to revenue ratio, and days cash on hand.
 "The way I look at it, of course we'd like to have (a score) somewhere in the 3s, but we've been using some of our reserves because the state has underfunded us," Meridian Superintendent Dan Brue said. "It's ironic they come out with these rankings when our rankings go down because we're not getting the money from the state like they promised us."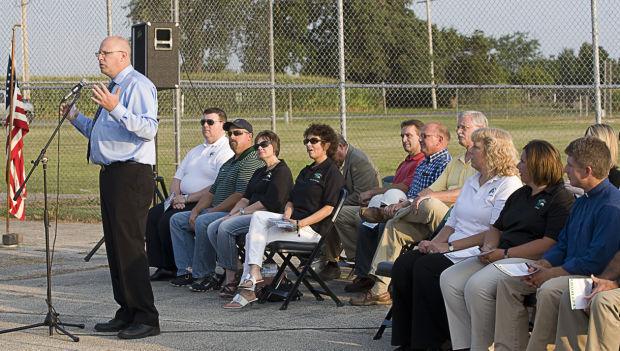 The categories, ranked from highest to lowest, are: financial recognition, financial review, financial early warning and financial watch. They are based on a cumulative score calculated from several weighted financial factors.
Decatur and Argenta-Oreana improved from the second-highest to highest rating, while Maroa-Forsyth advanced from the third-highest to second-highest. Sangamon Valley and Mount Zion maintained the highest rating, and Warrensburg-Latham maintained the second highest.
Brue said Meridian is doing the best it can with its resources, putting the emphasis on programs for the students and, so far, not issuing bonds. Doing that would bring in money for the working cash fund and improve the district's ranking, but the district would rather not use debt, he said.
Brue and 360 other superintendents statewide signed a joint initiative called "Pass Illinois' Budget," demanding that legislators end the state budget impasse, now approaching the end of its second year; improve the state's education funding formula; invest in students and schools, including higher education; and pay school districts what they are owed for this school year. They're owned a combined $13 billion in unpaid bills.
State revenue accounts for about 35.5 percent of Meridian's budget, Brue said, and the state owes the district more than $412,000.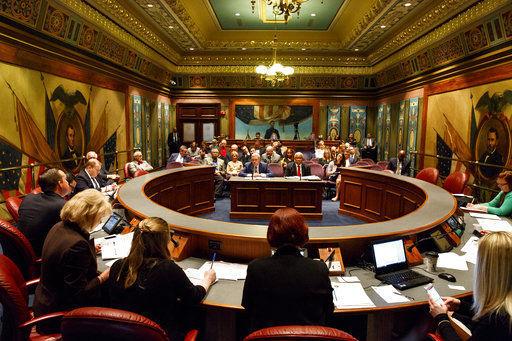 In Decatur, the district moved up a notch to achieve the "financial recognition" rating, the top category. Based on the scores released by the state board, an improvement in the ratio of the district's expenses to revenues was the cause for the gain.
Chief Operational Officer and Treasurer Todd Covault said last month that the news was positive, but "somewhat misleading." He said the district's fund balance appears higher because the district receives property tax proceeds a month early, in June. 
Argenta-Oreana schools also improved one step from last year with a "financial recognition" rating, and Superintendent Damian Jones said several years of very conservative spending and cost-saving measures over the past decade are the reason.
The district issued a $1.7 million bond several years ago that allowed it to have a cash reserve, and no cuts are planned in programs or personnel for the coming school year, Jones said.
"School district administrators facing major cash flow difficulties continue to make hard choices," the Illinois State Board said in a statement. "They have chosen to reduce expenditures via reductions in force, forgo supplies, delay facility repairs/maintenance and delay purchase of replacement buses. They have also increased cash balances by issuing debt or restructuring debt payments.
"Districts are now at a point where additional budget reductions are going to be very difficult to realize without impacting the education of students."
About a dozen school districts are suing the state, saying officials are violating the Illinois Constitution by not providing enough education funding. Gov. Bruce Rauner has recommended changing how districts are funded to make it more equitable to cash-struggling districts. 
Rauner and House Speaker Michael Madigan, D-Chicago, have been locked in a dispute about funding priorities and regulatory changes, prompting Illinois to have the longest stretch of any state in at least 80 years to not have a full-year budget, since June 2015. The stalemate has caused a growing cry from social service providers, school superintendents and universities. 
Of 852 school districts in the state, 409 are in deficit spending. When a district's budget is not balanced, the fund balance must be three times the deficit amount, or the district is required to submit a deficit reduction plan to the state board. In this fiscal year, 34 districts were required to submit such a plan, and state board personnel are monitoring districts in deficit spending.
Parent Rhonda Bray, whose son is a kindergartner in Warrensburg-Latham schools, said she hasn't noticed any cutbacks so far.
"I wouldn't necessarily say that the schools' struggles have me disturbed at this point, but I am certainly concerned for what may come in the future if things are not put on the right track," Bray said. "I haven't witnessed any signs of (Warrensburg-Latham) struggling, but that doesn't mean we won't experience it at a later date."
Even though the state has been paying the full amount of general state aid, the state paid only a percentage of that for several years, said Kristen Kendrick-Weikle, superintendent for Warrensburg-Latham. 
"Prorated is a nice way of saying they cut our funding," she said. "They're not paying what they're obligated to pay."
Additionally, for rural districts, transportation is a significant, required, expense. Until a few weeks ago, the state had yet to make a single reimbursement payment this year for getting children to school.
The state owes Warrensburg-Latham $116,914 for special education transportation, $69,096 for special education personnel reimbursements and $208,189 for regular education transportation as of April.
"Districts like us, who made $1 million in cuts five years ago, that's a lot," she said. "And at some point, there's not a lot left to cut. We want to provide a solid foundation and educational experience, but the state makes it difficult."
At one time, a bill was proposed that would drop the requirement to offer transportation to students who live 1.5 miles from school or farther. In a rural district, that's a lot of students, Kendrick-Weikle said. And in a rural district, there is no city bus service to pick up the slack. The district is also trying to rearrange positions and avoid hiring, when possible, to save expenses.
"We're trying to hold on," Kendrick-Weikle said. "We're looking for ways to provide the highest quality education we can while maximizing personnel and other resources."