DECATUR — A.D. Carson was in fourth grade when his teacher gave the class a writing assignment. He asked if he could write his in rhyme, and she agreed.
After that, she gave him books of poetry to read, and Carson discovered a love of language and writing.
"The opportunities I have now are due to being in that fourth-grade classroom and I took advantage of the opportunities I had there," Carson told students at Dennis School on Monday. His mother wrote poetry in notebooks which she hid away, but he was a "really nosy kid," he said, and he found them and read them. After he admitted this to his mother years later, she shared more of them with him, that he hadn't seen before. She was his first inspiration, he added.
Now an assistant professor of hip-hop at the University of Virginia, Carson is a product of Decatur schools. He attracted notoriety last year with his dissertation at Clemson University, which was a 34-song rap album called "Owning My Masters: The Rhetorics of Rhymes and Revolutions," rather than the typical hundreds of pages of paper. He also wrote a 250-page prospectus to ensure that the committee who reviewed his work would understand it, but the intent, he said, was never to submit the prospectus as his dissertation.
Carson told the students that his family moved a lot, so he had attended several Decatur schools before graduating from Stephen Decatur High School, which is now a middle school.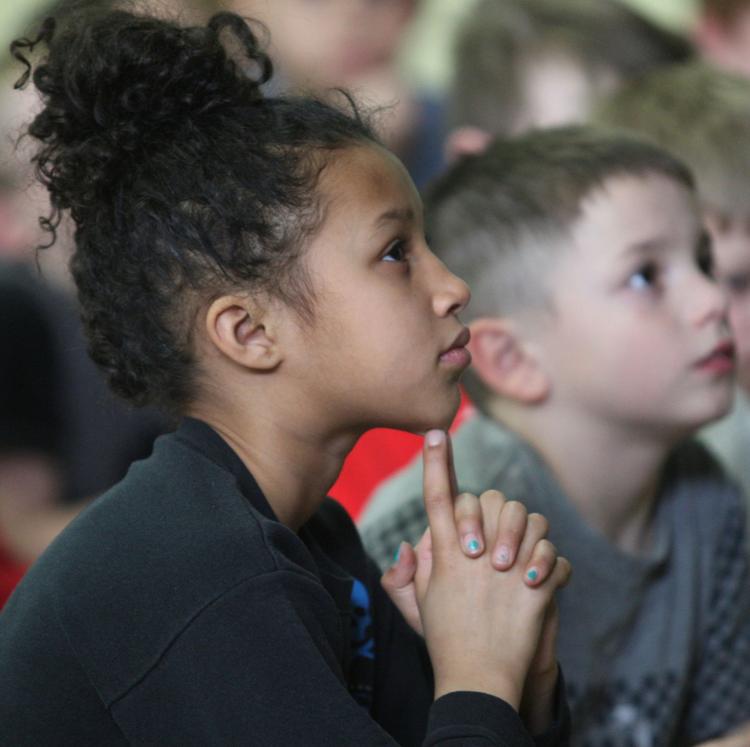 He also spoke at Millikin University on Monday evening for Civil Discourse Week, and described his talk as a cross-disciplinary discussion that would link literature, history and music to social justice issues and living in America today.
In his classes at the University of Virginia, Carson works with students to teach them how to write rap and another is mix tape composition. He doesn't know of any other professors of hip-hop in American universities, but he said it's not an unusual course of study, even if the professors don't carry the title.
"I know that it's the first time in title at the University of Virginia," Carson said. "There have been other professors who taught hip-hop, some very pioneering hip-hop studies. Research was done there by Kyra Gaunt, she's one of the foundational figures in the field of hip-hop."
His speciality in hip-hop comes from a background in English, rhetoric and writing composition, which he taught at MacArthur and Springfield high schools. He was drawn to teaching, he said, because education is so important to him.
You have free articles remaining.
"Had it not been for those interactions in classroom, especially since we moved so much, I might not be where I am today," Carson said to Dennis students. "That's why I continue to try to learn while teaching."
Principal Matt Andrews emphasized to the Dennis students that Carson was once just like them.
"He was a Decatur kid in Decatur schools," Andrews said. "He went on to do great things, and you can do that, too."
The youngsters clamored for Carson to perform some of his raps, and he asked for a few minutes to think about it, to come up with one he could do for them. He called Simeon Risby, an eighth-grader, out of the audience to provide the beat, and Simeon used one of the school's folding chairs for a drum.
After the performance, which students received with enthusiastic applause, Simeon jokingly complained he couldn't feel his knuckles anymore. Chairs don't make the best drums. However, he did enjoy Carson.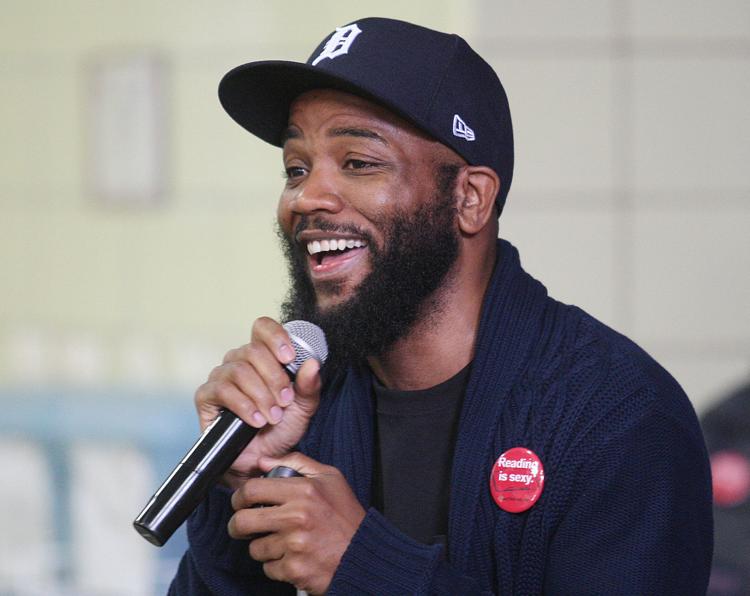 "He was good," Simeon said. "It was one of the purest forms of rapping. Most raps you hear nowadays is like, it's not clean, like what he said before about not being able to rap most of his songs (in front of the kids) because they're a little bad (in language), a little raw for second-graders and stuff. But instead of rapping about drugs and the things that people think rappers rap about, people could relate to it. It was more real."
Carson addressed that, too, in his talk to the kids. He said when he began rapping as a fourth-grader, he tried to be like the "gangsta" rappers and most of his pieces were about "beating people up."
"But that wasn't real," he said. "I just made it up to try to sound tough."
When he admitted that to himself, and instead started writing about his own experiences and his own life, he found his own voice, he said.
Carson's talk kicked off Civic Discourse Week, a partnership between Millikin University and other Decatur community organizations. The week continues with several other speakers and events, including the 10th annual "Conversation on Race" at 5:30 p.m. Thursday at MacArthur High School.