DECATUR — The first sign that Hannah Leonard had a severe nut allergy came when she was about 18 months old.
Her parents gave her a peanut butter and jelly sandwich, long a childhood staple.
"She choked and turned red and started coughing and got a rash," said her dad, B.J. Leonard.
She's now a Parsons Elementary School first-grader, but the symptoms noticed that day are still worrisome for her parents.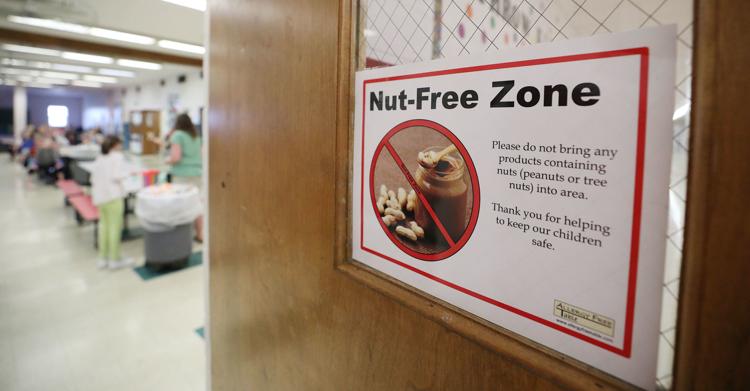 The legislation allows school nurses to give the drug to any student believed to be having a life-threatening allergic reaction, and allowing schools to keep extra epinephrine in stock. The law was later amended to allow any trained person at a school, not just school nurses, to administer the medication.
Schools have also adopted strict no-peanut zones.
DECATUR — Serenity Crowder served on a jury on Wednesday in a case where Cinderella sued her stepmother, Lady Tremaine, for back pay.
At Warrensburg-Latham Elementary School, a sign on the outer door warns that no nut products are allowed in the building at all. Over the years, the school has had so many children with allergies that the entire building is nut-free.
"That's the reason we moved from the south side of Decatur," said Justin Lyon, father of 7-year-old Jonah, who attends the school.
Jonah learned to read early and is "a worrier," Lyon said. He reads labels and he knows what to avoid and is cautious about anything edible that doesn't come from his parents, but it's sometimes difficult to get people to understand how important it is to watch what he consumes.
The Lyons have provided the school with an EpiPen for Jonah just in case, and the school has an online database for faculty and staff so that every adult who encounters a child can check to see what needs or conditions they have to be aware of, he said.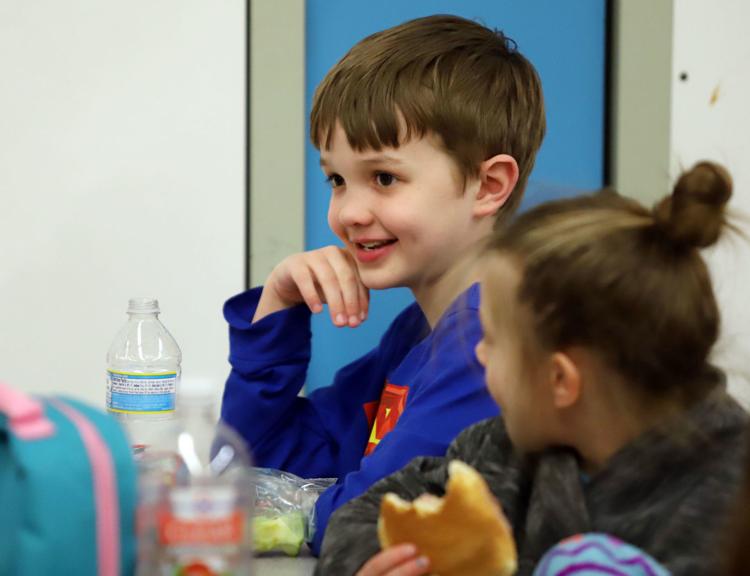 "A lot of parents don't understand what it's like to have a peanut allergy," Lyon said. "Some get upset when you check the ingredients on cookies someone's brought. He has several allergies, but nothing as worrisome as peanuts."
Two kids with allergies in every classroom
U.S. Centers for Disease Control and Prevention data shows that food allergies in children increased 18 percent between 1997 and 2007. One in 12 kids has a food allergy, according to a 2018 Northwestern University study. That's about two kids in every classroom, the study said.
"There is an epidemic in food allergies," says Dr. Kari Nadeau, one of the authors of the Northwestern study. "On any given day, you could have an accidental ingestion that could lead to a fatal event. It's a huge burden for the child, the family and all of society."
The rate of milk and peanut allergies, for instance, is doubling every 10 years, says Nadeau. One of the most puzzling aspects of the surge in food allergies is that 75 percent of cases occur in children with no prior family diagnosis.
The American Academy of Pediatrics in March released a report that suggested introducing peanut-based foods to infants before their first birthday to prevent allergies. 
What's troubling about nut allergies is the wide range in severity.
Leonard and his wife, Mary, noticed that if they ate something with nuts in it and touched Hannah, she would get hives at the spot. They had her tested, and she is allergic to almost all nuts. Her allergy is severe.
"We have to be really careful what we eat," Leonard said. "We read labels all the time. Does it have nuts in it? Has it been processed in a factory that also processes nuts? A lot of food manufacturers are more aware now and are communicating their process. You can read labels, and you'd be surprised what products nuts find their way into. Even ice cream and salad dressing have traces."
The Leonards also have twins a year younger than Hannah, and one twin shares Hannah's allergy, while the other does not. Both Hannah and her sister, Lydia, carry their own EpiPen, and the office at Parsons School, where the twins are in kindergarten and Hannah is in first grade, has one, too. The school has been vigilant, Leonard said. When Hannah was in kindergarten and the district couldn't ensure a nut-free school bus for her, they provided her a bus of her own, with an adult who knew how to administer the EpiPen if necessary.
The Centers for Disease Control say eight types of food account for over 90 percent of allergic reactions: milk, eggs, peanuts, tree nuts, fish, shellfish, soy and wheat.
Reactions can range from mild, such as a tingling sensation, to severe and life-threatening. The CDC said little is known about how such allergies develop, and that the allergies are more prevalent in children than adults. In fact, a majority of affected children will outgrow their allergy, but not all. Children with food allergies are also more likely to have asthma or other allergic conditions.
Avoiding nuts takes vigilance, Leonard said. He loves them, and so does his daughter Mia, the twin who is not allergic. Sometimes he takes Mia out so they can have something with nuts in it, being sure to remove all traces from their hands and faces before they go home.
"Hannah is so allergic she can actually smell peanut butter from a distance," Leonard said. "The older the girls get, the more aware they are."
Expensive equipment an issue
At Lutheran School Association, eight students have allergies to various foods, and nurse Laura Messamore's office is next to the cafeteria. She has spare EpiPens not designated to any student in case one requires its use. One frightening thing about allergies is that a child might not know he has one until he has a reaction, which could be severe. That's why Messamore is prepared.
"When it comes to peanut allergies, some can be contact, some can be airborne, though most are ingestion of peanuts," she said. "We are not a peanut-free campus, but for the students we do have with peanut allergies, education plays a huge role. From the custodian to the art teacher to the classroom teacher to the classmates, at the beginning of the year we send a note home to all parents to inform them of an allergy in the classroom."
The law allows for students to carry an EpiPen of their own, Messamore said, and two of the LSA students do. The smaller ones keep theirs in her office and those are prescribed specifically for them.
"We actually just got them this (school) year and it's such a relief for me, knowing I have this in a life-or-death emergency for a child that doesn't know he has an allergy," she said. "In art, they were doing something with bird seed, and we had a student allergic to peanuts. It's in things you don't think about. They can put peanuts into powdery clay. We try to be really diligent with our allergic kiddos."
EpiPens are expensive. The price for a two-pack has gone up to as much as $600 in the last few years, according to Consumer Reports, but a generic alternative has become available and runs a little more than $100. The self-injectable epinephrine cartridge can halt a severe allergic reaction in an emergency. There are programs specifically for schools that supply the pens at no cost. Decatur School District buildings also have the EpiPens on hand in case they're needed.
Additionally, there was a shortage of EpiPens last year.
"The parents have an extremely hard job to try to find foods to teach the kids to avoid," Messamore said. "The list is huge of foods that contain peanuts: Oils, soups, candy. The little ones have a hard time, or they forget, or they want to be like their buddy (who can eat those things). We have a no-food-sharing policy, that's to keep everybody safe. It's our job as their caretakers and teachers to keep them safe and part of that is to watch what comes in the room."
The San Jose Mercury News and Chicago Tribune contributed to this report.
---
Contact Valerie Wells at (217) 421-7982. Follow her on Twitter: @modgirlreporter
Be the first to know
Get local news delivered to your inbox!