DECATUR — When Aaron and Abi McIntosh moved from rural Weldon with their two daughters, they heard all kinds of comments about Decatur public schools — that they were unsafe and lacked academic opportunity, and that the couple should think about private school instead. The McIntoshes, who came to the city five years ago, were puzzled by the difference between what they saw and what they heard from others.
"Here's these brand-new, state-of-the-art high schools, really well-prepared teachers, and great programs to send our kids to," said Abi McIntosh, who owns New Era Signs and Standing Paddle Co. with her husband. "I don't know what the disconnect is."
The warnings from both those in Decatur and out highlight a reputation problem that school district leaders are working to fix as part of a new, wide-ranging strategic plan.
Real estate agents, parents, students and community leaders say the negative perception clashes with the reality of the public school system, which is embarking on several key projects, including an innovative farm-education program called the Dwayne O. Andreas Ag Academy. Yet they say those efforts are consistently overshadowed by a reputation that is impacting everything from property values and the willingness of police officers to live within city limits to the places developers choose to build homes. 
Something needs to change, Superintendent Paul Fregeau told the school board in May. 
"The district will need to look different than it does today if we're going to be a destination district," he said. "Because we are not currently, I'm just being frank, a destination district."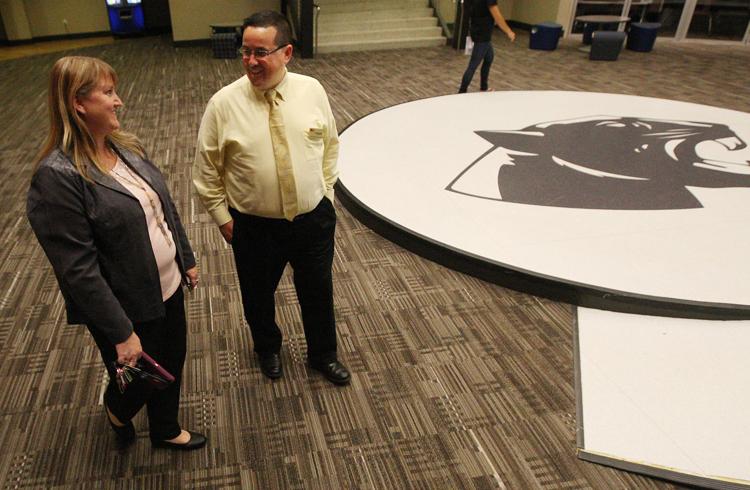 Property sale records indicate the disparity in value. The Herald & Review analyzed 2014-2017 home sale data for adjacent neighborhoods on either side of the line separating Decatur public schools and other districts. The houses were similar in size, age and condition. 
In the case of the Cresthaven Estates and Valley View sections on the north side of Decatur, the neighborhoods sit next to each other with similar-sized homes built in the 1970s and 1980s. But in Valley View, in the Maroa-Forysth School District, 13 homes sold for $37,000 more on average than the 11 homes sold in Cresthaven Estates, a Decatur public schools neighborhood, in the same time period.
On the southeastern side of Decatur, also within the Decatur School District boundary, Crestwood is adjacent to the Wildwood section of Decatur. Thirteen homes in Wildwood, in the Meridian School District, sold  for $24,000 more on average than eight houses in Crestwood between 2014 and 2017, the data shows. 
Megan Jesse, a Glenda Williamson Realty agent, said the differences match what she's experienced. A former middle school teacher, Jesse said schools are a driving factor in where homeowners search. 
"The first thing out of their mouth is they have kids and a family and, 'We're looking at Maroa-Forsyth or Mount Zion. We want some kind of county school.'"
Recognizing that pattern, Decatur school and city officials are collaborating to draw middle- and working-class families back after decades of flight to elsewhere in Macon County.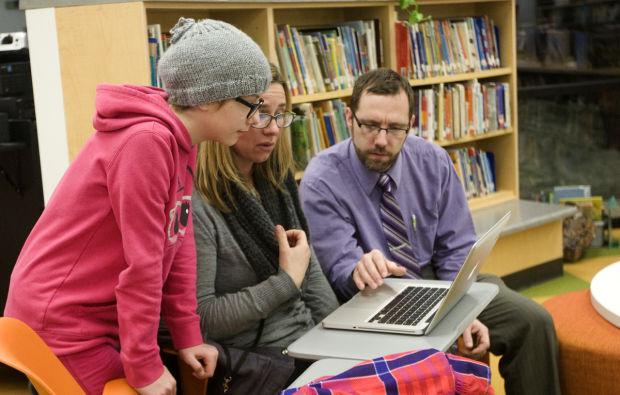 "The two big entities, when we're talking about the city of Decatur, it's the school district and the city," said City Manager Tim Gleason. "(We're) working closer with them than I think we have ever before."
The strategic plan, unveiled in May after months of community input, includes specific goals to offer incentives for living in the district and collaborate on housing for young professionals and school district employees.
The city's two-year fight with Decatur's police union is one example of how school and city leaders are still facing an uphill battle. The police union representing Decatur officers has said the residency requirement for an officer's first five years of employment is a major sticking point in the negotiations, which have gone into arbitration.
Shane Voyles, the union's representative, said earlier this year that the quality of public schools was among the reasons. "A lot of it has to do with the school district, the Decatur School District," he told the Herald & Review. "It's awful. … I don't think there is anybody in Decatur who can really disagree with that."
A tale of two districts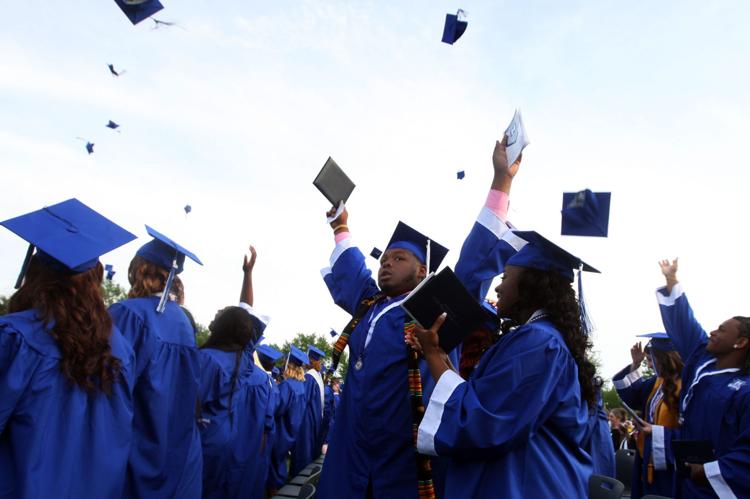 Established in 1865, the Decatur School District is overwhelmingly the largest school system in Macon County. The 9,000-student district covers an area that roughly mirrors Decatur municipal boundaries, with exceptions. For example, some neighborhoods on the outskirts of the city fall within the Warrensburg-Latham, Argenta-Oreana, Meridian and Mount Zion school districts. 
Each area has dealt with shifts in population. Inside Decatur, population decline continued after the Great Recession, but held up in the rest of Macon County. In Forsyth and Mount Zion, population has grown.
"You could interpret it as the people moving into Macon County are choosing smaller towns and not Decatur, or people in Decatur are moving out of town into the more rural part of the county," said Macon County Assessor Josh Tanner, whose office sets home values for taxing districts.
Another factor: Low demand also can make families worry they won't be able to sell easily or even recoup what they paid for a home in Decatur. Jesse said that was the case for a family with four young children who recently moved to Mount Zion.
"School district didn't matter to them, but resale value mattered to them," she said. "When they're relocating, they may not stay here forever, and 'If we move in another four to five years, what's my best purchase in terms of resale value?'"
It's even a factor in new construction. When the city council approved a new 30-home residential development in southeastern Decatur, developer Roy Mosser said the Mount Zion School District was one of the project's main selling points.
"I wouldn't say anything negative about any school district, but I do know that the Mount Zion (school district) has a very positive reputation … and I think that's a great asset," Mosser said in October.
McIntosh said the problem is noticeable and worrisome for the future health of the district.
"I feel like if it keeps happening, how much can you keep bringing (Decatur public schools) up if you can't invest back in? That kind of flight to other towns isn't investing in our core city, and we have to be willing to do that," she said. "It's not like we're giving up our kids as sacrificial lambs for the school district. They're being taught and being supported."
Fregeau said 79 percent of school-age children in the district attend its schools. That could indicate that parents are opting for private schools.
"Normally a district would see a market share of about 90 percent," he said. "We'll need to do a better job of figuring out why other people are choosing other options."
Parents and real estate agents say the negative perception over time caused people with the means to move or put their kids in private schools, leaving Decatur schools with more families who can't afford to leave.
Tony Wilkins is superintendent of administration for Ameren Illinois and active with the Metro Decatur Black Chamber of Commerce. He said one of the results is that school districts have become more divided along racial lines and income levels. Wilkins, the father of a MacArthur High School graduate and grandfather of a current student, said the Decatur schools should better reflect the community. 
"When you continue to have that perception about our schools, it continues to segregate our school populations," he said. "That's what's happening in Decatur."
The gap between Decatur and neighboring districts is troubling, said Carla Brinkoetter, a real estate broker at Brinkoetter and Associates in Decatur.
"That diversity is not there," she said. "We're all taught 'love one another.' Well, we don't know one another."
More Decatur students take college-level coursework 
For professionals moving into the area, another major factor is the metrics used by websites like Zillow to rate schools. Ratings come from Greatschools.org, which until recently mostly used standardized test scores as its method. The website now uses a more complex formula that includes socioeconomic factors and discipline rates.
National education research has shown that standardized test scores often do not reflect so much the quality of a school's teachers, programs and offerings, but rather the socioeconomic demographics of the students.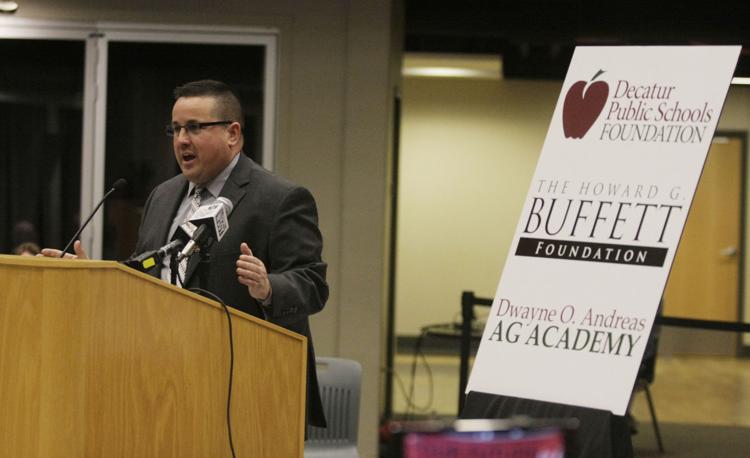 The state board considers 53 percent of Decatur students low-income, versus 24 percent in Maroa-Forsyth and 20 percent in Mount Zion and the Monticello School District in Piatt County.
At Monticello, which has consistently higher test scores, Superintendent Vic Zimmerman acknowledges that having fewer low-income students can play a role.
"There is a strong correlation between a low percentage of low-income students and a high score on a standardized test that's not specific to Monticello," Zimmerman said in October. "You can throw a lot of money to things, but you're not likely to see scores and growth on standardized tests like you would at a district that has a smaller number of lower-income students, because there are a lot of other challenges in those districts that have high poverty rates."
Last year, state lawmakers passed a school-funding change to help close the "achievement gap" between low- and high-income students. The formula considers that children with learning disabilities, who are not native English speakers, or are from low-income households require more resources to educate. The state board considers a district as meeting 100 percent adequacy if it can provide enough funding for all students.
The state board calculated this year that Decatur public school was 61 percent toward its adequacy target — meaning it is short $44 million in funding, according to the model.
But parents and students say the high percentage of low-income students does not affect the experience of the whole.
"You can't judge a school off just test scores," said Aloni Jordan, a recent Eisenhower High School graduate. "I'm sure if you isolate the honors class test scores they're going to be a lot higher than the school average."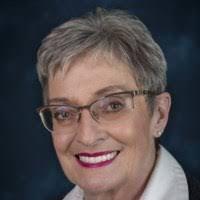 Indeed, more Decatur students graduate high school having taken college-level coursework than any other nearby district. According to the state board of education, 37 percent of Decatur high school students took college-level coursework in the 2016-17 school year, versus 15 percent in Maroa-Forsyth and 25 percent in Mount Zion.
District officials have touted this year the $3 million in college scholarships Decatur public schools' class of 2018 won, increased exposure to professional trades through fairs and partnerships with local companies and trades unions, a dual-credit horticulture class at Eisenhower, and other new clubs and programs, like the South Shores Chess Club.
A question of safety
At the heart of the district's negative perception, many say, are questions about another factor: the safety of its students. Sassano, Jordan and other district advocates say fears about fighting and violence are unfounded and sometimes rooted in what they see as unfair media coverage.
"We've faced perception problems for years," said Dan Oaks, president of the school board. "A lot of it has to do with media coverage that are not school-related — 'if it bleeds, it leads' scenarios."
Across the Decatur School District, there were 2,680 in-school suspensions, 1,520 out-of-school suspensions and six expulsions in the 2016-17 school year, according to the most recent state board of education data. Of those, 853 resulted from incidents of violence with physical injury.
The number of suspensions represents a dramatic decrease from the year before, when the district reported 5,837 in-school and 3,085 out-of-school suspensions. The change comes after a 2016 state law, Senate Bill 100, that transformed how schools handle discipline issues and deterred harsh punishments like expulsion until the district has tried other means to stop bad behavior. Also as a result of the law, the district is in the midst of a sweeping effort to reform its alternative education program for students with behavior issues.
Fregeau said he talks to students regularly through a superintendent advisory council, and they don't understand why people would feel that Decatur's schools are unsafe.
"Our kids feel safe," he said. "They enjoy going to our schools, and the perception is what it is, but we need to do a better job of telling our story so that people don't feel that way about our schools."
Fights between students break out occasionally, but they rarely, if ever, harm innocent bystanders, Jordan and Sassano said.
"We have a bunch of security guards, assistant principals, teachers — they're watching us, making sure everyone's safe," Sassano said. "They're definitely on top of it. I've never been scared."
"There are a lot of good things happening (in Decatur public schools), it's just the light doesn't get shone on them like they shine on two girls getting into a fight and that's front page news," she said. "Kids get scholarships the same week and it barely makes the paper at all."
Working toward solutions
District officials say the strategic plan would span five years, beginning this upcoming school year. In a June special working session, school board members gave Fregeau direction on what items to prioritize first and discussed how to measure progress on them. Fregeau said he would present those initial priorities and measurements for school board members July 10.
Since the state's new funding formula weighs a district's ability to raise revenue from local property taxes, more state money in the coming years could soften the blow of the declining property wealth inside the Decatur School District.
But some still see a worrying trend.
"Kids in poverty have lower test scores. That's not news," said McIntosh, the Weldon transplant, who decided to send her children to Decatur schools. "If we want to help our inner city thrive, we have to support our schools with kids who aren't in the midst of hardship so that they can help brings things up."
City officials hope incentives for lower-income families with steady jobs to buy homes in Decatur could stabilize struggling neighborhoods and boost the health of Decatur public school students.
"The likelihood for us to have $200,000 or $250,000 home subdivisions is not likely, but the goal is to turn our neighborhoods around," Gleason said. "If we've got gainfully employed (families making) a modest living, but they can afford to own maybe a $35,000 mortgage, I'll take those families all day long, because they build and things grow upon that."
---