DECATUR — If you visit Oak Grove School and think you're seeing double, you are.
There are five sets of twins in fourth grade there.
"At first, I thought it was weird, but now I think it's awesome," said Serious Bond, whose twin Sincere is in another class.
At Oak Grove, other than a few tears from the smallest students, things went smoothly, said Principal Dianne Brandt. Oak Grove has preschool for the first time this year, in addition to its K-6 students.
In Carolyn Keizer's fourth grade classroom, where Serious is assigned, every day begins with circle time. It's a chance to get the day off on the right foot, which is especially important on the first day of school. Keizer keeps a plush elephant named "Bob" in her room, and whoever is holding Bob is the only one allowed to speak. She passed Bob around and asked the students to name their favorite subject or to say what they're thinking about the first day of school.
"I'm glad I'm here because I can all my friends," said Treymir Taylor.
Math got the most votes for favorite subject, with art and science right behind. Keizer had also provided a survey just for fun, asking the kids to fill in the blank on statements such as "the song I couldn't get out of my head" and "weirdest thing that happened" over summer break.
About 8,700 students attend Decatur public schools, which employs more than 1,400. 
The first day of school in Decatur's public schools was Wednesday. At Stephen Decatur Middle School, where the district's two middle schools were combined for the first time, parents were told they'd receive a call from their child's advisory teacher with bus and class schedules.
Serenity Crowder, a seventh-grader, said she was told at school on Wednesday that they had no teacher or homeroom assignment for her and when she asked which bus to ride home, she was told she wasn't in the system and had no bus assignment, either. She said she spent the day playing basketball and sitting with other students near the Galleria. 
"When I got home I saw a bus dropping kids off on my street and I'm pretty sure that should have been my bus," Serenity said. "They didn't even tell me. We don't have schedules, so we're just going to have to keep on like this for now." 
Her mother, Maria Franklin, said that Serenity described her day as "horrible."
Messages left with the school and district office seeking comment Wednesday afternoon were not returned. 
Across town at Garfield Montessori School, Lester Trotman had just dropped off his two younger children, Isabella, 13, and Victoria, 10. He's been a Montessori parent for 17 years. His sons attended the school, too.
Trotman works an overnight shift and got home just in time to drop the girls off at school and exchange some teasing remarks with school board member Courtney Carson, who was visiting buildings with fellow board member Beth Creighton.
"The program fit my children," Trotman said. "I like the education here. Once you get bit by the Montessori bug, you stay. I really appreciate all the teachers who taught my children, though some of them are gone now. It's awesome."
Ed Lozano Jr., who is both a parent and library/media tech assistant, is spending his first school year working at Garfield after having been at Dennis School previously. Lozano's children attend Garfield, and he's also a big believer in the Montessori method. When he heard about the opening at Garfield, he knew he wanted to apply for it. Next year Garfield and Enterprise Montessori School will both be housed at Thomas Jefferson, formerly a middle school, and the convenience of working and having his children at the same building was appealing.
"We live in the West End, and I was dropping the girls off here and driving back to Dennis," Lozano said. "Next year is going to be kind of a game-changer, so by getting into this school, it allows me to move along with them. Since I've been a Montessori parent, I've really loved the method and the Montessori style. I wish they'd had this when I was a kid."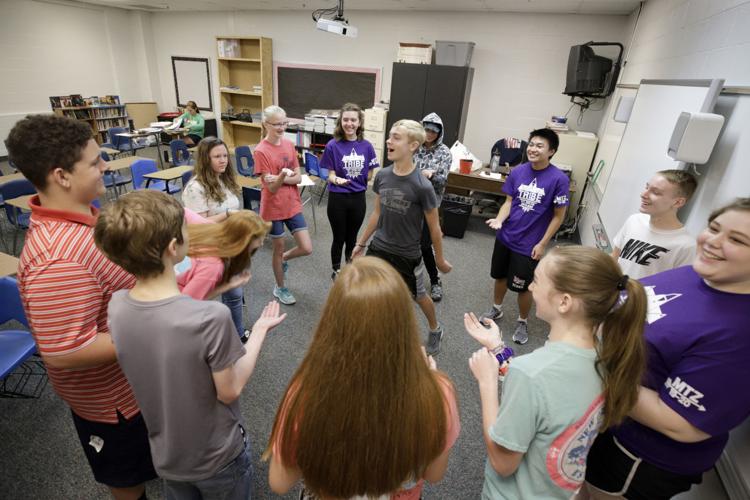 He's also working alongside new physical education teacher Jake Maple, whom he once coached. Maple is a Decatur native and graduate of MacArthur High School.
In the seventh/eighth grade class, the students were doing a "getting to know you" activity, and seventh-grader Anthony Rice admitted he wasn't quite ready for the first day of school.
"I'm still pretty tired," he said with a laugh.
Isabel Bethard and Lily Hartsock, both in eighth grade, didn't have that problem. "I started here in fourth grade," said Isabel. "I really like Montessori because of how everything works and how we have a connection with the teachers and they actually respect us. They don't just teach us things. They put their time and effort into us."
Mount Zion schools don't officially kick off the year until Friday, but high school freshman orientation was going full tilt on Wednesday, with the second year of a program they call "The Tribe." Staff members attended extensive training with a company called Link Crew to learn how to plan activities that will help freshmen adjust, meet new people, get past their nerves and discomfort, and become integrated into high school more easily.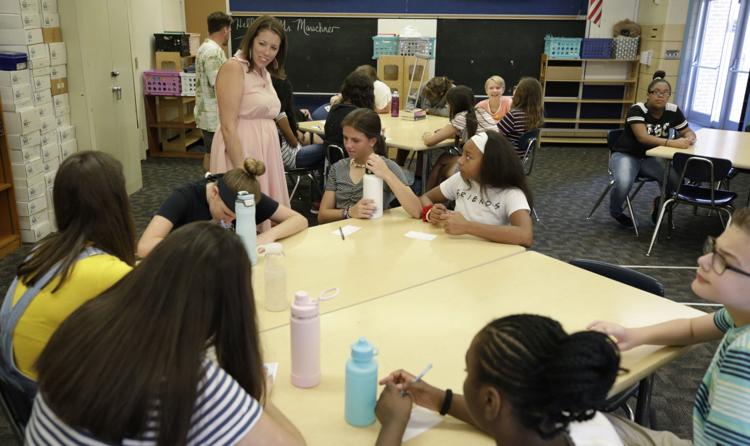 "They start (by) playing some activities to get the kids more comfortable, and make sure they know each other's names," said Elisa Lewis, academic liaison and one of the staff running the orientation. In spite of most of the students having gone to school together since kindergarten, they don't all know each other, and the activities are designed to throw them together with people who aren't their close friends and get them to share information that will be the foundation for relationships.
As the year progresses, said counselor Adriane Moody, four teams will see to students' other needs as well. The grief team will offer support to students who have had a loss, and deliver a pie to the family to show they care and are available. The transfer team will welcome students who come to the school from outside the district and provide guidance and friendship to help them settle in. The social team will plan a social event quarterly, and the academic team will work with freshmen during the focus period each day to make sure their schoolwork is a priority.
They've tried to think of everything, Lewis said, even including showing freshmen how to behave during homecoming assembly and assuring them that they can come to the dance without a date and without getting dressed up. The idea is to make the transition to high school as much fun and as easy as possible.
Staff and older students who are volunteering as leaders wear purple T-shirts inscribed "Tribe" to make them stand out, and even once school starts, the older students will make regular contact with their freshman group, and be available.
"We didn't have this set up when I was a freshman," said Francis Velasco, a junior. "I definitely would have been more comfortable knowing that some junior or senior would help me out. Everyone seems to be having a fun time and I think that's good, to get everyone involved before school starts."
---
🎒 Simpler times: Vintage back-to-school ads
First to Sears, then to school
Back To School Coupon Days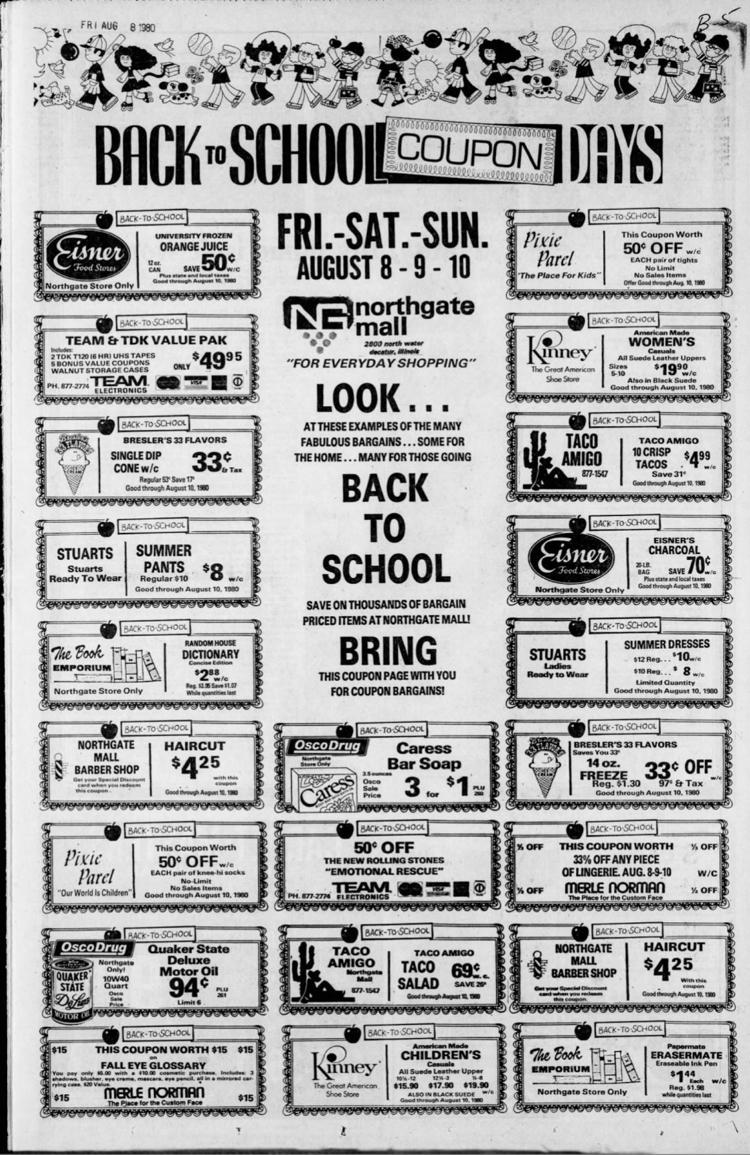 Come to the Carson Corner for your school needs!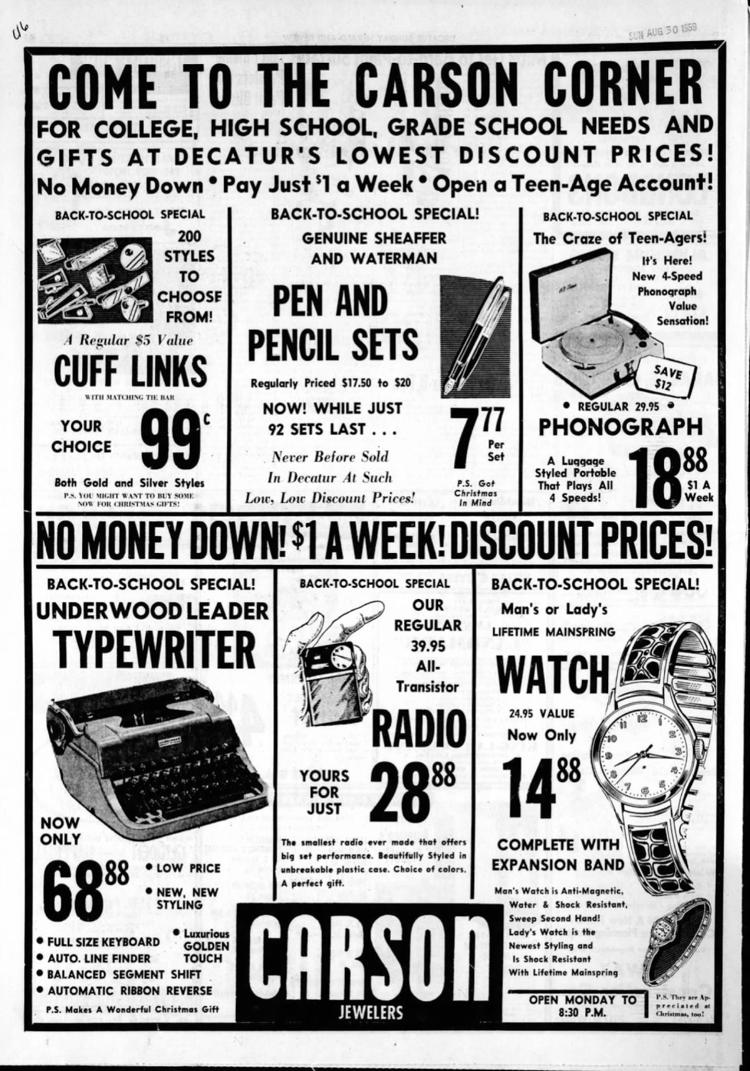 Fairview Plaza Back to School Shopper's Center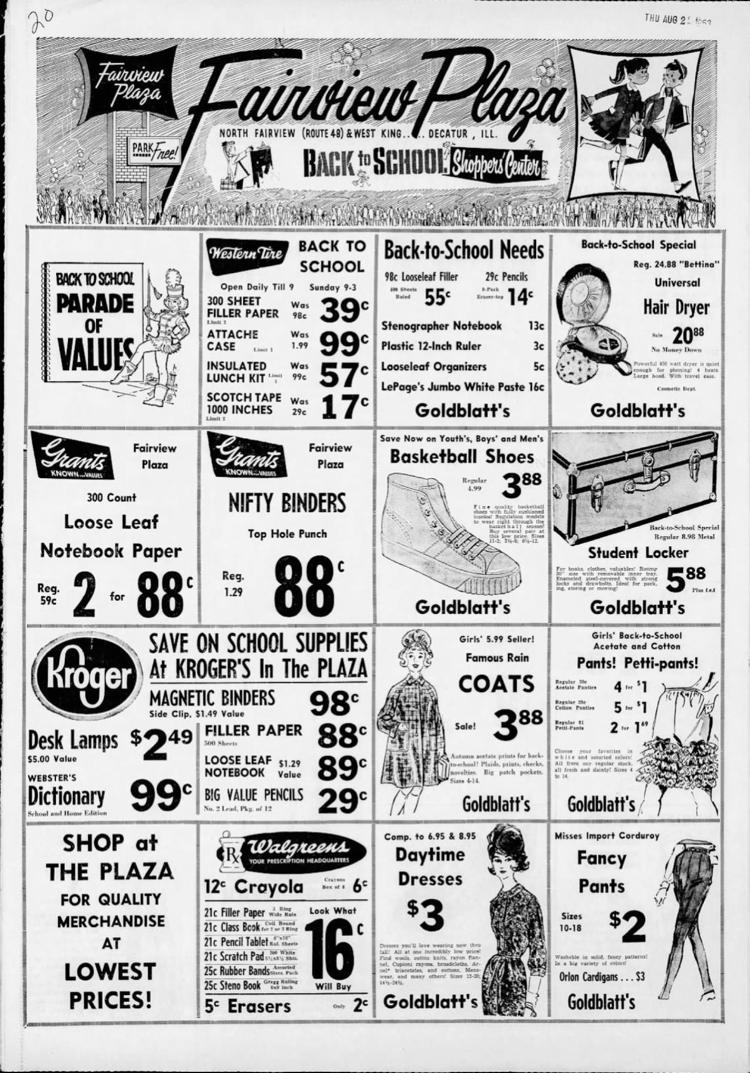 Pay less at shoppers world for back-to-school needs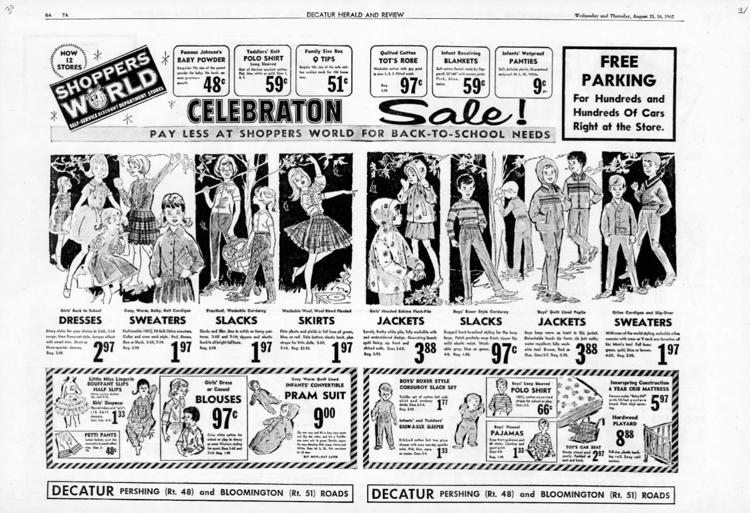 Back-to-school clothes!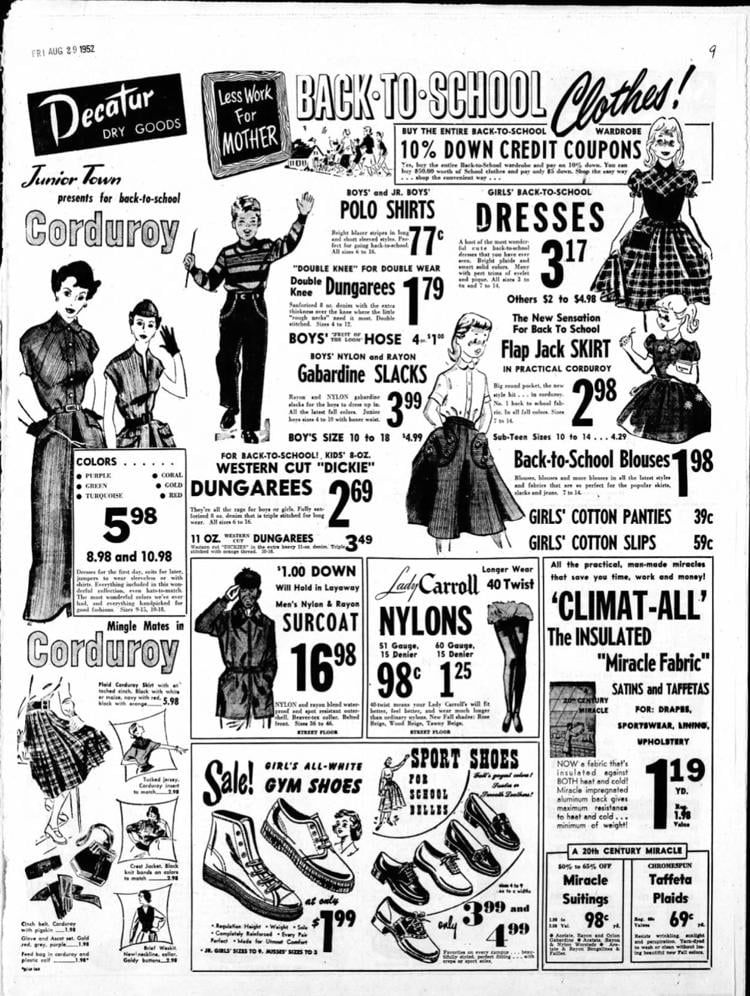 Fabulous Farview Plaza Back-To-School Days!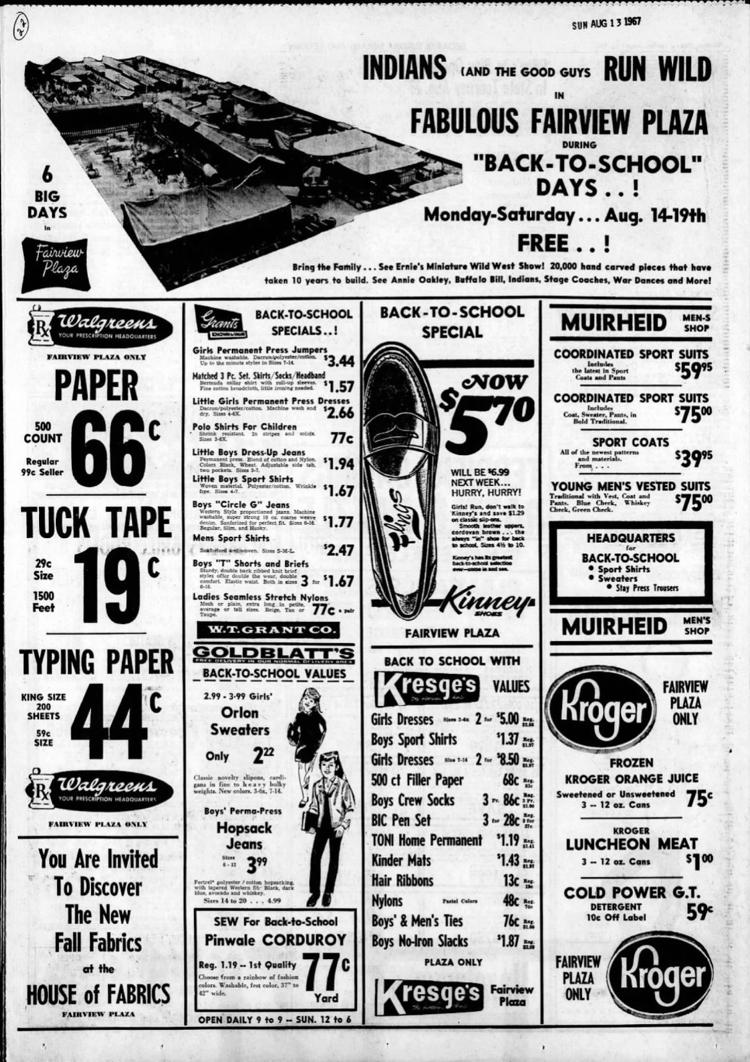 Girls coats with the Rothchild touch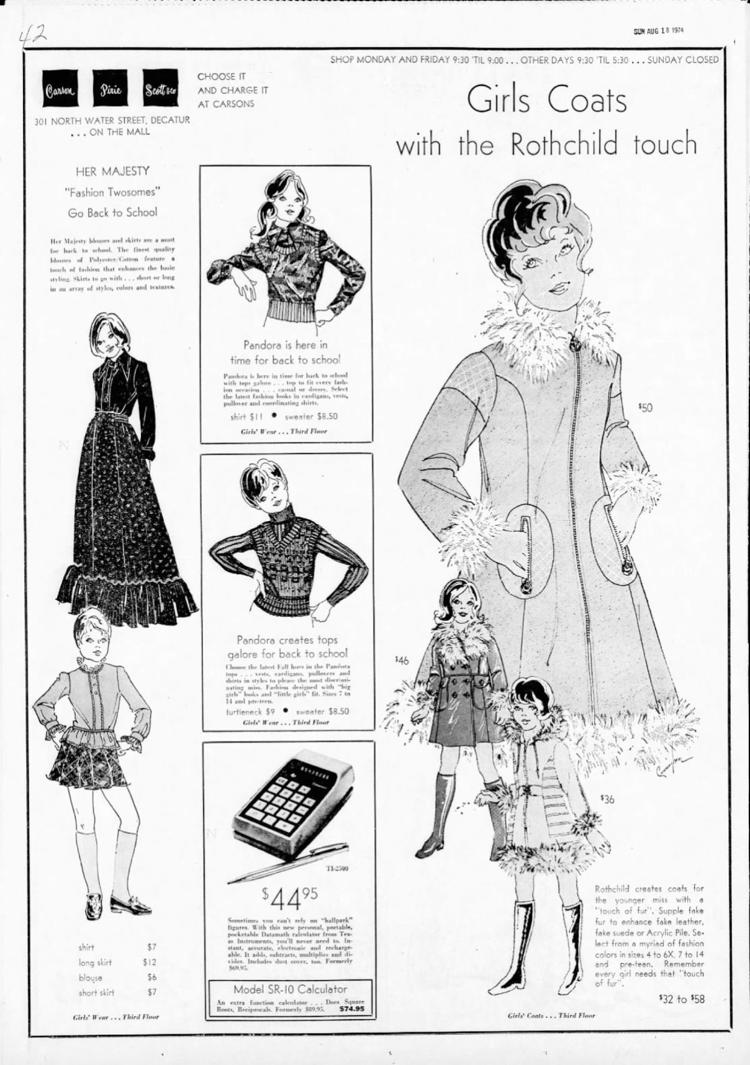 Back-to-school eye examinations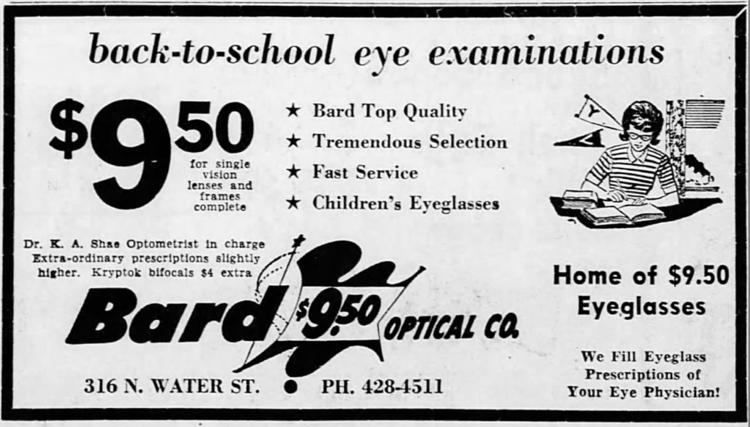 Back-to-school specials at Kresge's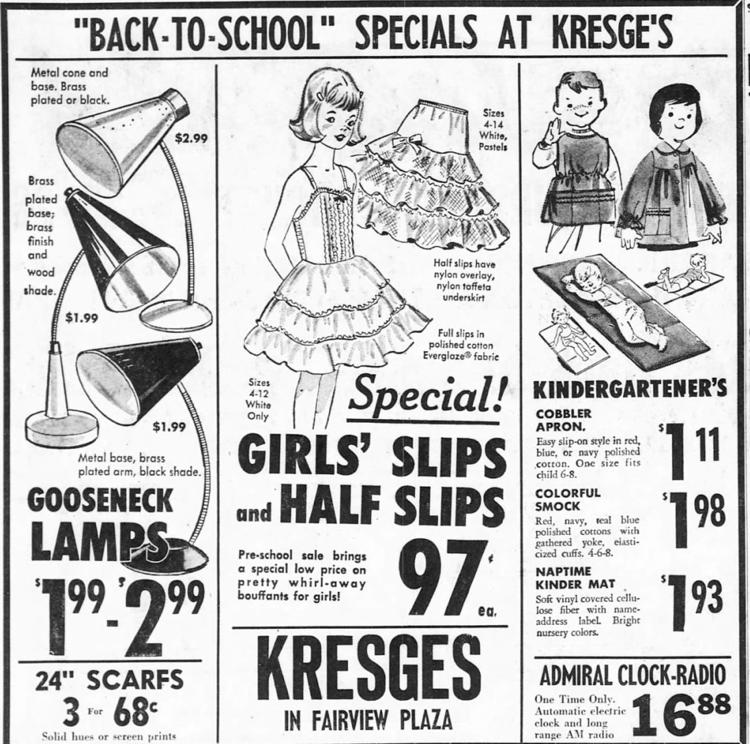 Do your back-to-school shopping in Fairview Plaza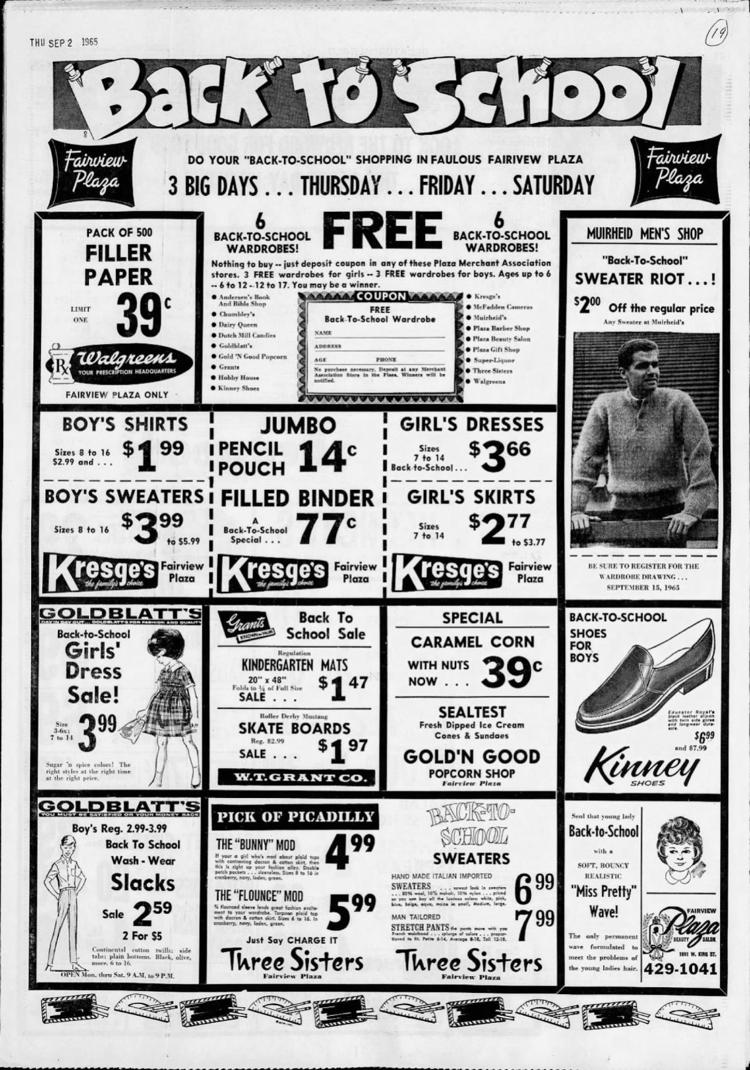 Penney's Capacity Day