DECATUR — Of all the many living things the Camp Connections group saw at Wren's Gate Garden and Studio on Wednesday, the roly-poly bugs were the most popular.
Camp Connections is Decatur School District's summer camp, with a focus on literacy, said Kris Boomer, the teacher for this group, which is English language learners. Most of the children speak Spanish as a first language, and most of them also speak English well, too. They attend Johns Hill Magnet School during the school year. In the mornings they focus on academics and in the afternoons, they go on "excursions," usually something science-related and hands-on.
One of the kids found the first roly-poly almost immediately as Wren's Gate owner Becky Newton led them on a walk around the property. She explained what it was and how it rolls up into a ball as a defense. Their real name is sowbug, but the kids were more fascinated by the name roly-poly, and stayed on the lookout for more as their tour progressed.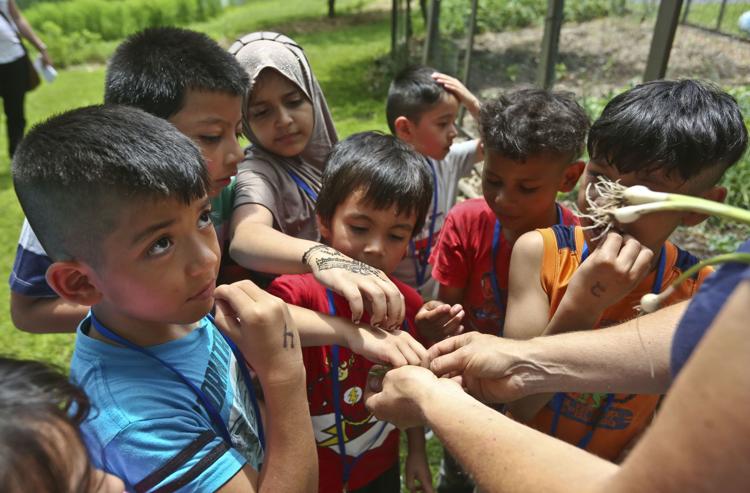 "You could have stopped with the roly-poly bugs and spent the whole time just on them," Boomer joked to Newton.
There was plenty more to see, however, and Newton showed them the zipline, trampoline, swingset and pond on the property, where her two sons spend a lot of their time.
"We want our boys to spend time outdoors," Newton said, "instead of playing video games all the time."
"They don't play video games?" one child asked.
"We do that, too," Will Newton assured the other child.
Encouraging kids to play outside is the reason that Newton invites groups like the campers to come to Wren's Gate, she said.
"Some kids have never sat in grass," Newton said.
She showed them her flower and vegetable gardens, and they got to pet one of the several hens who live there. She explained that the hens provide fertilizer for the garden and eggs for the family.
"So that's a great deal," she said. When one of the kids asked about the sounds the chicken was making, Newton explained that chickens don't speak anything but their own language. "When they lay eggs, they sing an egg song, because they're so proud they laid an egg," she said, making the kids laugh.
She showed them two eggs from the chickens, one brown and one white, and told them that her chickens, who are all colors, lay all colors of eggs, but when she breaks the eggs to cook them, they all look the same inside.
After the tour, Newton gathered the kids around her to show them some plants up close and describe what makes them special. They had a chance to taste a nasturtium, and though some of the kids declined, others took her up on it and encountered the spicy flavor.
"Not all flowers are something you can eat," she cautioned. "Don't just go out and eat flowers."
They got to smell lemon balm, mint and garlic that grow on the property and she explained how she uses them.
Daysi Rosas, a third-grader, said she liked the flowers most of all. She has some flowers growing at home, she said.
"They're pretty, but I don't know what their name is," Daysi said.