OREANA — The halls of Argenta-Oreana Elementary School were lined with kids holding handmade signs congratulating the district's graduates, who walked through their old stomping grounds wearing their bright blue caps and gowns on Friday.
Some signs were aimed at specific students, who stopped to hug younger siblings and friends. Others were more generic congratulations, or "We're proud of you" or "Way to go!"
More and more schools ask their graduating seniors to visit elementary schools in cap and gown to encourage their younger counterparts to stay the course and graduate, and it also gives the seniors a chance to roam the halls of their former schools for a last hurrah before moving on to college, career or military service.
"I think it's inspiration," said Gabe Thompson, one of the Argenta-Oreana seniors, who plants to attend Richland Community College and then Southern Illinois University-Carbondale to study marine biology. "If we can do it, anybody can do it. It's also so they can congratulate us and give them the inspiration to keep moving forward with their lives."
It's a little sad to say goodbye, Thompson said.
Nash Usher, who also plans to go to Richland and plans to study engineering, said he was surprised at how sad he was to say goodbye and move on, but he hopes seeing the seniors was good for the younger kids.
"This is motivation," he said. "If any of them are doubting, this is a big key and help for them. It shows them where they could end up and what they could become."
Argenta-Oreana graduation is Friday, May 25.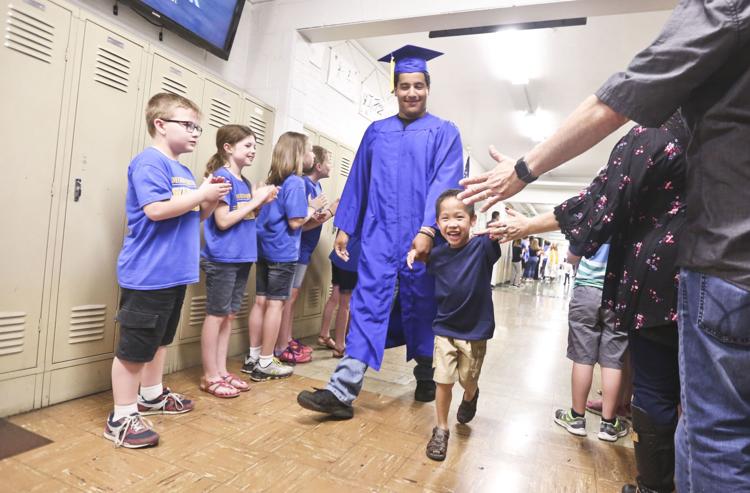 The elementary students are paired up with high school students, who act as mentors to them, said Principal Amanda Ryder, so the younger kids know the bigger ones.
"They have that AO pride for our district, and also for them to see the accomplishments of the high school kids, to know that eventually they'll be in that same place, too," she said.
Decatur Christian School's annual Alpha Omega Walk tradition pairs up a senior with a kindergarten student for the walk. Alpha and Omega are the first and last letters of the Greek alphabet, commonly used by Christians to stand for "the beginning and the end."
Two pairs of siblings were among the students walking at Friday's event. Brianna McKinney walked with her little brother, Wen, and her brother Keagan walked with Wen's twin, Wu.
"We don't really get to go to school with (the kindergartners), even though we're in the same building," said Brianna, who led her little brother through the halls, both of them with big smiles on their faces. "This is our way of sort of welcoming them to grade school."
Brianna plans to get her general education credits at Richland, and then move on to Parkland Community College to study dental hygiene, while Keagan is taking a gap year to stay with an elder brother who lives near the beach, while he decides what he wants to do.
Decatur Christian will graduate on May 25, too, with a ceremony at Tabernacle Baptist Church, which is open to the public, said administrator Brian Minott. Seniors will present their parents with red roses, and if necessary, tissues, he said.