DECATUR — Hanging by your hands from a tilted bar is even harder than it looks.
"I think it was harder because my hands are cold," said Vania Minor, a seventh-grader at Lutheran School Association, who lasted all of nine seconds.
The tilted bar and other interactive displays were part of the 10th annual unit on the Titanic disaster in the high school literature class taught by Jennifer Thomas. The tradition was started by Principal Allison Nolen when she taught the class. Students choose one aspect of life in the era or the sinking and do an interactive project, which they present to younger students in small groups.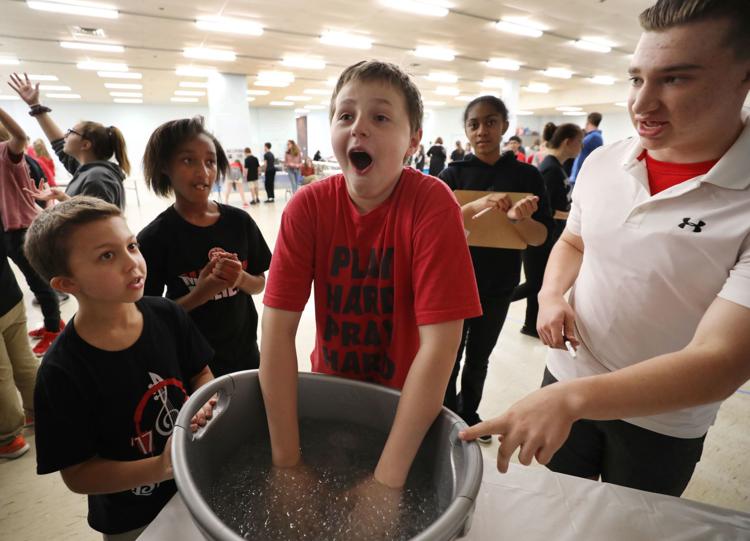 Students studied original accounts from the days immediately following the disaster so they had a primary source.
"They get to pick their own topic and create whatever they want to do, but it has to be something interactive," Thomas said. "They get so into this. I don't know if it's the tragedy, but it just makes it so sad. I could barely even talk because they were shouting out things."
Before trying to hang from that bar, students stopped at Alex Harshman's display on hypothermia and tested their mettle by seeing how long they could stand to keep their hands submerged in ice water. The idea was to re-create the conditions of passengers in a small way, who would have been cold, drifting in frigid waters.
"I love hypothermia," said Alex, a sophomore. "It's a very easy topic for me to talk about. I love the activity (to see who can keep their hands in the water longest) because it's almost a competition, and I'm a competitive person."
Hypothermia is not just a danger in water, he added. It can happen if your car breaks down in winter and you try to go for help, so it's a topic people should understand.
Lily Martinek and Morgan Lane chose to highlight food on the Titanic, which had two complete working kitchens, and carried 75,000 pounds of meat, 25,000 pounds of poultry, 11,000 pounds of fish, 80,000 pounds of potatoes, 1,000 loaves of bread and 10,000 pounds of sugar for the voyage across the Atlantic Ocean.
And unlike most other seagoing vessels of its time, the Titanic offered meals to the third-class passengers in steerage. Those meals were not nearly as elaborate as the ones offered to first- and second-class passengers, but filling, with a typical evening meal consisting of rice soup, roast beef and boiled potatoes. First class ate fillet of brill and chicken a la Maryland.
To give it that air of authenticity, the two girls prepared food and served their guests, even including "wine," which was actually sparkling grape juice, to complete the experience.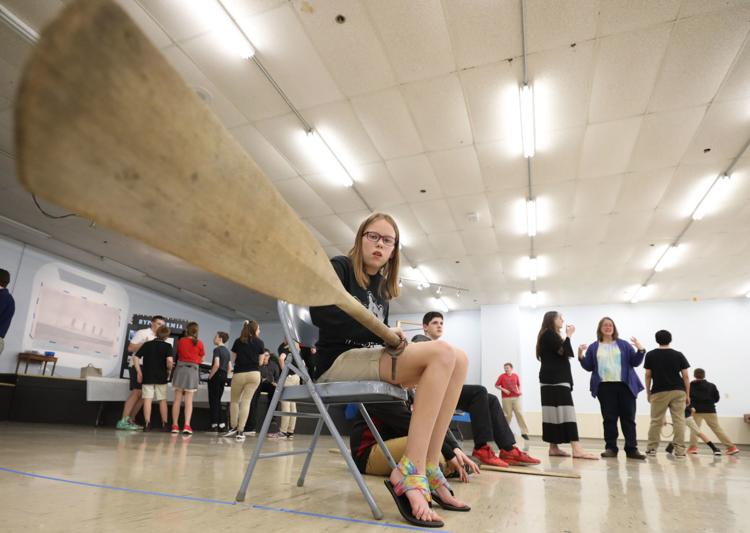 "We have big ideas," Lily said with a laugh.
The RMS Titanic sank overnight April 14-15, 1912, after striking an iceberg in the North Atlantic, four days into her maiden voyage from Southampton, England, to New York City. Of the 2,240 people aboard, 1,500 died in the icy waters.
The incident has inspired countless books, movies, attempts to salvage the wreckage and lore that includes the story that Capt. Edward John Smith boasted before the ship sailed that "even God couldn't sink the Titanic."
The "unsinkable" ship had one flaw in its design, however. The 15 watertight compartments that were supposed to prevent the entire bulkhead from flooding in the event of a leak were separated by walls that extended only a few feet above the waterline.
Another safety lapse was the lack of adequate numbers of lifeboats. Titanic carried 16 lifeboats, plus four collapsible lifeboats, which could only accommodate 1,178 people. In addition, most of the boats were launched half full. The number of lifeboats on Titanic actually exceeded safety requirements of the time. 
Britiney Reed, a junior, and Myra Billingsley, a sophomore, chose the lifeboats as their project. They put tape on the floor of the school's multipurpose room the same size and shape as a Titanic lifeboat, and students sat in chairs with oars to imagine trying to paddle to safety in the icy water.
"This is putting them in the people's shoes, or seats, if you will," Myra said. "We want them to feel the fear they felt. There's not really a way to replicate that, because their lives aren't on the line, but sitting there holding an oar, it's just kind of cool to give them that perspective."