DECATUR — Temethia Joyner knew the first time she walked into Garfield Montessori School with her kids that it felt like she was surrounded by family, and now that she teaches there, she knows why.
A large number of teachers and students at the school are parents and their children, and the special education teachers are husband and wife. Nate Tallent is a teacher, and his sister, Melissa, just began working as an assistant in a care room, which is for kids having difficulty during the school day.
Their relationships add another dimension to the Montessori method of teaching, which is based on self-directed, hands-on learning and collaborative play.
Joyner's son, Jesiah, is in fourth grade at Garfield and having mom in the building is handy, he said.
"It's pretty fun," he said. "After school, I can go in her classroom and we sing, we dance and the other kids come over and hang out and stuff, and it's so much fun."
He's not crazy about having to come to school early to ride with her, or stay late so he can ride home with her, but that's the only downside to it, he said.
"I really like it," said Noelani Downing, whose mom, Aubrey, teaches at Garfield. "I have an advantage over other kids, because if I had a problem and don't want to go to the teacher, or if I have something that I forgot, I can run up to my mom's room."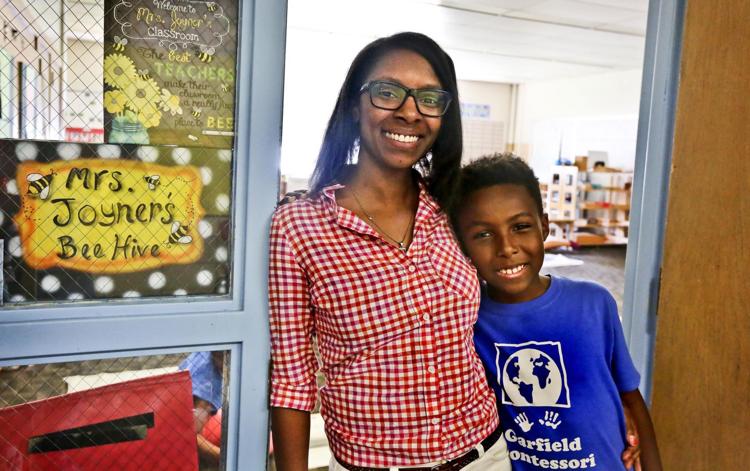 After school, Noelani said, the teachers' kids hang out together, with the older ones looking out for the younger ones as their parents attend meetings or finish up their work, and she especially likes that part. Her younger sister, Emmaline, is in kindergarten at Garfield.
Jamie Clubbs' son Jett is in second grade, and Dexx is in preschool at Garfield. She teaches seventh and eighth grade – Montessori method puts kids of multiple grades together.
"I have them here because I love that my friends teach my kids," Clubbs said. "I know that they are taken care of, I know they're using best practices, and that (the kids) are getting the education that they need and I don't have to worry about them."
Clubbs can keep tabs on how Jett is doing every day and touch base with him to give him a nudge about staying on task. She joked might get on his nerves, but as a parent, she likes knowing that she can be nearby. It also helps with transportation. The boys come to school with her and go home with her, so there's no worry about the bus.
The family is moving to Georgia at the end of the school year for her husband's job, and the kids will have to attend a new school there. Decatur has one of the very few public Montessori programs in the country, Clubbs said, and to send her two boys to a Montessori school in Georgia would cost a couple of thousand dollars a month. They'll have to go to a traditional school after the move.
"That's really hard, going to a new state, a new school, new everything," Clubbs said.
Kevin and Nicole Jones both attended Greenville University, earned their master's degrees at Western Kentucky University, and their Plus 32 credit hours at Learner's Edge and Phoenix University online. Now they work together at Garfield as special education teachers. He works with the older students, she with the younger ones.
Kevin Jones said they have very similar approaches to their work, and it helps make the transition from elementary to middle school easier for the students. Because they're both working at the same school with the same group of students, they can compare notes and work together to help the students who depend on them. Both of their children also attend Garfield, with Ty in fifth grade and Abby in sixth.
"We worked in Kentucky in rooms right next to each other," he said. "When we moved up here, we had interviews at separate schools. They had two special education openings here, so they hired Nicole and four weeks later they hired me, and we work in the same room and it's fine.
"Our family is rarely apart. We love it. It works for us."
Contact Valerie Wells at (217) 421-7982. Follow her on Twitter: @modgirlreporter
Be the first to know
Get local news delivered to your inbox!