DECATUR — Marissa Pritts has been sewing with her Nana, Lucy Lundt, since she was 5.
She's made a "music note dress" and a bathing suit, has her own sewing machine, and can do quite a lot of the work with minimal assistance. So joining the 4-H Club at Garfield Montessori School that's devoted to sewing was an obvious choice.
"If we have an advanced group next year, she'll be in it," said Scarlett Wells, owner of The Fabric Cobbler and teacher of the sewing class.
Sewing fits in with Garfield's Montessori method of education in several ways, Wells said. It's a STEAM activity — science, technology, engineering, art and math. Students can use those academic skills in choosing fabric, fitting patterns and creating projects.
"We are using the 4-H curriculum because we're a 4-H-approved club," Wells said. "My shop donated two machines to use so the children would have them to sew on, and the 4-H Club donated some as well, and I donated my time to teach."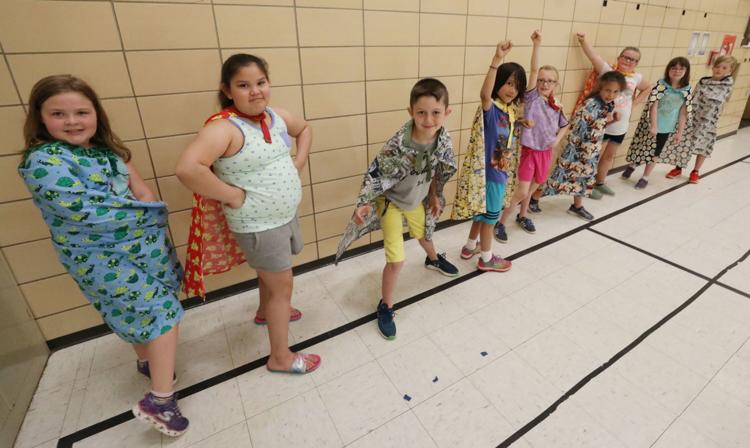 Montessori learning emphasizes real-world skills and self-sufficiency, too, and sewing fits in with both those goals. Most of the kids were willing to dive right in because that's what they're used to doing at school, Wells said, even when it came to threading a sewing machine, which isn't easy. One of the students, Logan Hallam, had to rip out the same seam six times before he got it sewed straight, and never once lost his cool.
"I just stayed calm until I got it right," said Logan, a third-grader.
This year, the sewing club made pillowcases, table runners to give their moms for Mother's Day, and superhero capes for the students in the social/emotional skills class. Wells joked that she told the kids that the table runner project was a rare occasion when it was OK to fib. If Mom asked what they were doing, they had to make something up so they wouldn't spoil the surprise.
The class on social/emotional skills uses a superhero theme because kids love superheroes, said school social worker Tracey Daniels. The superhero is Superflex, and his super power is that he has a flexible mind.
With 14 villains ranging from Rock Brain, who doesn't stop playing video games when he's called to dinner, for example, to Glass Man, who overreacts to situations, the students have been learning to stop, think, take deep breaths and change their self talk.
As explained by Sebastian Massie, a third-grader who is one of the trainers helping other kids learn to be like Superflex, you have to change the way you think.
What if you're losing your temper?
"I'd stop and take three deep breaths," said Elliet Steele, another third-grade trainer.
Obviously these kids needed superhero capes, Wells said, and it was a good project for the 4-H group. Because the capes are a little tricky to cut out, Wells and Principal Mary Anderson did that part, but the kids chose the fabric and did the sewing and presented the capes to their schoolmates on Friday, the last day of school.
Contact Valerie Wells at (217) 421-7982. Follow her on Twitter: @modgirlreporter
Be the first to know
Get local news delivered to your inbox!