DECATUR — Jonah Keene already knows he wants to become a scientist when he grows up.
The 8-year-old and his brother Micah, 7, attended the Girls Scouts of Central Illinois' weekly "Summer of STEM" event at the Decatur Public Library on Tuesday and learned how to make a catapult.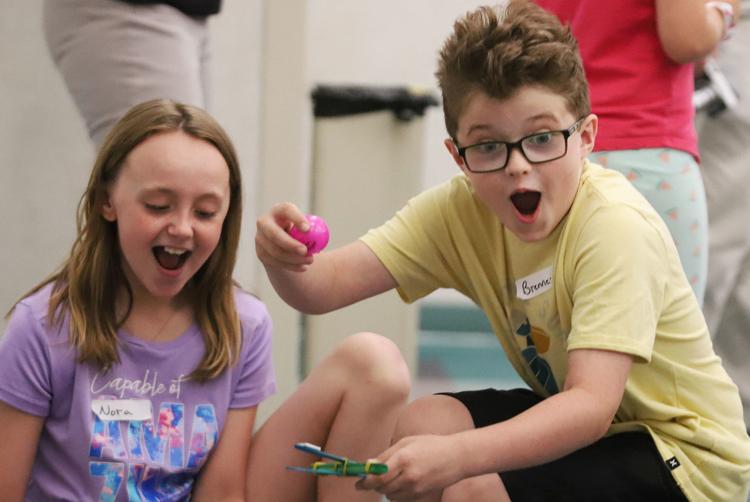 "I want to study and find dinosaur bones," Jonah said. "But I also just want to be a regular scientist and it's very fun to do science experiments."
Micah wants to be an engineer, so signing up for a whole series of STEM (science, technology, engineering and math) sessions was right up the boys' alley.
The Summer of STEM is a new outreach program for the Girl Scouts of Central Illinois, said Kourtney Pygott, who works out of the Decatur Girl Scout office on Pershing Road. Despite the sponsoring organization, both boys and girls can participate, and children do not need to be a registered Girl Scout to attend. 
Many of the weekly sessions in Decatur are already full, but there's a waiting list. Sometimes people discover they can't attend after all, and Decatur Public Library assistant John Schirle will call those on the waiting list to alert them to come.
"We're just delighted to have them here," Schirle said. "It's a great thing for all the library kids and we don't have to do anything. We open up the doors and put out the tables and handle the registration, but they do all the work and we just get to enjoy the fruits of it."
Schirle did enjoy the "fruits," helping children put their catapults together and cheering them on as they tried them out. The library has also created a STEM-themed book display in the children's department, with as many books as they can gather that have themes similar to the next week's activity. On Tuesday, June 18, the theme will be crime scene investigation.
Nationally, the Girl Scouts organization has renewed its focus on STEM skills in recent years. Several badge categories make use of STEM activities, including: naturalist, digital art, science and technology, innovation and financial literacy. 
You have free articles remaining.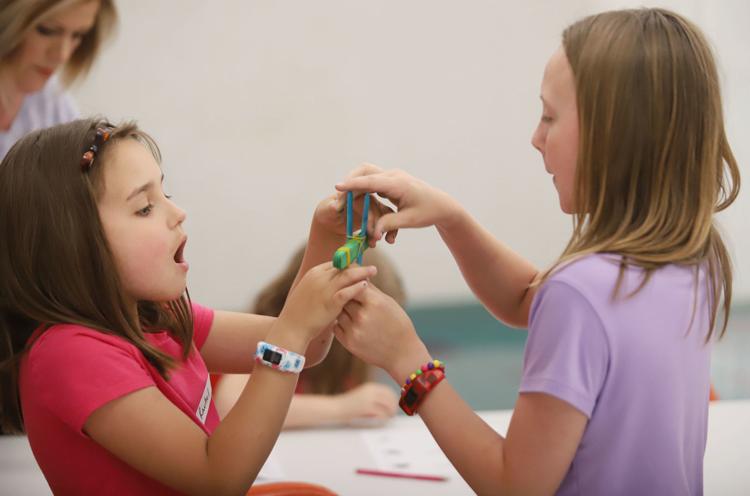 Sylvia Acevedo, a former rocket scientist and technology expert, became Girl Scouts' CEO in 2016. She credited the organization with helping her develop skills in science and math at a young age, and said she was determined to pay it forward. 
At the Decatur program on Tuesday, most of the children had at least an idea of what a catapult is and that they were used in warfare long ago. Keegan O'Brien also knew that they're sometimes used nowadays for pumpkin-chucking contests. He attended the event with his aunt, Jaci Osborne.
"My mom signed me up and it kind of looked cool," said Keegan, 8. "I really love science. It's my second-favorite subject." His most favorite subject is math, he added.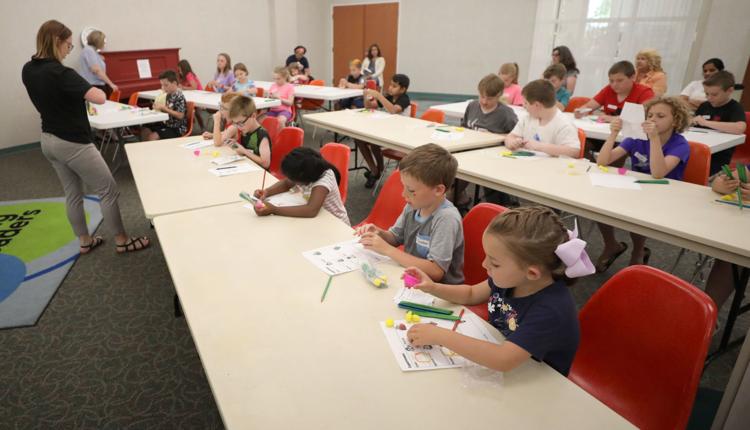 Using flat wooden craft sticks, the kids built small primitive catapults and tried launching puff balls, cotton balls, marshmallows and marbles to see what would fly the furthest. Every time Micah launched one of his, Jonah would call out, "Fire!" They definitely enjoyed the activity.
Pygott thanked the kids for being willing to keep learning even on their summer break from school. They were given papers to take notes on: what materials they used, the results of their experiments, and so on, but they weren't required to do so and some chose to skip that step.
That was all right with Pygott.
"We want them to learn," she said, "but we want it to be fun, too."