DECATUR — Aaron Napier wasn't wearing a chef's hat, but he clearly knows his way around a grill.
The Milligan Academy seventh-grader was chief cook at the school's hot dog lunch, held in the empty field across from the Macon-Piatt Special Education District office on Cerro Gordo Street on Friday. Inspired by a book from class, he and his classmates were there to serve the community's homeless population.
Milligan Academy is located in the Alternate Education Center nearby on East Eldorado Street.
"How do you want your hot dog, sir?" Aaron asked of a man who approached, and when the man said "crispy," Aaron was ready to accommodate. "Here you go, sir," he said as he placed it in a bun fetched by classmate Hayden Sinnard.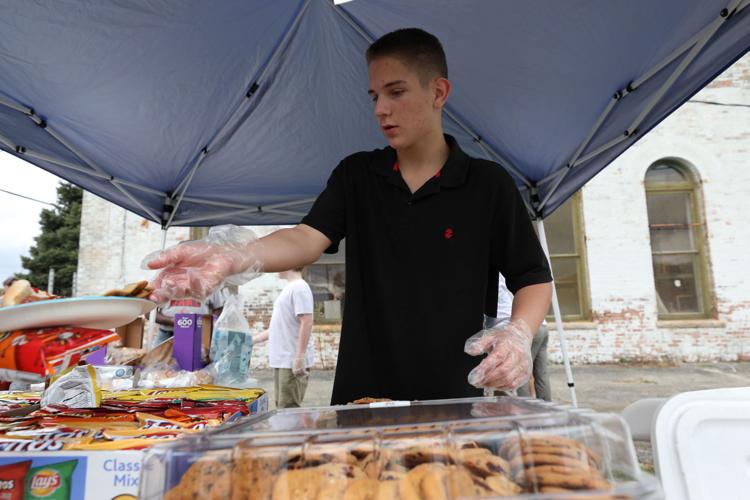 The boys recently read the book "Touching Spirit Bear," by Ben Mikaelsen, a Napra Nautilus Award-winning coming-of-age novel about a boy who overcomes the effects violence has had on his life. In that book, Hayden said, the main character compares life to a hot dog. You can eat it plain or dress it up in a variety of ways. You can gulp it down or eat it slowly and enjoy it.
That gave Jeffrey Binkley the idea to serve lunch to the homeless population, and when he suggested it to his classmates, they were all for it.
"This is a way to give back to the community," said Jeffrey, gesturing at the grill, the table under a canopy and the people who dropped by to share a meal.
The kids placed a notice at Water Street Mission to alert people who go there to their plan, and David Durbin of Decatur saw that sign, which is why he attended.
"This is really nice," he said.
You have free articles remaining.
Chris Opalka said he "heard it through the grapevine. This is a good thing for them to do."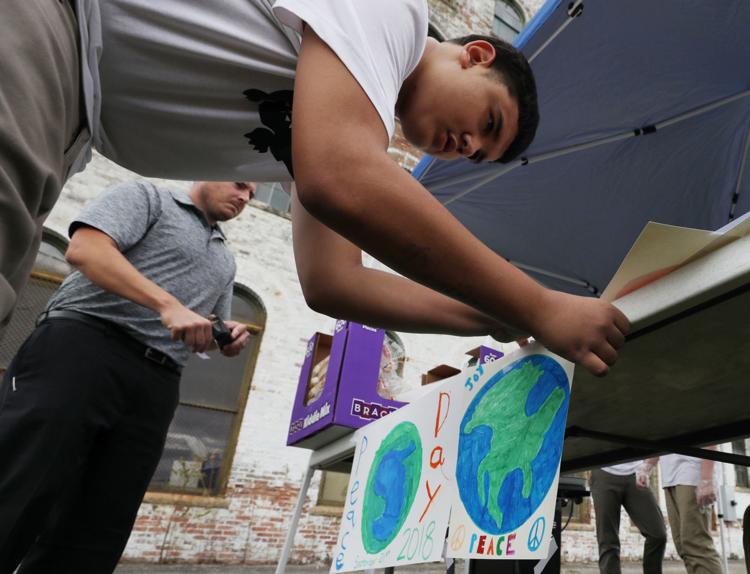 Milligan Academy is the Regional Office of Education's "safe school," an alternative education setting where students in grades 6 to 12, who have behavioral issues and are expulsion-eligible or suspension-eligible, receive more appropriate and individualized services.
Karen Mercer teaches the middle school students at Milligan and has organized her classroom to resemble a homey living room, said Jill Reedy, assistant regional superintendent of schools for Macon-Piatt Regional Office of Education. Mercer, who is also a certified yoga instructor, uses yoga and restorative justice practices to teach her students self-regulation and behavior management.
"She really brings a lot to the program," Reedy said.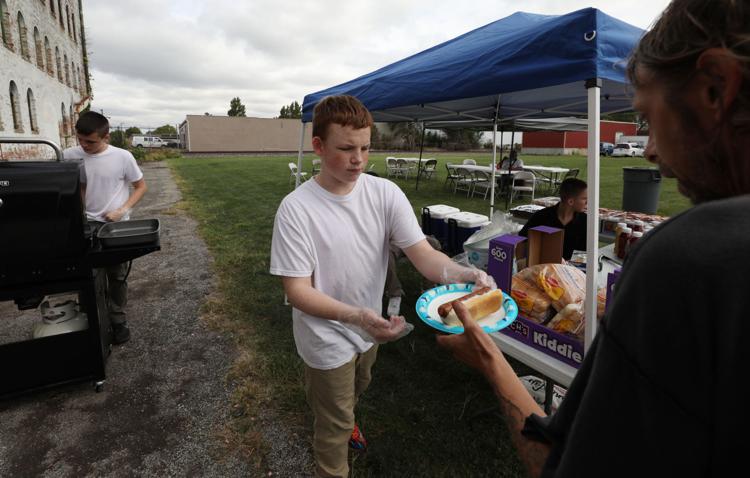 Reedy and Matt Snyder, who is the regional superintendent, both attended the event, and Snyder pulled up a chair to chat with people as they ate their lunch.
Funds to purchase the food were provided by donations from Appliance Mart, ServPro, AUTCO Home Appliances and Community of Christ. The students did all the planning and organizing.
In reading and studying the book, "Touching Spirit Bear," Mercer said, she hoped her students would see parallels to their own lives and learn new ways to cope with the anger and difficulties many of them face. They chose Friday because it was International Peace Day.
"We can't heal until we help others," said Mercer, quoting the book.