DECATUR — A popular request from Santa Claus in the 1970s was a game called Operation.
Cavity Sam was the patient, with open slots containing his Adam's apple, wish bone and a charley horse, and players drew cards to get instructions which part to remove with metal tweezers. Touch the sides of the opening, and Sam's red nose lit up and a buzzer sounded. Ooops.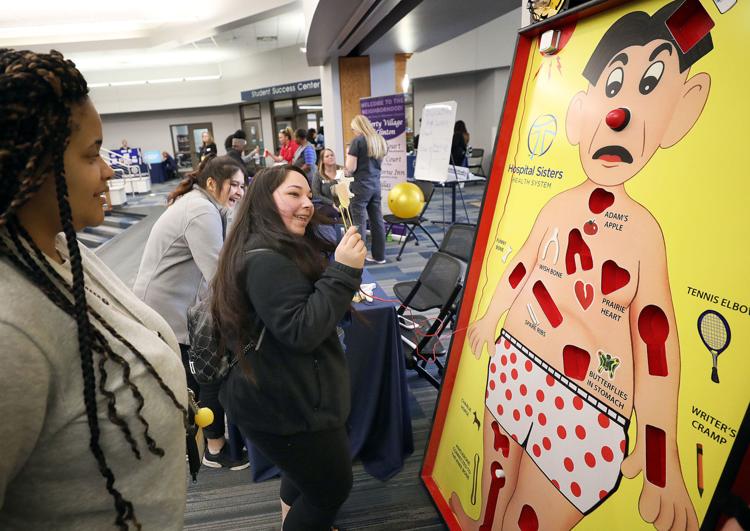 A giant version of Operation sat next to the HSHS St. Mary's Hospital table at Richland Community College on Wednesday for the Health Care Exploration Days.
"We know Richland has a great surgical tech program, so a lot of students that we see at St. Mary's have an interest in surg tech, so we have this here to test out their skills and we're also here to answer any of their questions about any of the other areas," said Alex Love, human resources intern at the hospital.
The healthcare field includes a wide variety of career options, and many are facing critical shortages, said Rocki Wilkerson, executive director of Workforce Investment Solutions, the sponsor of the event. Decatur-area eighth-grade students visited on Tuesday and high school students on Wednesday, in the hope of sparking interest in pursuing careers in health care.
"We talk about different ways that we can help businesses," Wilkerson said. "Health care always needs to hire. There's never enough workers. So how can we do something in our community that would help, and we talked about the things we could afford to do."
She said many employers were willing to get involved, and a healthcare fair could help raise awareness now with younger students about potential careers.
"We wanted to get them excited about all the different career pathways and going to work," Wilkerson said.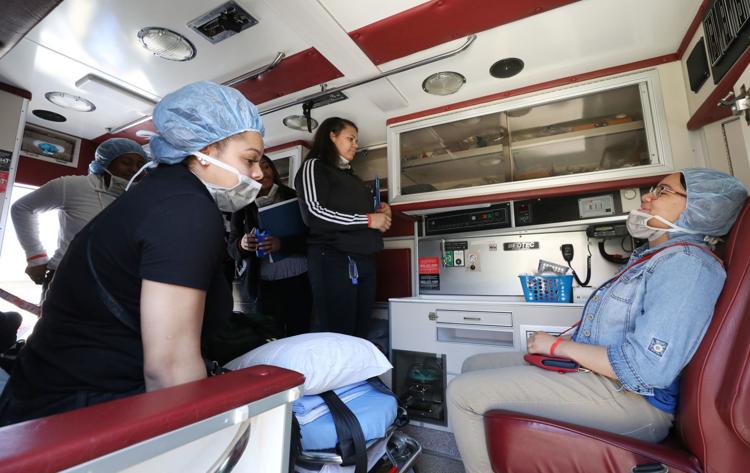 Jobs in the healthcare field are projected to grow 18% from 2016 to 2026, much faster than the average for all occupations, adding about 2.4 million new jobs, according to the U.S. Department of Labor Bureau of Labor Statistics.
The projected growth is mainly due to an aging population, leading to greater demand for healthcare services. And that means greater pay.
The median annual wage for healthcare practitioners and technical occupations (such as registered nurses, physicians and surgeons, and dental hygienists) was $66,440 in May 2018, which was higher than the median annual wage for all occupations in the economy of $38,640, the bureau noted.
Gina Hoots, a respiratory therapist at Decatur Memorial Hospital, brought a mannequin and a chest wall oscillation vest to show interested students.
You have free articles remaining.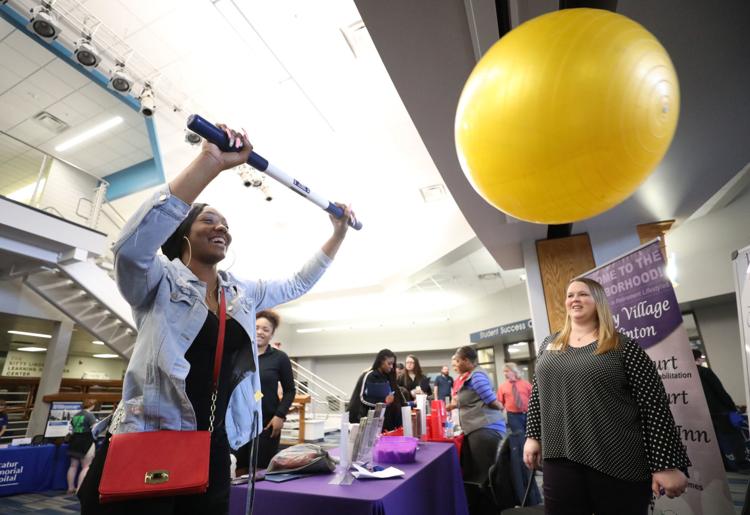 "This fella (the mannequin) could have sleep apnea, he could be a COPD (chronic obstructive pulmonary disease) patient and have problems flaring up, this is a way to support breathing," she said, referring to the mask on the mannequin's face. Demonstrating the equipment and explaining the education required for her job, a two-year degree, could help generate an interest in the career, she said.
In the food service area adjacent to the Mueller Student Center, where most of the booths were, Richland students Sam Olson, Kristina Whitney and Jonnie Miller held a roundtable discussion, where they talked about their courses of study, why they chose them, and what the requirements are.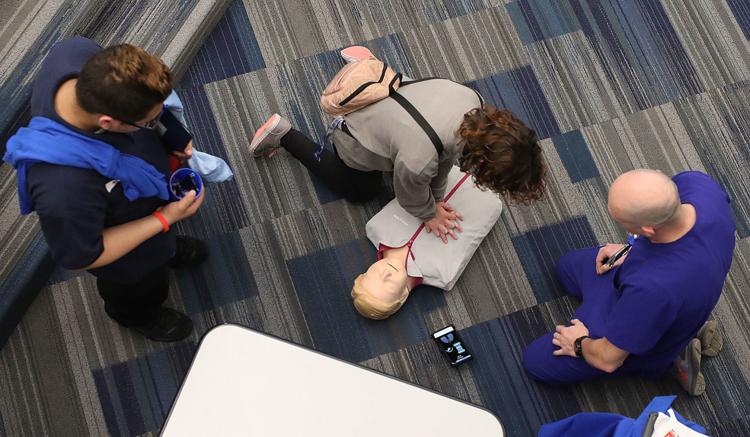 "You're always going to have a job if you get your RN," said Sam Olson, who is studying to be a registered nurse. "It's a very fulfilling career. You get to take care of people and help heal them. It's just really rewarding."
Kristina Whitney is studying surgical technology, which is a lot more than just handing instruments to the surgeon, she said. Surgical techs are with the patient from before the surgery and after it's over.
"It's everything I was hoping for, and I fell in love with it," she said.
Jonnie Miller joked that in radiography, "we're just glorified photographers," which made Ellen Colbeck, health professions dean at Richland, laugh and playfully scold her. All the healthcare fields are demanding, requiring a good grasp of science and math, and a willingness to work hard and keep grades up, Miller said.
Several of the high school students who attended the event have already chosen health care, like Haley Hames, a junior at MacArthur High School. She plans to become a neonatal nurse.
"I want to work with incubators in ICU," she said. "I came here to see if I want to go in a different direction (in health care) or not."
Makyah Hays has already been accepted in the certified nurse assistant training at Heartland Technical Academy and hasn't yet decided what she wants to pursue after she completes that training, though she's thinking of being a pediatric nurse, she said.
"A baby just moved in with us with my mom's friend," she said. "I love helping her and making her feel better."
Anguiano_Araya 4.17.19.jpg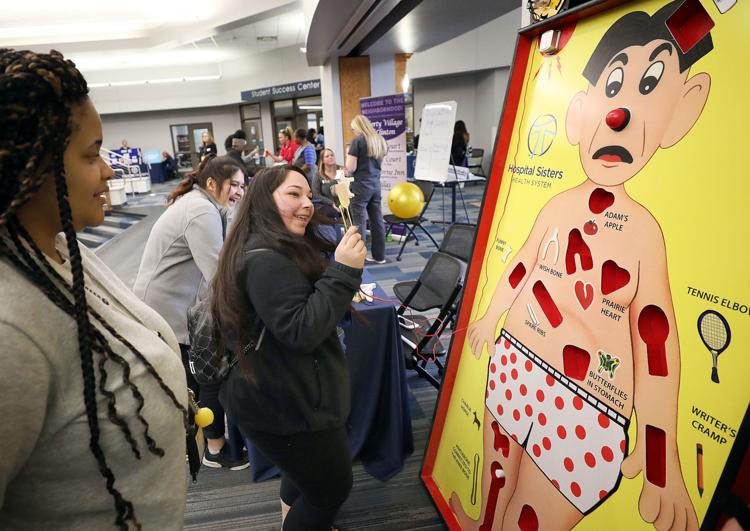 Sunderland_Skylar 4.17.19.jpg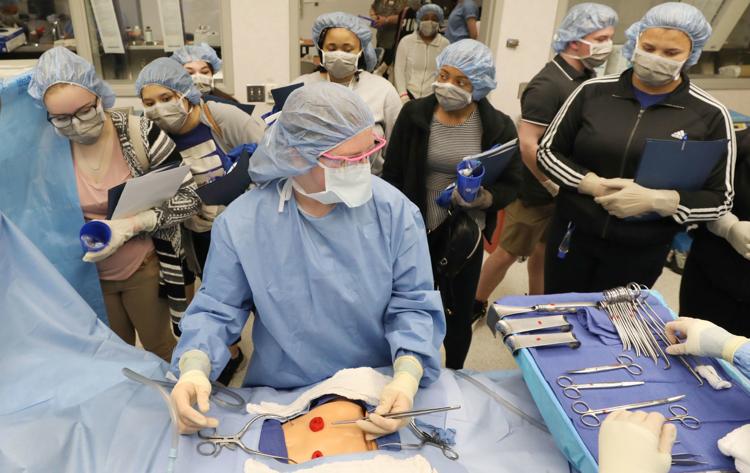 Williams_Amalia 4.17.19.jpg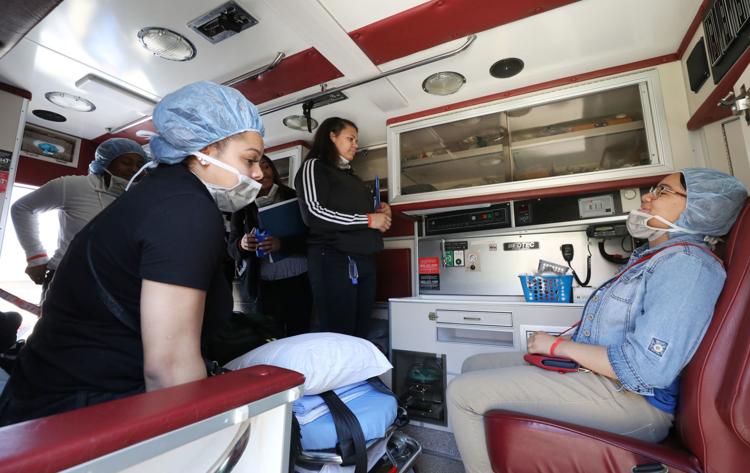 Walker_Capriece 4.17.19.jpg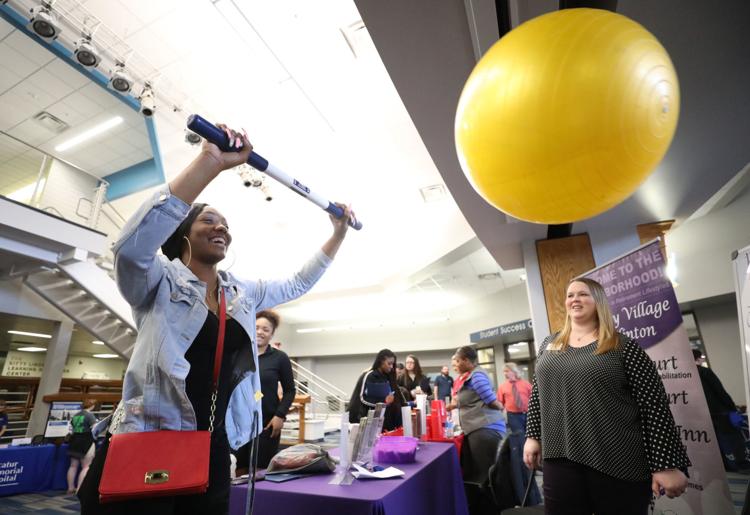 Freeman_Cameron 4.17.19.jpg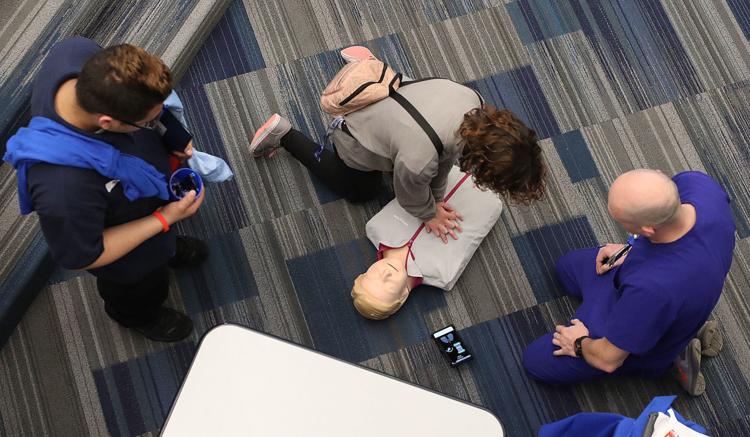 Health Care Exploration Days 1 4.17.19.jpg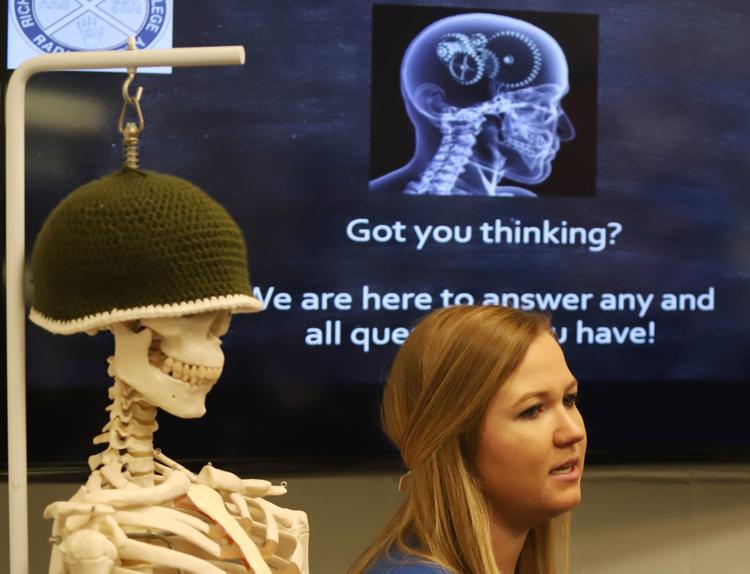 Health Care Exploration Days 2 4.17.19.jpg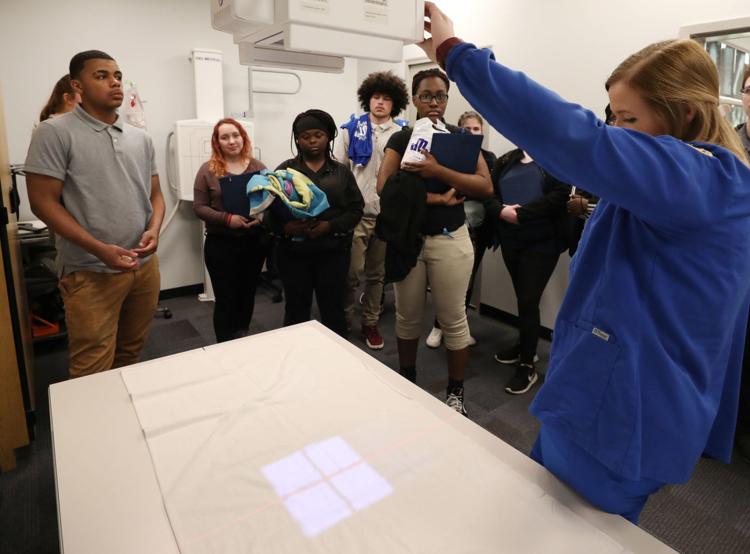 Health Care Exploration Days 3 4.17.19.jpg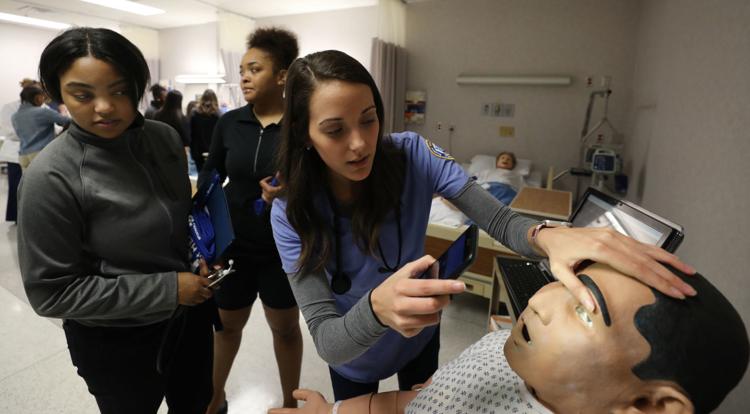 Health Care Exploration Days 4 4.17.19.jpg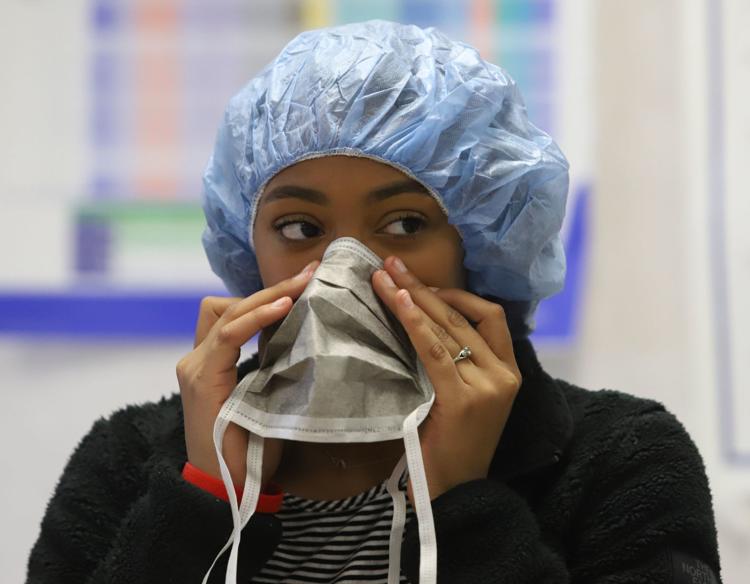 Health Care Exploration Days 5 4.17.19.jpg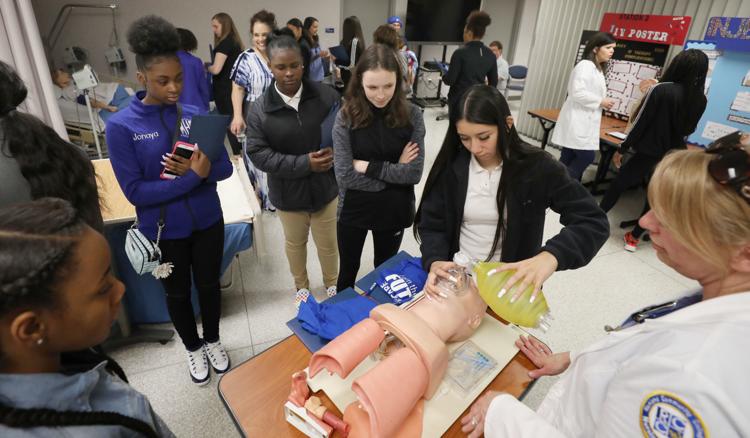 Health Care Exploration Days 6 4.17.19.jpg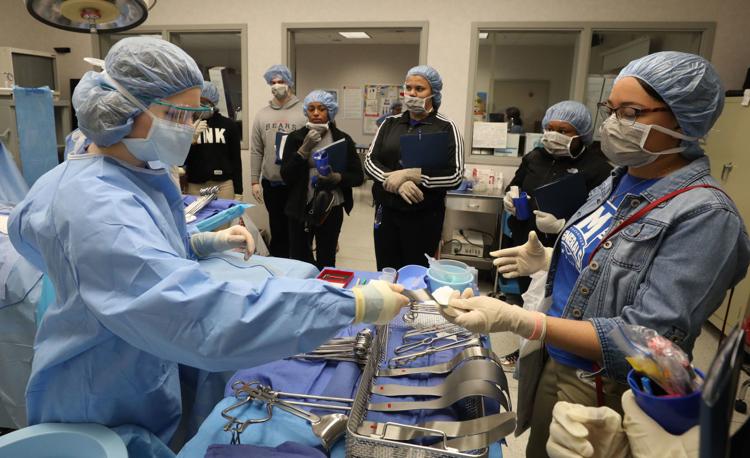 Health Care Exploration Days 7 4.17.19.jpg