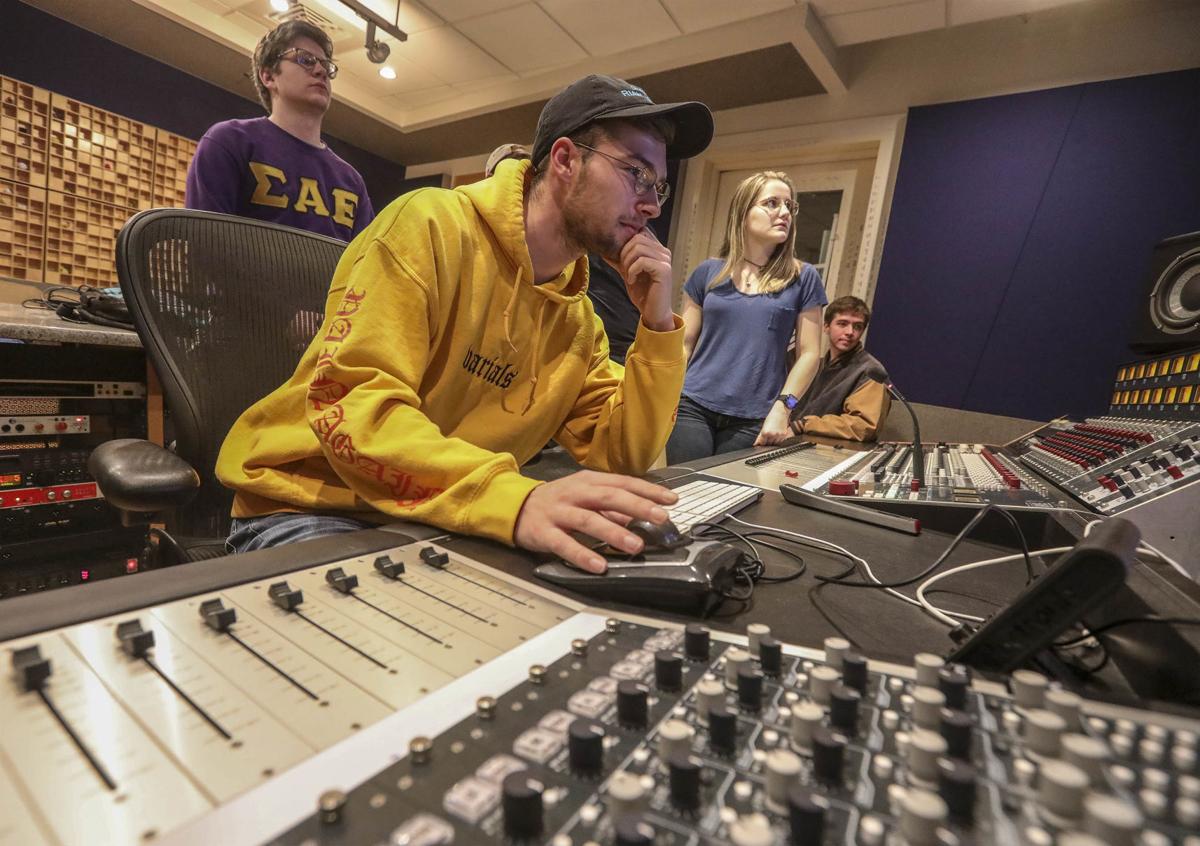 DECATUR — Millikin University has produced many professionals and products the school can brag about.
According to Kevin Guarnieri, instructor and director of the campus recording studio Millitrax, Millikin is one of the few campuses in the United States to call itself a Neve college.
"The name is attached to a lot of classic, high-end studio products," he said.
Millikin's Millitrax studio recently obtained a state-of-the art Neve 5088 Shelford 32-channel console, and then another.
The Neve consoles were ready for use by the students in August. According to Guarnieri, Millikin is a secret among recording engineers. "Millikin didn't have that gravitas for audio engineering," he said.
After 15 years as an engineer in the recording industry, Guarnieri began as a Millikin instructor. He has worked with well-known artists such as Mariah Carey, NSYNC and Kelly Clarkson. In 2014, he began with the college by passing his experience on to the students as the director of Millitrax Studios in the School of Music.
With his experience, he learned what worked best and what didn't.
In the past, Millitrax utilized an Amek Angela 2 console. The equipment was installed by Ronnie Dean, Guarnieri's predecessor, at the time Perkinson Music Center was renovated. Built in 1911, Perkinson is the current home of Millikin University's School of Music. The building underwent renovations in 2000, doubling in size and providing additional space for practice areas, classrooms and studios. Millitrax is housed in the center.
Guarnieri was able to obtain the Neve console to replace the older Amek equipment. As a working engineer for 15 years, he had a unique knowledge to making records. "But I'm no longer running studios, I'm teaching students how to use them," he said.
Along with sitting at the console, students have to learn how to use microphones and other equipment.
The Amek console was no longer serviceable and the company had gone out of business.
So it was time to get a new console.
"What was scary to me was how many different colleges, how many different courses relied on the studio and how that would be affected," Guarnieri said.
Millikin's student-operated recording companies, First Step Records and Blue Box Records, utilize Millitrax. First Step Records is a student-operated record label and publishing company. It provides students with firsthand experiences. Blue Box Records provides opportunities for commercial music ventures.
One the most recent First Step Records recordings was released by Millikin-Decatur Symphony Orchestra's principal cellist Amy Catron.
"We spend a lot less time prepping, even for the people who aren't as technically skilled," said Hunter Spahr, a senior majoring in commercial music.
You have free articles remaining.
"It's easier to trust this one," said Dalton Krum, a junior with a double major in music business and commercial music. "People are going to use it more, opening it up to more."
Although the equipment is considered state-of-the-art, it is available to students and faculty only.
The students are able to experiment as well learn while at the desk. Another positive outcome from the Neve equipment is the sound quality. "All the resources we have sound so clean," said Justin Cort, senior commercial music student. "It is transparent and you hear what you want to hear."
Replacing a studio console is not simple or cheap. Guarnieri began investigating grant applications and discussing cost reductions with companies. He found one of the appeals Millikin offers to students and artists is the ability to advertise the use of Steinway pianos. "It is a legitimate marketing strategy," Guarnieri said. "But in the recording industry, I didn't know of any all Neve schools."
The instructor proposed the idea to the manufacturer and the university. The two studios needed to be fundamental for Millikin students to learn all aspects of recording. Studio A is a large area filled with equipment and instruments. "It's made for really big tracking sessions with drums, bass, piano, guitar and vocals," Guarnieri said. "You can do all of that."
Studio B is used primarily for editing and mixing sessions. "You might do a single instrumental overdub, vocal or acoustic guitar," Guarnieri said. "But you don't have the physical space to put that many musicians in that room."
However, no matter the need, the equipment is important.
The Neve Console company was able to provide the necessary equipment for recording instructions. The recording needs include a front end, microphone preamps, faders, equalizers, and ways to blend the products together.
The technology has progressed over the years. Although Guarnieri said the Neve consoles are a top-of-the-line addition to the recording studio, he wants his students to learn the basics. "I don't like to lean on the shortcuts," he said. "What we are trying to teach here are the basics."
The Neve consoles provide for basic learning, but also allow more advanced students the opportunities to expand their knowledge as well as experiment with equipment. "That experience is invaluable," Guarnieri said.
As a student majoring in music business, Adam Marion, 21, has had opportunities to try out the school's various recording options. "It's a different level of figuring out how you relate to their session," he said about recording with artists. "At the end of the day, you're there to serve them."
According to Guarnieri, the console is simply another tool in creating quality recordings. He lives by the motto, "Serve the song, serve the artist."
After experimenting with the old and the new consoles, Marion said he found the Neve much simpler to use. "It's easier to understand," he said.
However, he learned important information from the Amek console. "There were more steps involved and it was a little bit more in depth," Marion said. "It helped me make sure I knew what I was doing."
---
Remember these Decatur events? Gone but not forgotten
Contact Donnette Beckett at (217) 421-6983. Follow her on Twitter: @donnettebHR