DECATUR — When BMX flatland stunt rider Matt Wilhelm competed in his first X Games, he didn't crash once, he told students at Holy Family School on Wednesday.
"I crashed four times," he said, making the kids laugh, but also wince a little because most kids know what it's like to fall off a bicycle.
Wilhelm, a three-time X Games medalist, World Championship silver medalist, two time United States National Champion, and Guinness World Record holder, gave an anti-bullying presentation to students on Wednesday, interspersed with demonstrations of BMX trick riding and stories about his own childhood.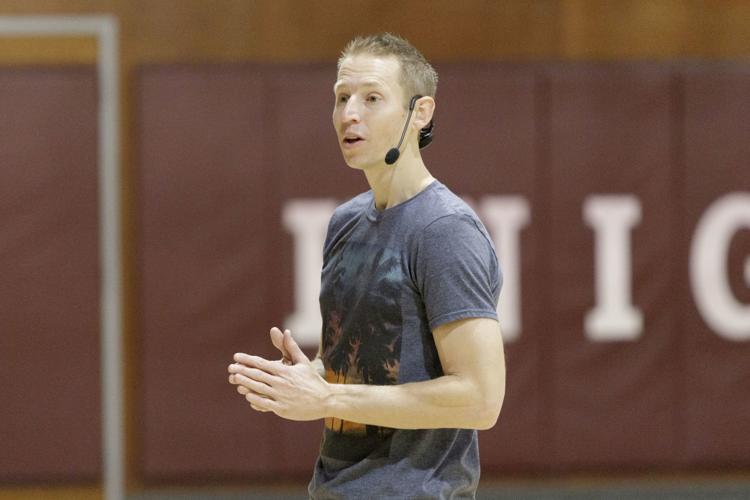 His main message was about bullying, and he told the students that he was teased as a child due to the size and shape of his ears. Schoolmates even called him "Ears" as a nickname. But one day, he said, another child stood up for him and after that, the teasing stopped.
"He was my 'Batman,'" Wilhelm said. "Chances are, someone in your class is getting picked on. Stand up and be their 'Batman.'"
He brought posters to give the kids, and to illustrate his point about how damaging bullying can be, he tore up one poster and crumpled it up. A bully who tries to excuse himself with "I was just joking," Wilhelm said, can't repair the damage by saying that any better than he could repair the crumpled and torn poster and make it like new again. He asked them to watch what they say and remember that words can make someone feel more valuable, or less.
In between, Wilhelm showed off some of the tricks that put him at the top of the BMX world. Some took him a couple of weeks to perfect, and at least one took him four years, he said. Over the years, he's broken eight bones. Still, he had to start small, and he offered to show a couple of volunteers what he called an "easy" trick.
Mya Howley, a fourth-grader, and Remy Corley, a third-grader, were chosen. He put helmets on them and proceeded to demonstrate the trick himself, except he did something far too difficult for a beginner as a joke. Remy's eyes widened as he watched Wilhelm.
"I was scared," Remy said afterward.
You have free articles remaining.
"I thought, 'I'm going to break my arm,'" Mya said.
Wilhelm actually had them do a much simpler stunt, and he held onto the bike so it wouldn't fall over with them as each of them tried it.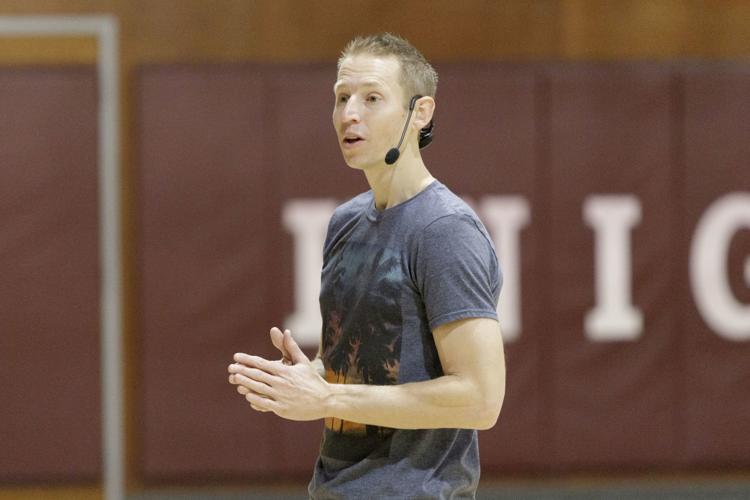 Another part of his show was jumping over two of the teachers, whom he asked to lie on the floor. Kristy Pruitt, who teaches third grade, and Cara Johns, who teaches fourth, offered to do the honors and again Wilhelm pretended it was far more dangerous than it actually was. He successfully jumped over them with room to spare.
Wilhelm does almost 500 school assemblies a year, in addition to his competitive riding and joked to the children that "My mom still can't believe I ride a bike for a living." A graduate of Millikin University who went there on a music scholarship, he still keeps active in music, too, though that's mostly a hobby now.
Wilhelm told the students he wanted to encourage them to find something they love and to devote themselves to excelling at it, whatever it is. He could easily have let his last-place finish at the first X Games be the end of his days as a BMX rider.
"I wanted to give up," Wilhelm said of that X Games experience. "But this was my dream."
He redoubled his efforts that year and the next year, didn't crash at all and has since experienced all the successes he dreamed of. This year, BMX Park will be in the 2020 Olympic Games, and he has high hopes that BMX Flatland, his event, will be in the next Olympics. If it is, he plans to compete.
"Never give up," he said. "Don't listen to that little voice that says you can't do it."
---
Valerie Wells' 5 most memorable stories from 2019
Valerie Wells' 5 most memorable stories from 2019
Education reporter Valerie Wells covered everything from local schools to Scovill Zoo to an exciting surprise car restoration this year. Here are her five favorite stories, plus her own words about why these were the most memorable. 
Contact Valerie Wells at (217) 421-7982. Follow her on Twitter: @modgirlreporter