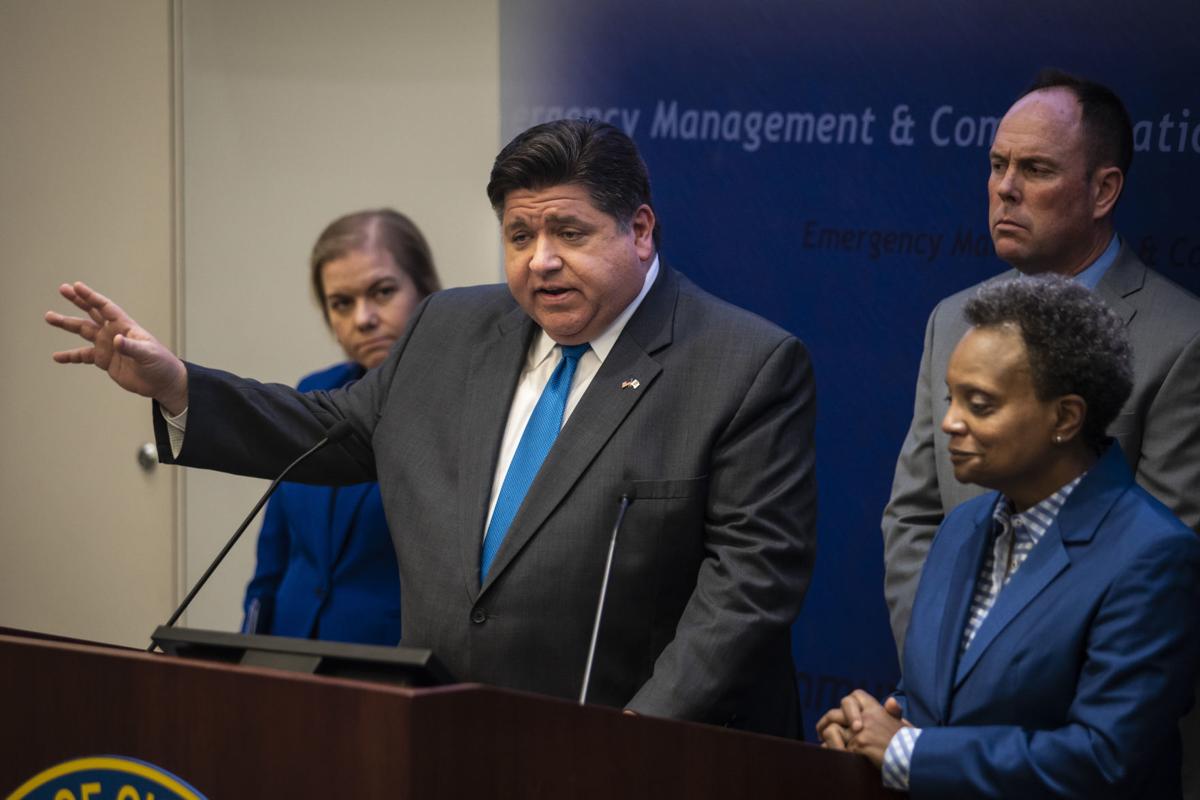 CHICAGO — Gov. J.B. Pritzker ordered all Illinois schools closed by Tuesday, sending parents scrambling to make alternative arrangements for the roughly 2 million children affected by the state's latest attempt to slow the coronavirus.
The order — which also includes private and charters schools — will be in effect until at least March 30.
"Let me be clear, I understand the gravity of this action and what it means for every community in our great state," Pritzker said. "None of the decisions we have had to make over the last week have been easy or simple."
Illinois becomes the eighth state to shutter its schools as governors nationwide have taken dramatic steps to decelerate the pandemic. The Chicago Archdiocese and at least 90 other districts statewide already had cancelled classes before Pritzker's decision Friday.
Each district is expected to handle the closures differently, with some ceasing educational instruction until the order is lifted and others providing lessons online. Prior to Pritzker's announcement, more than 75 school district had notified the Illinois State Board of Education that they intended to implement e-learning that allows children to study at home via the internet.
Pritzker's edict came just hours after Chicago Mayor Lori Lightfoot said she had no plans to close the schools and that the governor had not pressured her to do so. As she has repeatedly done in recent days, Lightfoot noted the "significant secondary effect" of closing Chicago Public Schools because working parents would need to find child care while the kids were out of class and because many of the 355,000 CPS children count on the schools for multiple meals each day.
To bolster her position, Lightfoot had Chicago's Health Commissioner, Dr. Allison Arwady, explain to reporters that children don't appear to be contracting or transmitting the virus at nearly the rates of older people.
"We all know children, for most diseases, actually are big vectors," Arwady said, with Lightfoot at her side. "They have the potential to spread disease a lot. But this particular one, based on what we've seen to this point, does not seem to be, certainly primarily, driven by children."
The closures, however, have the support of the Chicago Teachers Union, which demanded Friday that Chicago Public Schools be closed immediately. The union previously said it wanted the schools to close to students on Tuesday because some many schools will be used as polling places on Election Day.
The order came a day after Pritzker canceled all public events drawing more than 1,000 people and asked that gatherings be no larger than 250. The state had 32 confirmed cases as of Thursday, though the total is believed to be even higher because the data is almost a day behind actual numbers and because of the shortage of tests.
Ohio, West Virginia, Michigan, Maryland, New Mexico, Oregon and Virginia also have closed schools. Indiana Gov. Eric Holcomb did not order schools closed, but he has given districts a 20-day waiver of the required 180 instructional days to use as needed.
Illinois' indefinite closures, however, creates problems unlike those faced when school is cancelled for inclement weather or holidays. Many parents cannot turn to child care centers or day camps for help because the ones they rely upon have closed, themselves, in an effort to thwart the virus.
"All of these choices have cascading effects for citizens and vulnerable populations when it comes to food access, safety, childcare, and social services," Pritzker said. "We've seen what happens in places that didn't move with urgency. I ask all of you not to hesitate to do the right thing for your family, your friends and your community. One small step at a time, we will get through this together."
As parents scramble to find child care, school officials face the arduous task of figuring out how to provide meals to economically disadvantaged students who rely upon the subsidized breakfast and lunch programs. Districts are not required to provide meals if schools close for COVID-19, but state and federal agencies have recommended it because they serve as the best source of nourishment for hundreds of thousands of children across Illinois.
With more than 260,000 Chicago Public School students receiving free meals, the challenge is greater than it typically is over the summer or than it was during the teacher's strike in the fall. Now school officials must find a way to feed the children while keeping them away from each other.
Illinois has joined a growing list of states granted federal waivers allowing them to provide food to students outside of a group setting in the event of school closures specific to coronavirus precautions.
The Illinois State Board of Education has encouraged schools to keep providing meals if the coronavirus prompts them to close or move to distance learning, or in other circumstances where students are not physically at school.
However, at least in Illinois, each district must figure out how to get the food to each student. Suggestions from ISBE include home delivery, "grab-n-go" locations, or curbside pickup.
Be the first to know
Get local news delivered to your inbox!