DECATUR — Jenny McGready grew up in Arlington Heights, surrounded by families pretty much exactly like her own — white and upper middle class.
Her mother is a teacher, and McGready knew from an early age she wanted to follow in her footsteps, but she assumed she'd teach in a suburban school, as her mother does. Then she became part of the Teacher Pipeline cohort at Illinois State University.
"My K-12 schooling, there was zero diversity, and I knew that as a teacher, that would not reflect the students I was working with, so I thought I needed more exposure to diverse students and community," McGready said.
She worked with fourth-graders at Dennis School, and she said the teachers treated her as an equal, giving her an opportunity to do all the things she'll be doing when she graduates and becomes a teacher. She attended staff meetings, dealt with classroom management and behavior and graded papers. Now, she said, she's open to almost any opportunity that might come her way, even teaching abroad.
The Illinois State Teacher Pipeline partnership with Decatur schools has been underway for four years, said Shannon Mittleman, who oversees the program, and until this year, the focus was on special education. Beginning with this fall semester, teacher candidates, all juniors, are working with regular education students. In addition to Dennis, college students worked in Franklin and Stevenson schools and French Academy.
The purpose of the Teacher Pipeline is to help prepare the candidates for the urban schools and communities in which many of them will work, and to teach them the specific skills they'll need to successfully reach their students.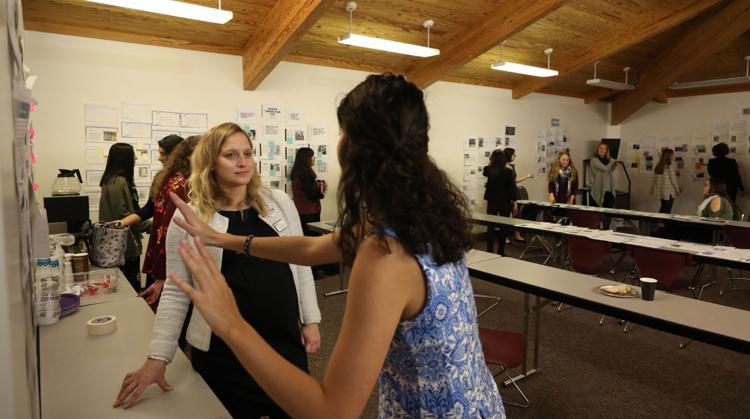 "They're placed in classrooms and spend the full day there for 16 weeks," said Erin Quast, one of the Illinois State professors who work with the teacher candidates. The other is Shamaine Bertrand. Both women are new to the program this year.
"Our goal is to prepare them to teach in urban settings but also to prepare them to teach diverse students as well as create equitable learning environments," Bertrand said. "There's so much diversity that happens in Decatur. For us, coming from Bloomington-Normal, this gives them the type of environment where they can do that."
Decatur offers a diversity not available in Bloomington-Normal, Bertrand said, because it's not only diverse in race and income but in programming at the schools, providing the college students with the kind of urban district they might find in a large city, yet surrounded by agriculture and small communities. When Bertrand and Quast were hired, the then-director of the program told them the clinical opportunity in Decatur was best suited for training the students to teach in urban schools.
Decatur, Quast said, has schools working in trauma-informed training, for example, which is important in urban schools, as well as Montessori, the lab school at Dennis, and other innovative programs. 
"I'm from Virginia, so I knew nothing about Illinois," Bertrand said. "I get here, I drive down to Decatur, and I'm like, wow, the diversity is here, because we drove past cornfields and all kinds of things to get from (Bloomington-Normal) to here. It really is like an urban center in a rural context."
The semester began with the Illinois State students learning about Decatur, visiting businesses and getting to know the community.
Illinois State trains many of the teachers in Illinois, Quast said, and one of their goals is to have a presence in communities other than Bloomington-Normal, so that is also a factor in choosing to provide students with clinical experience in Decatur.
Madison Stoller of Pekin worked at French Academy. Both she and McGready are studying elementary education and pursuing endorsements in English as a second language as well.
"When (Bertrand and Quast) pitched it to us last year, I was really intrigued with how the cohort would be run," Stoller said. "There'd be a lot of collaboration together with the two classes that we took and the clinical. I hope to teach in a school with English language learners or that's high need. It was definitely beneficial to do it and it was also one of the best decisions I've made at ISU."