DECATUR – Judge R.C. Bollinger tries to be prepared for any kind of question kids toss out when they come to visit his courtroom at the Macon County Courthouse, but one he got on Tuesday made him and his colleagues all burst into laughter.
"Why are you all wearing the same shoes?"
When he could, Bollinger answered that he and the other men – Judge A.G. Webber IV, court security Officer Bob Whitten and attorney Carl Tenney – wanted to look professional, while the kids had the freedom to be considerably more casual in their footwear choices.
"You just never know what to expect (from the kids)," Bollinger said with a laugh after the kids had left. "A lot of those questions, I've heard before, but some were new today."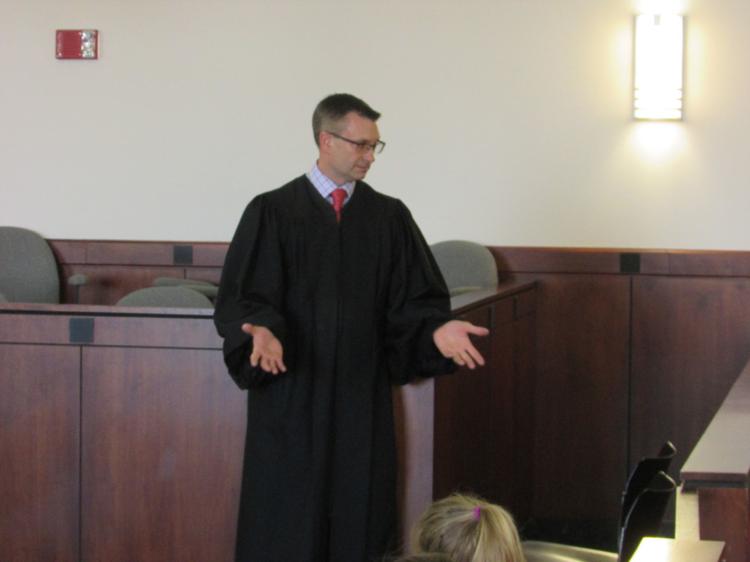 Students from Garfield Montessori School and Harris School visited the courthouse on Tuesday for Law Day, an observance of the American Bar Association that began during Dwight D. Eisenhower's administration, Webber said. The president known as "Ike" noticed that May Day was a big celebration in Communist countries, with parades and celebrations.
"It was one of the most important holidays in the Communist world, to celebrate their military might and idealogical strength, so President Eisenhower thought we should establish a counterpoint to that, so along with the American Bar Association, established May 1 as Law Day, to contrast the rule of law in this country with the rule of the authoritarian government in the Soviet Union," Webber said.
Bollinger read "Abraham Lincoln's Hat," a children's book about how Lincoln kept important papers in his stovepipe hat, to the children and each child also received a copy to keep.
"These books we've handed out are actually provided by the Illinois Judges Foundation," Bollinger said. "Judges around the state can request these books to put on these kinds of events for Law Week. It's to promote literacy but also to promote the law."
Attorneys Michelle Sanders, from public defender's office, Lindsey Shelton, from the state's attorney's office, and Katherine Perry, from Shay & Associates, also attended to meet the kids and ask questions, along with Judge Phoebe Bowers.
Some of the questions were to be expected: What do attorneys do? How do you become a judge?
To that second one, Bollinger told the kids that judges have to be lawyers first, with one notable exception. "In one court, you don't have to be a lawyer to be a judge," he said. "Does anyone know which one that is?"
One child said, "The Supreme Court?" which was the right answer.
The kids had a chance to sit in the jury box and pretend to be jurors as the lawyers and judges took turns being defendants accused of such crimes as jaywalking and running red lights. On Friday, said Garfield teacher Sarah Pritts, older students will hold a mock trial. It's important for kids to learn about how the law and courts work beginning at a young age, she said.
"I think it was nice. It was cool that the judge was nice and I had a good time," said John Justice, a Garfield student.
"It was cool that the judge and everyone was nice," said Amy Powell. "It was nice that they were nice to each other."
---
Want to see more local news like this?
Our Daily Headlines email is for you! Delivered daily at 10:30 a.m., you'll get the local stories you need to see directly in your inbox.
I understand and agree that registration on or use of this site constitutes agreement to its user agreement and privacy policy.
---