DECATUR — Decatur's high schools have only had FFA chapters since the beginning of the school year, but already the students are old hands.
The developing program has already attracted attention from the National FFA Organization, which had its officers visit a conference at Eisenhower High School earlier this month. Students from both high schools attended.
"We're doing different activities with the officers to better ourselves through FFA," said Lillie Sherrod, a freshman at MacArthur High School. "They're teaching us how to be better leaders, how we're branded. The keynote speaker said out of each year, we spend a month on our phones on social media. The average American lives to be in their 80s, so when you're 80, you've spent seven years of your life on social media, which is crazy."
When Lillie was in middle school last year, the students were encouraged to sign up for FFA and for the newly minted Dwayne O. Andreas Ag Academy at both high schools, and she was intrigued enough to do so, she said. She doesn't regret it. FFA has become an important part of her high school experience.
The Ag Academy and the FFA chapters, with 4-H chapters in the lower grades, are thanks to a $1.65 million grant from the Howard G. Buffett Foundation. The program will include a "living science" farm at Enterprise School, which has considerable acreage as part of the campus, and that has already produced a pumpkin harvest that supplied a significant number of Decatur schoolchildren with a Halloween pumpkin. Plans for the future include beekeeping, orchards, more crops and eventually livestock.
"This is one of the first times Illinois has had all the FFA officers together," said Ashley Austin, who teaches ag classes at Eisenhower. "They're going to workshops with the national officers. We hope they're developing those leadership skills that are a critical component of FFA."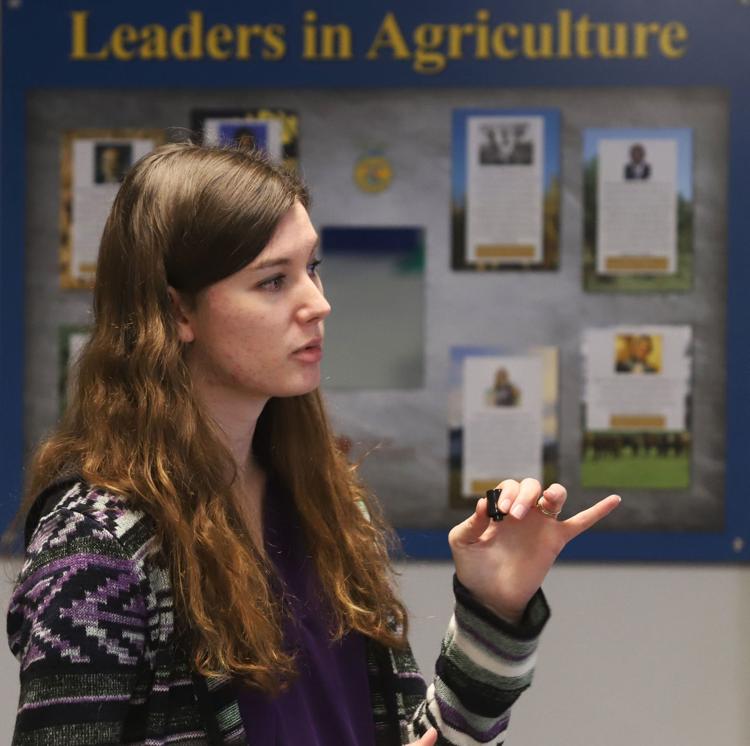 Decatur schools are still building the FFA "brand," Austin said, but having such an event in Decatur helps build interest among students who aren't involved and she has high hopes that more students will be involved next year. Students will attend the state convention and have already attended one national convention in the fall, which is planned to be an annual excursion for the Decatur members. At the national convention, they can make connections and attend workshops on everything from careers to personal enrichment.
"When I was their age, I was so shy I couldn't even talk," Austin said of her own FFA experience as a teen. "My adviser made me do lots of public speaking and leadership things."
Nationally, FFA, formerly known as Future Farmers of America, has 670,000 members, said Shea Booster, national vice president of the Western Region of FFA and a resident of Bend, Oregon. Booster was one of the national officers at the Feb. 4 conference, highly visible and available to the Decatur students thanks to their dark blue FFA blazers.
"Every FFA chapter, it doesn't matter if you're from Decatur or Oregon, every FFA chapter is connected," Booster said. "Even though they're just starting out, they're not doing it alone. (All the chapters) would love to get in contact with them and help them with what works well, what doesn't work well and how they can build the program."
Caleb Guise is vice president of the Eisenhower chapter and was one of the students who attended that national convention in Indianapolis in the fall.
Initially, he was interested in FFA for its horticulture aspects. He jokingly referred to Austin as "FFA crazy" but said she inspires the students to explore careers in agriculture that can span everything from technology to science and animal husbandry. 
"It's our first year, but we're learning fast and we're learning more stuff all the time," Caleb said. "It's a lot of different things, and my favorite thing is meeting a lot of new people. It seems like everyone is real nice and down to earth."