MAROA — On Wednesdays, the left side of Walter Boyd Field is filled with boys practicing punt coverage. The right of the field is occupied by Maroa-Forsyth High School football players like star running back Deondre Gregory boasting that he hasn't botched an opportunity to field a punt all season.
In the middle, junior kicker Reilly Fitzpatrick sends a slew of point-after attempts through the September sky.
After the first two, she trots around the guardrail to pick up the footballs. Same for the next two.
Finally, after the fifth attempt, Trojans captain Lane Ohlemeyer stands on the track to field the kicks, sending them back to Fitzpatrick for yet another conversion.
For Fitzpatrick, converting point after attempts isn't limited to Wednesdays. She's made a name for herself throughout the area as a premier kicker. 
While there are other teams in the area with female players, none have had the impact at the varsity level that Fitzpatrick has.
She's converted her attempts at roughly an 80 percent clip, including 90 percent last season, and became just the second female in Illinois history to score a point in a state championship game. She was also named to the Herald & Review Macon County All-Area second team last season.
According to the National Federation of State High School Associations, there were 1,964 girls playing football on 11-player teams in 2015-16, the second-highest mark ever recorded and more than double the number of participants in 2008-09. In 2001-02, nearly 3,000 girls played football in high school.
In college, the feat is even rarer. This year, Becca Longo is a freshman kicking for Adams State, a Division II school in Alamosa, Colorado. She's also the first woman to earn a football scholarship at a Division I or II school. 
In 1997, Liz Heaston became the first woman to score in a college football game. She was a placekicker for Willamette University in Oregon. 
For Fitzpatrick, her path started when her parents — athletes in their own right — talked to Maroa coach Josh Jostes about having Fitzpatrick go out for the team. Fitzpatrick is a longtime soccer player who earned all-area honors as a defender last year.
The Trojans were coming off of a 2014 Class 2A state runner-up finish during which Jack Hockaday and his vast skill set allowed Maroa to attempt 2-point conversions every time they scored a touchdown.
But the following year, Jostes was looking for a kicker and got an unexpected offer.
"They're actually the ones who approached me and said, 'Hey, if you're interested.' I said, 'I'm interested in everybody who can kick it through,'" said Jostes, who had never previously had a girl on the team in his 17 years coaching Maroa.
Fitzpatrick, then a freshman, didn't tell anyone her plan. Instead, she quietly, and timidly, attended practice to display her skills. All while battling intense nerves.
"I was terrified," Fitzpatrick said. "I was a really shy kid. So coming out with all of the guys out here in their pads like, 'What is this girl doing?' It was really scary, actually.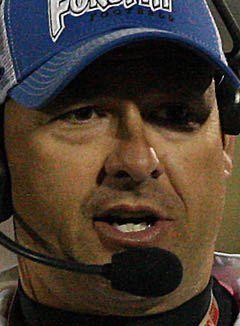 "They had me out there for like 15 minutes and were like, 'OK, we're going to have you kick a few to see if you can make it.' After I made a few I was like, 'OK, maybe I can. Maybe this is OK.'"
Her mother, Stephanie, was a little hesitant, but Reilly had the full support of her dad and stepdad.
Still, Stephanie wasn't sure her daughter would make the team — after all, she had never even kicked a football.
"She went to try out, and I just thought it would take care of its self and she wouldn't kick it well," Stephanie said. "She came home and said, 'I made it.' I said, 'What do you mean you made it?' She said, 'Oh, I made it.' I said, 'You really were able to kick a field goal? Nuh-uh, you were not.' She said, 'Yeah, I was able to kick some extra points. I think I was 5-for-5.' I thought, 'OK, there we have it. Case closed, right?'"
'It's a little nerve-wracking' 
Kam Boline, a receiver who has been Reilly's holder on point-after attempts since she was a freshman admitted he was caught off guard when he showed up at practice and saw Reilly.
But it took just one high-arching kick through the uprights, for him to be sold that she was the team's new kicker.
"When I saw her on the field I was like, 'Whoa, what's going on?' I was really surprised." Boline said. "I mean, like football, a girl playing and kicking, it was a really big surprise for me.
"The first time I realized it, we were doing drills on the other side of the field and she's over there on the other side with Coach (Kyle) Tutt kicking, and she's kicking right down the middle. She can kick very well."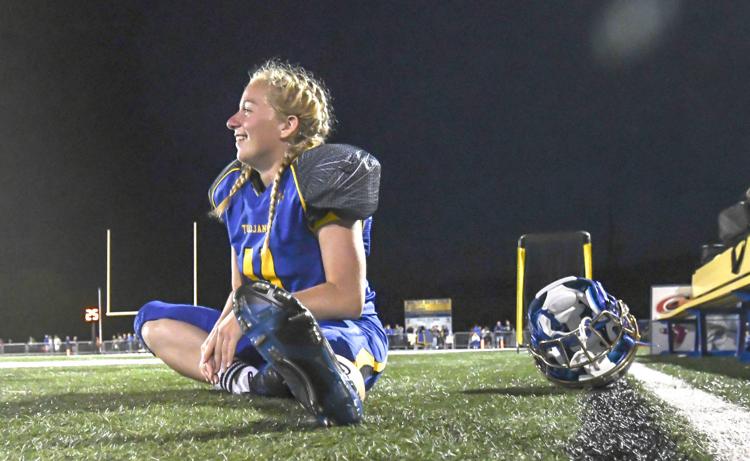 Prior to her first game, word quickly spread around school that she was on the team and was, in fact, the kicker. Fitzpatrick was nervous, but after she sailed her first attempt through, and remained unscathed while doing so, she settled in.
It helps that Jostes challenges his line to not let anyone touch Reilly.
"When she was a freshman we warned them all, 'She better never be touched,' " Jostes said.
Opposing teams often rush 11 people in attempts to block her kick, but to this point, she's unscathed.
You have free articles remaining.
"I was scared at first," Reilly said. "But after the first one I was like, OK, the line's not letting anyone hit me. Nothing is coming through, I'm safe back here. OK, I think I'm good.
"I think it helps being a girl though, honestly. They think I'm this little sister they have to protect. It helps."
Boline agreed. In fact, he said if an opposing player does break through the line to lay a hit on Reilly, that wouldn't bode well for whoever let it happen.
"Everybody thinks that (she's a little sister), Coach Jostes thinks that," Boline said. "It's a bunch of guys and our sister that we have to protect."
Even in Reilly's third season as the team's kicker, Stephanie still gets nervous before each attempt. She has faith in her daughter, but her motherly instincts still kick in.
"I mean, as a mom, it's a little nerve-wracking," Stephanie said. "She's a strong girl, and I figure she will know how to duck and cover if she has to, right? I figure she knows how to do that. Her guys are really good with her, and they do a good job of making sure she feels settled so she can do what she needs to do."
Jostes has been impressed with Reilly and the way the rest of the team has rallied around her.
"She is an exceptional young lady for sure," Jostes said. "Growing up in an athletic family helps. Then having brothers (freshman twins Rece and Reid), I think we've tried to make her feel like one of us and our guys have done pretty good. They've done a good job of rallying around her."
Nearing 100 points
In just two seasons, Reilly has already been thrown into a handful of pressure-packed situations.
She's approaching 100 points, and Jostes is hoping she comes close to 150 before graduation next year.
The Trojans advanced all the way to the Class 2A state championship game last season against Deer Creek-Mackinaw, where Reilly found herself in Memorial Stadium, home of the Fighting Illini, ready to kick an extra point with 2:39 left in a one-score game.
With the conversion, Reilly joined Olivia Vatch of Elmhurst Immaculate Conception, who converted a point-after attempt in the Class 2A title game in 2008.
"That's incredible," Boline said when he heard that. "I don't think anyone on the team knew that. Wow. That's incredible."
She wasn't rattled by the big stage throughout the postseason, but even she admitted when the lights were the brightest and the seats were packed, she was scared.
"She's kicked in the state championship, and there aren't a lot of people who have done that," Jostes said. "She did that as a sophomore and scored, so none of that bothers her."
But Reilly's school activities are hardly limited to the gridiron.
She's a straight "A" student, an all-area soccer player, plays the flute for the band, and, until this season, ran cross country at Maroa-Forsyth.
"She's a jack of all trades," Jostes said. "She's probably one of the most popular kids in the high school as far as getting along with all social groups, so this is just another one for her. Honestly, I'm not sure that every girl could do it, but Reilly's been flawless."
Maroa football is a big deal in the community, and wearing the jersey comes with a status symbol of sort. Young girls have been known to come up and tell Reilly they have dreams of playing football, like her.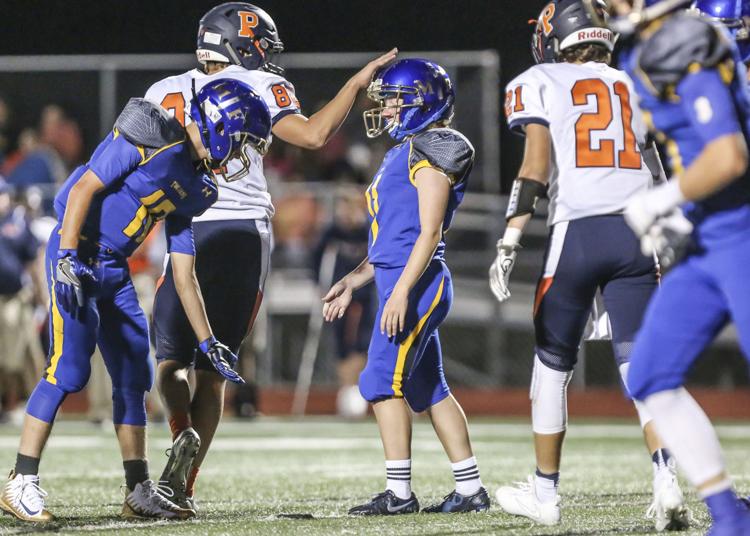 "I think it surprises her when she gets it because she's pretty humble and pretty reserved," Stephanie said of Reilly receiving praise. "Because in her eyes she's just taking care of business. She's just going out there and trying to do what she can for the team.
"Like in most athletic experiences, she has a goal and she wants to meet that goal. She doesn't really look big picture yet. As an adult, I can see that's something she's going to look back on and go, 'That is pretty cool. That was pretty cool that I got to do that.'"
Boline said it's not just young girls who look up to Reilly. He said he's inspired by her, too.
"She's a great kicker, a great woman. She's just great all around," Boline said.
Reilly said her friends often ask for the details about practices, or what it's like be on a field full of boys. But she said doesn't think about the boys, or the impact of what she's accomplished.
"I've had people tell me or say something about like, 'Oh, it's great for girls,' or whatever. I don't really think about it. I'm just here to kick," Reilly said.
"I hope to (inspire girls). I hope that girls will be able to do whatever they want to do, but that wasn't my goal coming out here at all."