DECATUR — Jaxon Short proclaimed Wednesday's big trucks event at Oak Grove School his favorite day ever.
Vehicles from the City of Decatur and Decatur Police Department, Ameren Illinois, Prairie Farms, Northeast Community Fund, Old Dominion Freight and others visited the school on Wednesday so students could look at them up close, speak to their operators, and learn about possible careers.
"I like them because they arrest people and fight crime," the first-grader said.
He was also pretty happy about the Prairie Farms truck because they handed out Milk Snacks, which are something like Ding Dongs except they're made with real milk.
"Just like Ding Dongs, except with some nutritional value," quipped Steve Craycroft, who was with the Prairie Farms truck.
Fellow Prairie Farms employee Kelli Williams said they wanted the kids to know where their milk comes from. It's all local, from farmers in Arthur, she said.
At the Old Dominion truck, driver Brian Johnston got a kick out of blowing the horn for kids, which he did with a big grin.
"They ask if we go to Chicago," said Johnston, who happens to be a Windy City native. "I say yes! We do go to Chicago."
In fact, he said, they go everywhere, and would recommend truck driving as a career for anyone who likes to travel.
"It's a good job with good pay and benefits," he said.
Lt. Ed Hurst from the Decatur Police Department showed the kids the Utility Terrain Vehicle that the officers use for events like Decatur Celebration and the Farm Progress Show, a small, Jeep-like vehicle that allows them to move through crowds without taking up a lot of space. The officers ran the lights and siren and let kids climb in to see what it's like looking out.
"They're so focused on that that it's hard to tell them anything," Hurst said with a chuckle. "It's community relations and letting them see us in maybe a different light."
Jawriyah Dotson and Brandon Barr both named the trolley their favorite vehicle. Brandon liked it because it's his favorite color, green, and Jawriyah enjoyed ringing the bell.
"You pull a rope," she said. "I like it because it's so much fun to do it."
Ameren brought a line truck with an auger they use to dig holes and set utility poles, and a crane so tall that the truck has to have outriggers or "stiff legs" to prevent it from tipping over. Those got a lot of questions from the kids, said journeyman lineman Ted Brinkoetter.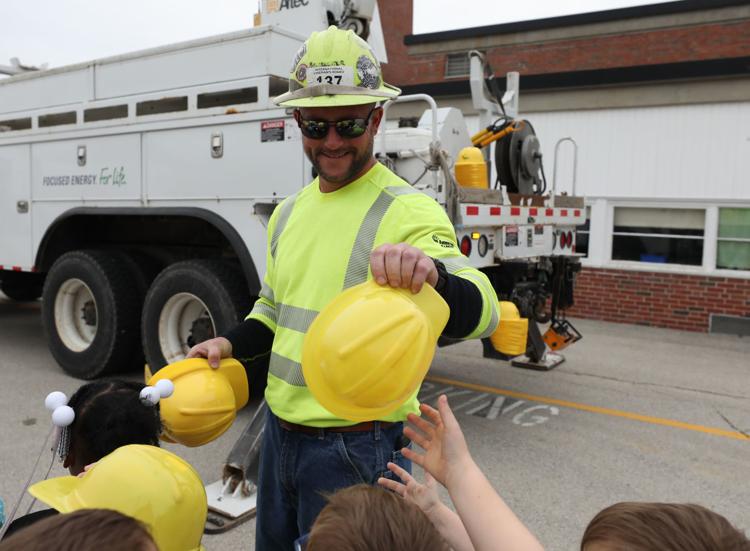 "This is the biggest line truck we have at Ameren," he said.
Such a vehicle is usually accompanied by a bucket truck and four workers, he said.
Ameren's community relations coordinator, Kelly Turner, organized the event, and another will be held at Baum School in May. The idea is to showcase different careers in Decatur and let the children see how those jobs factor into keeping the community safe, clean and supplied with electricity and gas, she said.
"When they see these trucks on the street, we see them and wonder what they do," she said, "so (the drivers) can talk to the students and let them know what they do."