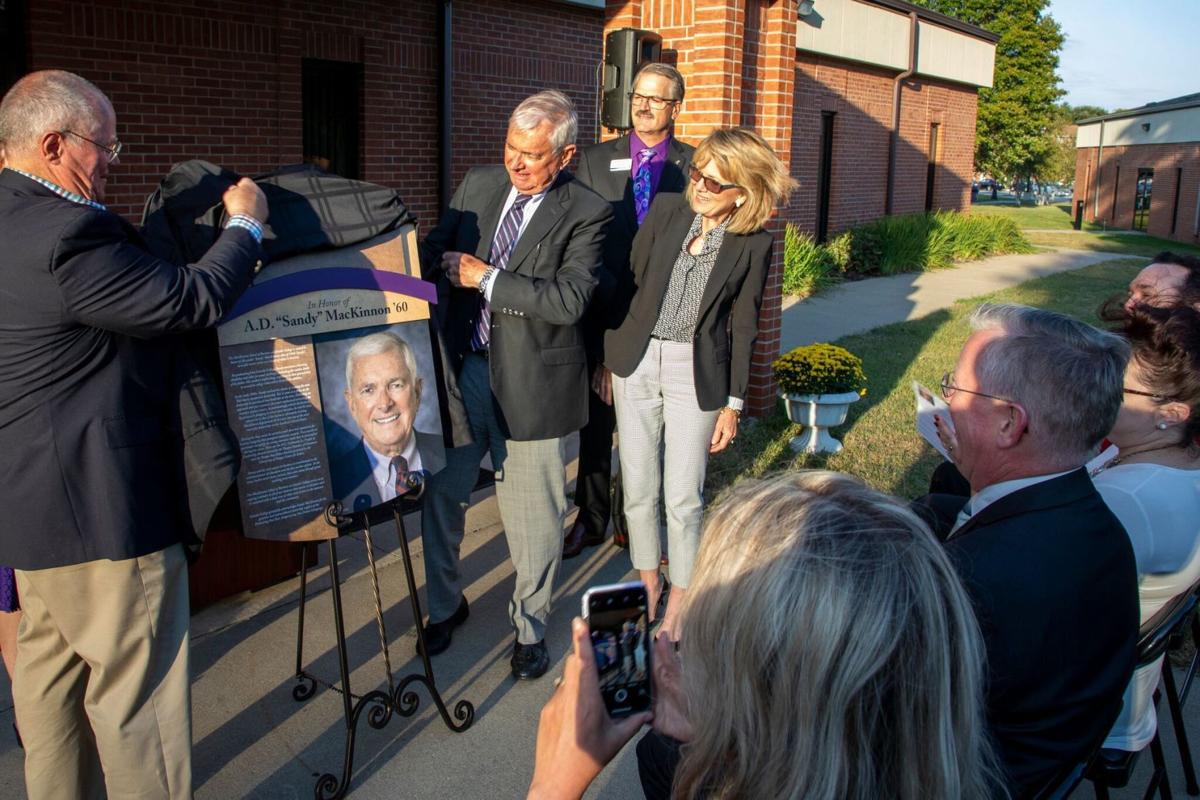 LINCOLN — Lincoln College is consolidating its business degree programs under the name of the "MacKinnon School of Business" to honor 1960 graduate Alexander "Sandy" MacKinnon and foster growth in the programs.
MacKinnon, a longtime supporter of the school, recently donated $1 million to Lincoln College. That unrestricted contribution followed others, including a multiyear commitment in 2014 for a $250,000 endowment to provide scholarships.
A plaque designating the MacKinnon School of Business was unveiled Friday. It will be in a special section of the school's Gehlbach Hall, which will house the school. That section will have a collaborative work space for business students and large-screen TVs for students to monitor stock markets and business news.
President David Gerlach said giving the business programs a clear identity will help foster growth and enhance the prestige of the programs.
The business school will encompass bachelor's degrees in business management, sports management, organizational leadership, entrepreneurship and supply chain and logistics management at the main campus and the Accelerated Bridge to Education program.
You have free articles remaining.
MacKinnon spent most of his career working for and with Yale, the manufacturer of forklifts and other heavy equipment that is now Hyster-Yale Materials Handling Inc. He became owner of a Yale dealership in Tampa, Fla., in 1982.
Gerlach noted that MacKinnon "took over a business that had gone bankrupt not once, but twice, and turned it into one of the most successful heavy-equipment dealerships in the country. Along the way, he earned a reputation for integrity that led to numerous honors for business ethics and leadership."
He has credited Lincoln College with turning his life around and enabling him to pursue his dreams. He pointed to the importance of great coaching from mentors.
Gerlach said mentorships and ethical training will be key parts of the MacKinnon School of Business.
"I can't think of a better role model for our business students," said Gerlach.
Contact Lenore Sobota at (309) 820-3240. Follow her on Twitter: @Pg_Sobota