DECATUR – For years, students at Decatur's parochial high schools had some juggling to do when they got old enough for driver's education and behind-the-whee classesl.
At LSA High School, students' parents had to drive them to one of Decatur's public high schools early in the morning before classes began for driver's education, until this year.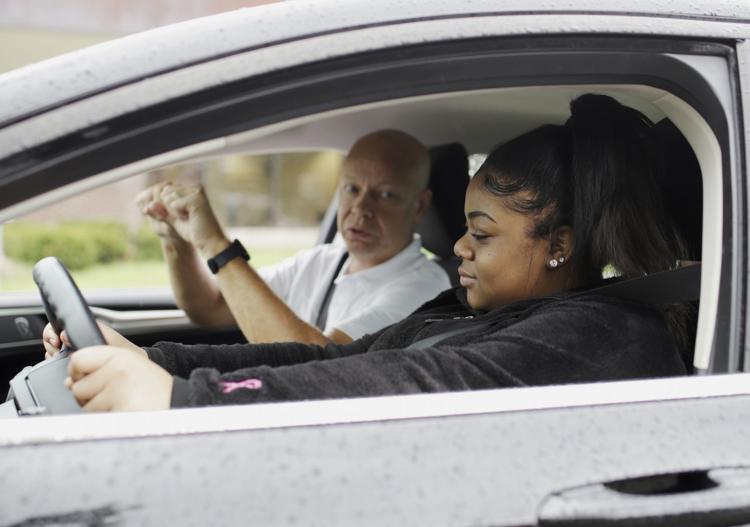 "They would have had to go to one of the other schools at 6:30 in the morning and had their parents drop them off and pick them up at 7:30," said Matt Cushing, who was coaxed out of retirement to teach the class at LSA High School through an agreement with Decatur School District.
On the wall of the classroom is a sign that Cushing said is the philosophy he wants to instill in the students: Knowledge; Attitude; Responsibility, or KAR, to help them remember it. Those are the keys to success in any endeavor, he said.
Principal Allison Nolen spent a year working to acquire a driver's education car, too. Behind-the-wheel classes will begin in mid-September for students who have already completed the classroom portion of the course.
"I get paid through Decatur Public Schools, and they're being nice enough to allow the class to be held here so the kids don't have to go back and forth, though LSA does provide the car," Cushing said.
To enroll in driver's ed, students have to be a minimum of 14 and turn 15 before the class is over, so most of the kids are freshmen and sophomores.
"We still have to get up early," said Jacob Baten, a freshman. "Just not as early. School doesn't start (at LSA) until 8:15."
You have free articles remaining.
"We're right here at school and just go to class and we're done," said sophomore Isabella Carlton.
It's not easy for a private school to get a driver's ed program, Nolen said.
"You have to cooperate with a public school in order for it to happen," she said. "Luckily, Josh Peters (director of curriculum and instruction for Decatur schools) worked with Dr. (Jeff) Holmes (LSA superintendent) to make it happen. Then Jackson Ford loaned us the car for basically nothing."
LSA had to raise funds for installation of the extra brake for the instructor that is required in a driver's education car, and for gas and insurance for the year. Students only had to pay $25.
"Billingsley (Auto Services) donated their labor and just charged us for the brake," Nolen said. "It's a removable one. Jackson (Ford) offered to lend us another car next year, and we can remove the brake (from this car) and it doesn't do any damage. So we don't have to re-purchase a brake."
Decatur schools can only accept a handful of LSA kids each semester for driver's education, Nolen said, which means sometimes students have to wait their turn for both classroom and behind-the-wheel, plus having to allow nine months of practice with parents before being able to get a license. Some students might not get their driver's license as promptly. This year's group of eligible students is bigger than usual, and Nolen knew it would be a lot less complicated for everyone if LSA could offer its own class.
"We knew this class was huge and it was going to be an issue, so we started calling around to see what we could do," she said. "It's really no different. The class is just being taught here, and instead of all of our families driving over there at 6 in the morning and then bringing them here, it just made sense for 40 families to be able to do it here."
LSA doesn't have buses, so students have to depend on family to get back and forth.
"Our parents already do so much that we didn't want to add to that, and any way we could alleviate that, it's what we wanted to do," she said.