DECATUR — It's the 100th day of school, and your mission, should you choose to accept it, is to build an igloo out of 100 mini-marshmallows, cake frosting, a few Q-Tips and some toothpicks — in half an hour.
Marissia Weatherford and Jatavion Carey, two of the fifth-graders at Durfee Magnet School charged with the task, figured out that using the toothpicks to shore up the structure's center would give them a base on which to build the dome top.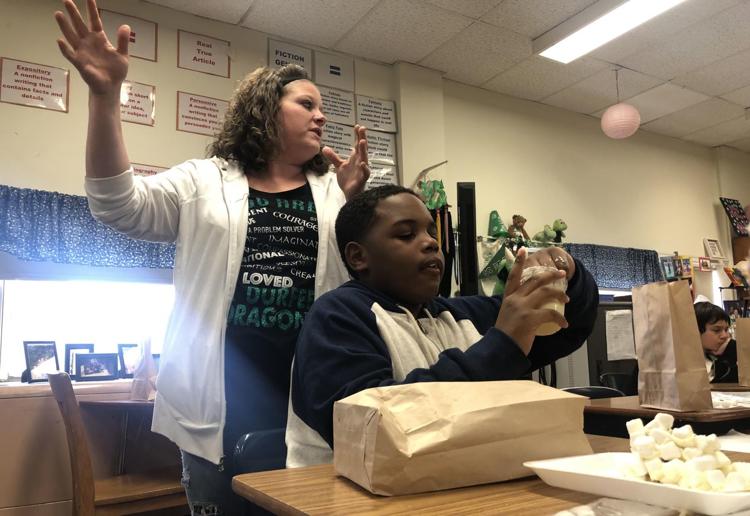 "If (the dome) collapses, the toothpicks will catch it and hold it up," Marrisia said.
The fifth-grade teachers at Durfee, Heather Herron and Karen Walker, combined their classes for the project as a fun way to mark the 100th day of school on Friday. The idea was to use science, technology, engineering, art and math — or STEAM — skills.
Herron jokingly said that she seriously overestimated the number of bags of marshmallows they'd need.
"It doesn't say how many are in here," she said, holding one bag. "I bought 12 (bags), and we used three."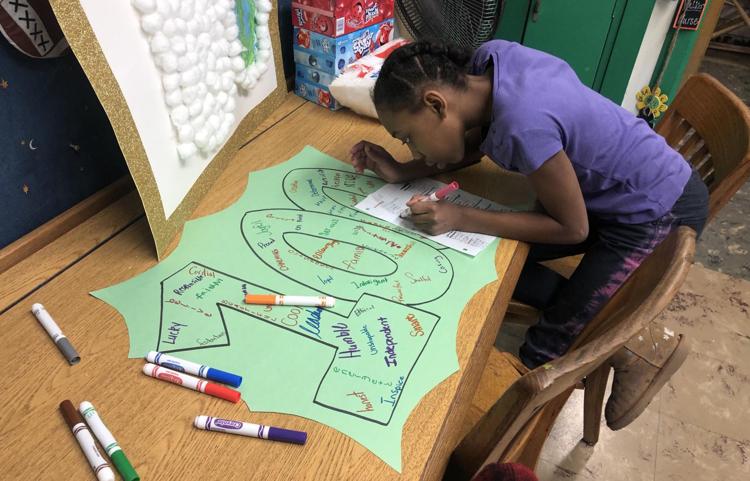 Giving the children marshmallows to eat after the project was complete was going to use up some of them, she said. The competition to see who could build the best igloo was mostly about bragging rights, but successful teams will also get some extra coding time on their iPads next week, which the kids consider a treat in its own right.
To set the stage, Herron told the students to imagine they were in the Canadian wilderness with only natural resources. What would they have to work with to survive in the wilderness? After some back-and-forth, students said "Ice and snow."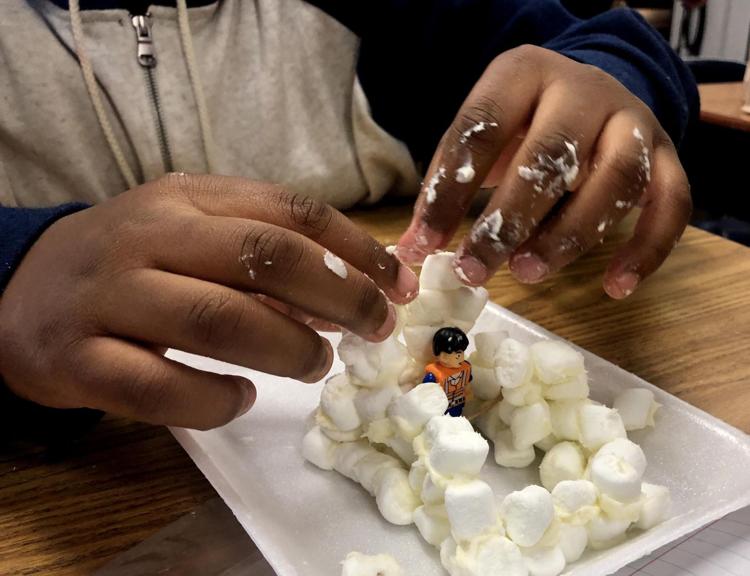 You have free articles remaining.
Herron told them that an igloo, with a domed top, would stay at least 32 degrees inside, warmer if they could build a small fire or if there were several people inside to share body heat. To build their igloos, they could only use the materials provided by Herron and Walker, but there were no instructions. Their own ingenuity had to supply design and problem-solving.
Skyler Click and Daishon Capers used their bowl of frosting like mortar, sticking the marshmallows to the tray that was provided as a building surface and slowly building up walls and a doorway.
"When we get to the dome," Skyler said, "we can put frosting on the sides of the marshmallows and hope that holds it together."
The doorway and the inside of the igloo also had to be of adequate size to accommodate each team's Lego person, and several of the teams built their igloo around the Lego person to make sure it would fit.
Hope Hill and Garryon Henderson designed their igloo ahead of time and referred often to the drawing that Hope had made while they worked.
Teachers often share ideas and mine the internet looking for inspiration, but Herron said this time, she came up with the idea herself. She and Walker often give students challenges like the igloo as a way to let them practice their STEAM skills.
"I made it up," she said. "We (the two teachers) sometimes do the challenges with them."
---
Class is in: These former Decatur school buildings are still in use.