DECATUR — Richland Community College will soon offer a new program to meet the growing demand for medical assistants in Central Illinois, where the closest training opportunities are now in Springfield and Champaign. 
Students will join a rapidly expanding field, with the Department of Labor predicting employment would grow 29 percent through 2026, faster than all other occupations in the medical field. Locally, Richland President Cris Valdez said Decatur Memorial Hospital and HSHS St. Mary's Hospital representatives asked Richland to develop a program because they need more workers. 
"We started on (the process) probably six to nine months ago," said Valdez, who anticipates approval by the Illinois Community College Board at its Jan. 19 meeting. "Because it's a national curriculum, we have to follow what the national curriculum says and align to that curriculum."
The Richland board approved the program in December, and it could start in fall 2018. Currently, the nearest training opportunities are at Midwest Technical Institute in Springfield and Parkland College in Champaign.
Ellen Colbeck, dean of health professions, said the program must be approved by the Illinois Community College Board before Richland can begin accepting applications.
Medical assistants complete administrative and clinical tasks in hospitals, clinics and physicians' offices. Training is a certificate program, rather than a degree, and median pay in 2016 was $31,540 per year, according to the U.S. Department of Labor.
Richland's program will begin with 15 students, Colbeck said. They must be eligible for English 101 and Math 098 and complete the medical terminology course with a grade of C or higher.
The tentative schedule is for each class to take four courses in the fall, five in the spring and one in summer, for 34 total credit hours. Five courses are offered already at Richland, and five are new courses specifically for medical assistants.
A memo provided to the board of trustees for its Dec. 19 meeting laid out the rationale for the program. The memo noted that DMH said in May it had hired 28 medical assistants in the past year, with six full-time and three part-time positions still open and eight new providers to be added before the end of 2017. By Nov. 30, DMH reported it had 15 medical assistant openings, the memo said.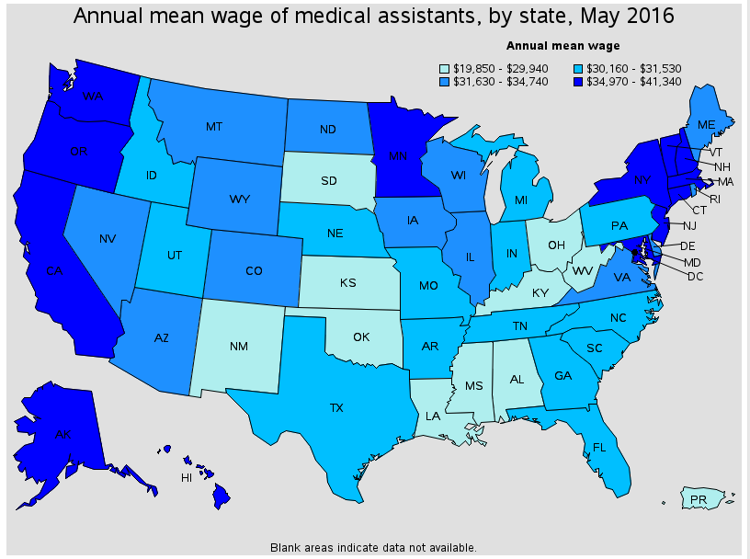 According to Emsi, a medical services information provider based in Moscow, Idaho, available positions within 25 miles of Richland will increase 24.6 percent through 2022. The average monthly job postings on Illinois workNet for medical assistants was 29.