DECATUR — Not everyone likes math. But for Kayla Schnippel, 13, from Mount Zion Junior School, the subject is a specialty — especially geometry.
"I have a better understanding of the math concepts," she said.
Schools from around the state will compete on Saturdays throughout February. The top scorers will advance to the state level.
The team from Maroa-Forsyth Middle School won Saturday's MATHCOUNTS contest in Decatur and will be moving on to the state competition in Chicago March 23.
Advancing in the individual competitions are Ethan Hamilton from Mount Zion and Matthew Brummer from Our Lady of Lourdes.
The winners from the state contests will compete May 11-14 in Orlando, Florida, for the national competition.
Lyndzie Craft, coach for the Maroa-Forsyth team, will be continue preparing her team for the upcoming MATHCOUNTS contest. "We have previously come in second to Mount Zion every year," she said. "Up until this year."
Craft said she didn't do anything different during this year's practices. "It's a just a different group of kids," she said.
Many students had their own ideas on how they would tackle the challenge of difficult math problems.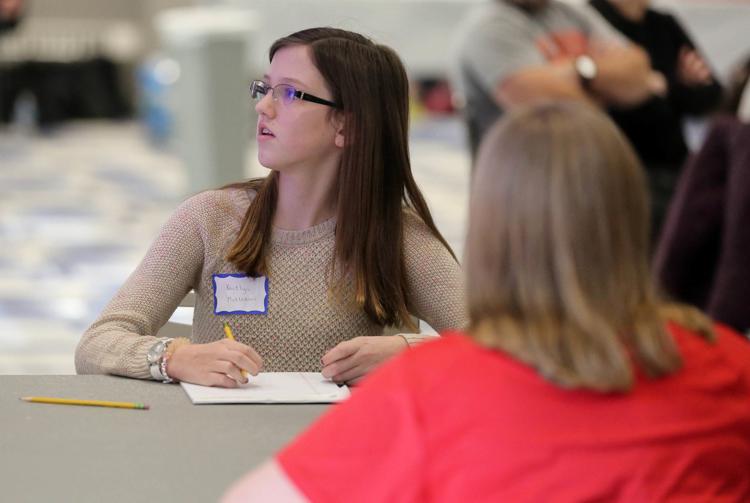 Kayla's teammate, Kaitlyn Matthews, 13, was hoping to finish as many equations as possible. "I will just do as many as I can that I know," she said. "Then get back to the ones that I don't."
Her hard work paid off. Kaitlyn advanced to the Countdown Round, in which the top eight students compete at the close of the event. The students had 45 seconds to answer each problem with a calculator.
Shirley Candelaria is the mother of first-time competitor Paul Candelaria, a sixth-grader at Our Lady of Lourdes School. The students meet twice a week for practice. At home, Paul studies online problems to prepare for the MATHCOUNTS competition. "But this is his thing," Candelaria said.
Paul's mother gave him advice before Saturday's meet. "I told him to have fun," she said. "Don't put a lot of pressure on yourself. Just soak up the experience."
Audrey Bradford, 14, also competed for the first time this year. Kayla and Kaitlyn reassured their teammate she would have fun too. "I'm looking forward to just answering questions with my team," Audrey said. "They are all really good at math."
The Mount Zion team is coached by Chris Weirman. He said good math scores are important, but otherwise the team is open to anyone interested.
This year's team has gained in popularity with a large group of 12 members. "These kids need the experience," Weirman said. "We are building up for next year."
MATHCOUNTS is similar to many contests requiring quick thinking and fast actions. "You only have a certain amount of time to answer the questions," Kayla said.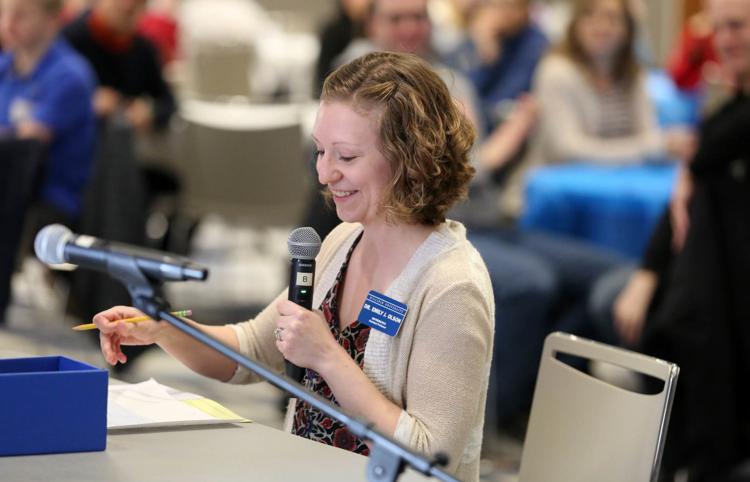 Saturday's event began with a Sprint Round, in which the competitors focus on speed and accuracy. The second round, or the Target Round, involves problem-solving and mathematical reasoning. And the Team Round includes collaboration on problem-solving equations. The top eight students advanced to the Countdown Round.
Weirman makes sure his students have fun preparing for the competition during their weekly practices. "We are very relaxed," he said. "But you don't need much, just calculators and kids willing to learn."
Organizers brought the competition to the middle school level more than 35 years ago.
Michael Marin, the local event coordinator, compares MATHCOUNTS to a track meet. "There is a team element," he said.
Marin's goal for the competition is to introduce them to math careers, such as engineering. "Hopefully that's a benefit for them," he said. "It gets them thinking about taking math and science when they are going into high school."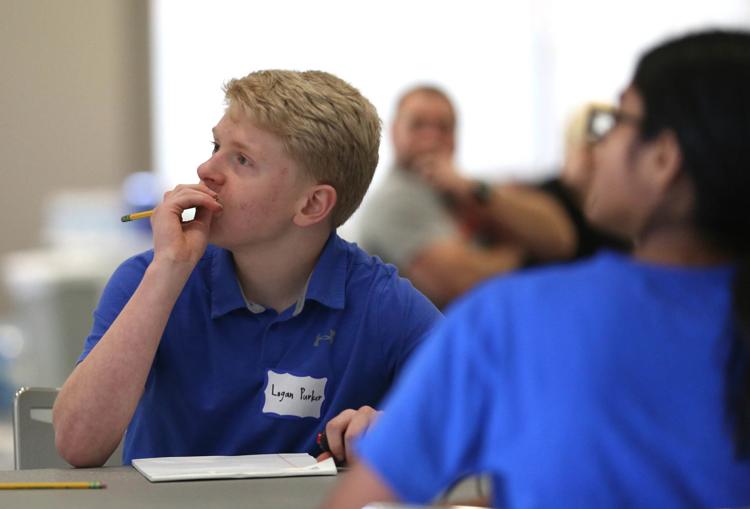 The regional competition of MATHCOUNTS was sponsored by the Central Illinois Chapter of the Illinois Society of Professional Engineers. The national competition began in 1983 with the Central Illinois contest joining the organization a year later. Marin said their goal is to introduce local students to various careers in math. "We want them to be active parts of our society," he said. "You have to plant the seed."
The Maroa-Forsyth students as well as their coach are happy for the opportunity to compete at the state level.
"I'm sure they are excited," Craft said. "They were really wanting first place this year."