Often, in the middle of the room, you'll see an easel and paints and custodian Jim Powell spending his lunch break working on a portrait.
Powell, 57, has been painting since he was a teenager and in the last four years, has been painting portraits of Thomas Jefferson students and giving them to the kids.
"A child asked me to paint her (portrait), and I thought, 'Why not? I'll try it,' " Powell said. "When she got hers, other kids saw it and they were eager to have one of their own, so I just started taking orders."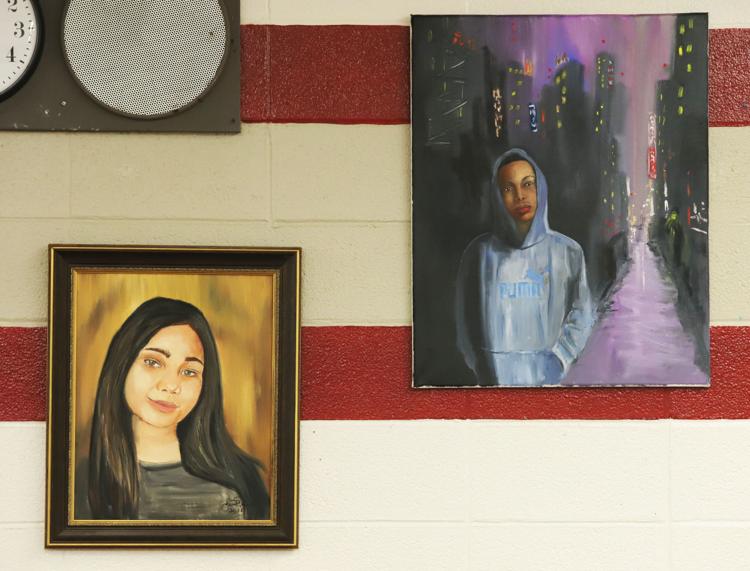 He estimates he's probably done 40 or 50 portraits of students since then. He takes a photo of the student to work from, and the final product often reflects something he sees in the child. One student's portrait has a city backdrop. Another, a medieval stone wall. For one student, he had taken her photo and had already begun planning the portrait when he saw her playing a guitar. He took a new photo of her with her guitar and painted her that way instead. He asked one student, who normally wears his hair in braids, to wear it loose for his photo because he knew that would make a more striking portrait.
"When I was as young as 5 or 6 years old, I started drawing pictures I saw in magazines," he said. "My mother thought I was tracing, but I was copying, so (his mother and grandparents) gave me a bunch of supplies. They encouraged me."
His mother, Mary Powell, now deceased, was an art aficionado, and had prints of the masters' works on display in their home, he said. She took him to museums and exhibits and taught him to love art, literature and classical music, which he still loves today.
He also paints landscapes and commission work, and sells his work except for the portraits of students, which he does as gifts to the kids. It takes him between four and 10 hours to complete a portrait, depending on how complex the background is. He's self-taught and Rembrandt is his favorite artist.
He has also given students other paintings, if he can tell that the child really wants it. He's even done that with paintings that he intended to sell.
"If a kid truly desired (one of his other paintings), I give it to them," he said.
Seventh-grader Kamie Hoffman's portrait hangs in the living room at her home.
"It actually really looks like me," Kamie said. "I didn't know he could paint that good. My mom really liked (the portrait). I gave it to her as a Christmas present."
Jayla Woodland, also in seventh grade, had her portait done after her grandmother, Kim Christy, also a custodian at Thomas Jefferson, asked Powell for it.
"It was really good," Jayla said. "He always paints other people and she's been telling me to ask him for a long time, since I was in elementary school."
Powell doesn't have TV service at home. He said he and his wife spend their time reading, playing board games and, in his case, painting. He finds inspiration for his art everywhere, sometimes in his favorite books.
"When I approach a painting, I let it happen," he said. "I look at the photograph of the person I'm painting and that determines the style at that very moment."