DECATUR — When someone is diagnosed with diabetes or cancer, family and friends are usually sympathetic and supportive.
No one blames the person for being ill in those instances, but mental illness can be a different matter.
"We should be able to support one another," said Mary Garrison, a social worker and professor at Millikin University who spoke at "On the Table" at the Decatur Public Library on Tuesday.
May is Mental Health Awareness Month, and Garrison oversaw events throughout the day on Tuesday. After the library event, she went to Baum School for Mental Health Awareness Day there, and another event was held at Millikin in the late afternoon for students and staff.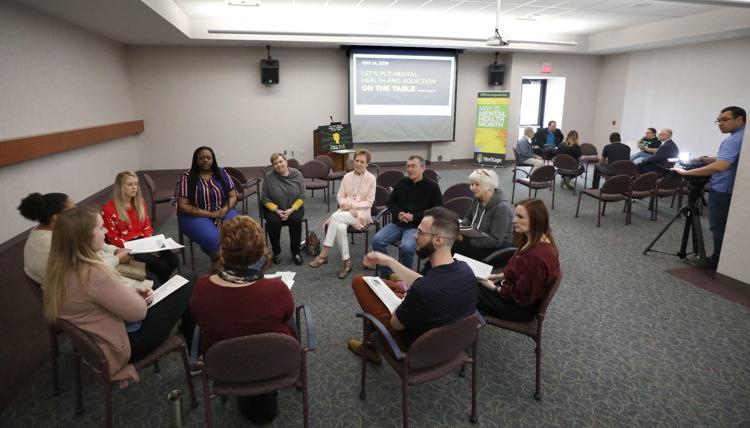 "We need to address the stigma (of mental illness) and talk about issues related to parity (for care)," Garrison said. Tuesday was also designated as a call-in day for action, when people were urged to call their state representatives and senators and urge them to support bills that will raise reimbursement rates for mental health care and improve access to mental health services.
Garrison told the group at the library that she lives with depression and anxiety and sees a therapist as necessary, but can still do her job and is still a contributing member of society. She has a brother who has been in recovery for 10 years who is an alcoholic, and the family knows that in spite of how well he's doing, he's still at risk, and they're available for support.
This was the second year Millikin has hosted the event at the library, and Garrison said it was chosen because the library is a community space where people feel comfortable, and that's an important aspect of discussing mental health openly. Removing the stigma surrounding mental health is the whole idea.
"(Stigma) has been around for years, generations," Garrison said. "Somehow, people think if we have a mental health condition, we are weak, but again, if you have diabetes or a heart condition, I'm not going to think you did that yourself. I'm not going to blame you. But we (as a society) think of (mental illness) as a character flaw, that we've done something to cause that."
One's environment can aggravate a mental health condition or even cause it, but it's still an illness, she said.
"It's our brain, and our brain is attached to our bodies," she said. "It's just another part of our body that we need to consider and take care of."
At Baum School, social worker Nicole Ekiss, who also attended the morning event at the library, had rehearsed a skit with some students to explain to fourth-, fifth- and sixth-grade students what some common mental illnesses are, such as depression and anxiety. Those illnesses are caused by a chemical imbalance, she said, and can interfere with a person's usual activities and their relationships.
"People are dealing with things that are out of their control," Ekiss said. "If they had diabetes or cancer, we'd feel bad for them and want to help them."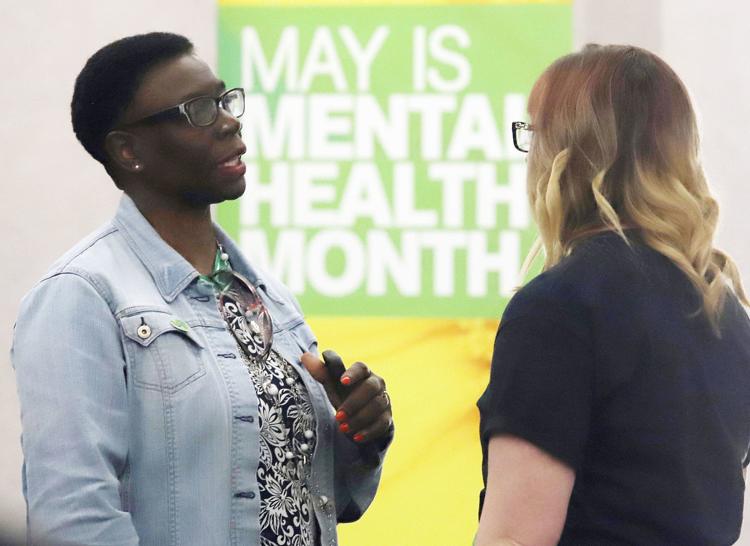 Asking for help, she said, doesn't mean you're weak. Surrounding yourself with understanding friends and family, taking time for yourself, seeking medical help and even exercise can make things better.
The kids were assigned to adult volunteers who met with them in small groups.
"I think you should just treat people the way you want to be treated," said Jercorey Murphy, a fifth grader.
If you notice a friend acting differently, said fifth grader Reyaa Krishnani, just ask if you can help. Maybe someone to listen is all they need.
"They can still be normal, but inside they're feeling pretty bad," said Leah Basham, a fourth grader. "They hide it and don't want to show it because they might be scared or embarrassed to tell people they have a mental illness."