MACON — Kolby Pagel hadn't had much need for a coat and tie in eighth grade at Meridian Middle School until recently, when he and classmate Avril Morrell served as legislative pages for a day for state Sen. Chapin Rose, R-Mahomet.
The dress code calls for coat and tie, so Kolby dutifully donned the required attire of the Capitol's public servants, but even Rose himself isn't a fan of ties.
"The first thing he did when we got back to his office was take off his tie," said Shawn Conlin, who teaches seventh-and eighth-grade American history at the school and organizes the event for her students every year.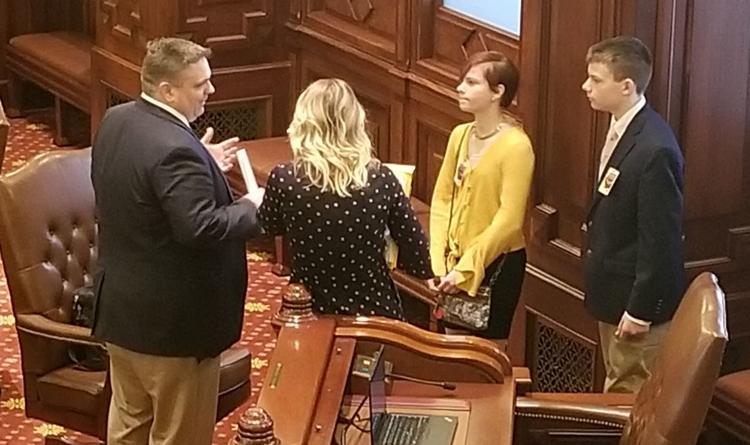 Conlin asks her eighth-grade students to write an essay on the topic of why they want to be a page for a day, and chooses the two students who have the most compelling reasons. Kolby and Avril said they are both considering a career in government.
"Last year, I had two students who were pages for Rep. (Brad) Halbrook (R-Shelbyville), and this year I had students 'write a page to be a page,'" Conlin said. "These two students were chosen based on their desire and their interest."
"Politics have always been interesting, and I wanted to get a closer look at the process," Avril said. "If we were on the other side (the House), we would have done errands, but we hung out on the Senate floor, and we went to a press conference."
The pages on the Senate side instead spend time with their legislator, and he introduces them formally to the chamber. On this day, however, a news conference was called almost immediately after the Senate convened, so the Republican senators almost all attended it, and Rose took the youngsters along.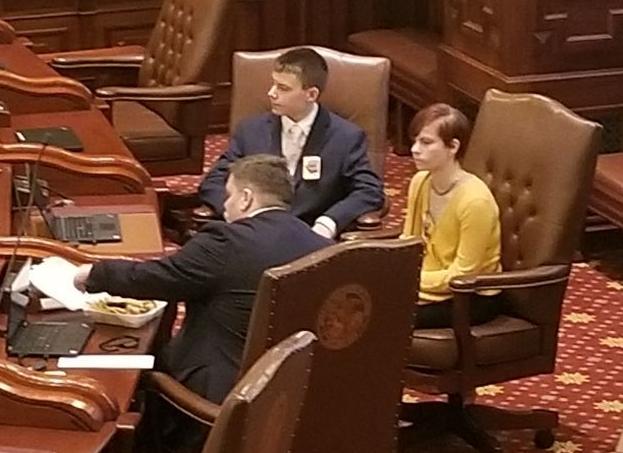 "The Democrats decided to call a caucus, so actually they didn't get announced, and they didn't get in the (formal) record, and they didn't get to do anything. It was a neat experience for them, but they didn't really get the experience of being a page," Conlin said.
Kolby is considering a career either in sales or politics, he said.
"I just like the way (politics) works," he said. "Everyone has their own job, and everyone has to agree for something to work. It's interesting to me."
You have free articles remaining.
He liked Rose's work ethic, he said.
The news conference was interesting, Avril said, because she'd seen them on television. Rose spoke briefly. The topic was the redrawing of legislative district boundaries, and a bill is under consideration to leave that up to voters rather than legislators, Kolby said.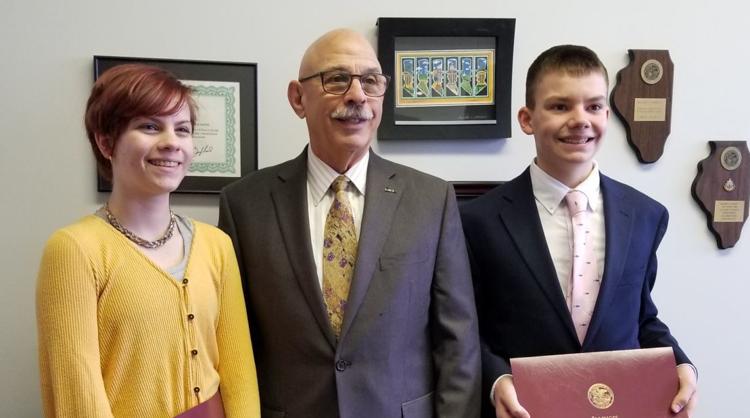 "They each got the Illinois Blue Book with their names embossed on them," Conlin said. "They were also given certificates and we met with Rep. Halbrook and they got to tour the Capitol building and the old Supreme Court chambers."
"It wasn't what I expected, but it was better than I expected," Kolby said.
One of the things that struck Conlin last year was that during the session legislators are talking to each other and seemingly not paying attention as bills are being read.
"You see on TV how they're always arguing," Avril said. "They're all trying; it's just that it doesn't work sometimes."
---
Illinois State Scholars: Meridian High School