DECATUR – Originally from Montego Bay, Jamaica, and more recently a Chicago resident, Aeon Johnson is feeling good about starting college on Monday at Millikin University.
"They welcomed us with open arms," said the freshman chemical engineering major, who has been "in love" with chemistry since elementary school. He was recruited by Millikin for track.
This has been New Student Welcome Week, with a packed schedule for the freshmen and mentors to help them settle in and feel at home. The week began with a vintage baseball game using rules from the 19th century, with a welcome assembly on Tuesday, workshops focused on performance learning, academic integrity and how to be successful in college, and Thursday was spent learning about sexual responsibility, the risks of drug and alcohol use and how to be a bystander in their relationships to advocate for safety.
One of the events was a chance to meet the leaders of the university such as President Patrick White, Dean Raphaella Prange and Chaplain Marty Brilley. Today they'll have a purely social event, the Big Blue Splash Bash, and Sunday is the opening convocation. Classes being on Monday.
Friday, all 500 new students participated in the Day of Action, fanning out across the community to serve.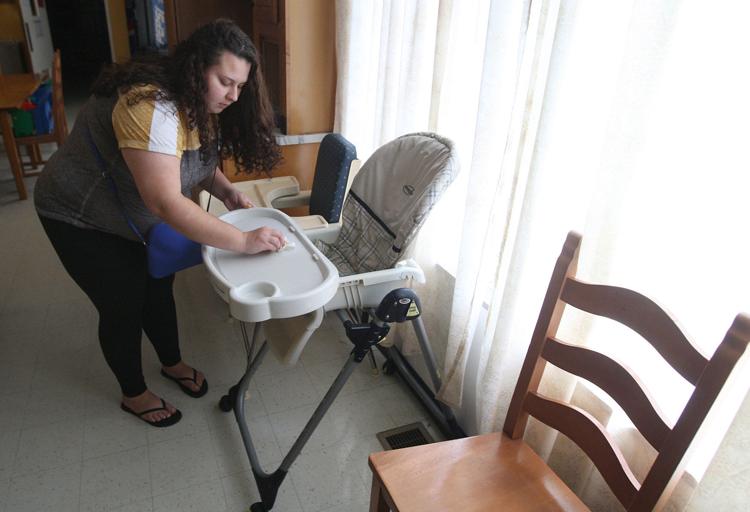 "Day of Action is a special time for our first-year students and an integral part of Millikin's New Student Welcome Week," White said. "In the Day of Action, Millikin's students engage in volunteer projects with Decatur non-profits, schools, and social service agencies. Through this performance learning, which lies at the heart of a Millikin education, we advance our mission goal of helping students to become democratic citizens in a global environment. Our students who come from across the United States and the world thereby become a part of the Decatur community and begin to see Decatur and Macon County as their home, as a place they will care for and improve just as they do Millikin University. It is great to see the sense of purpose and commitment on the faces of our students as they begin to know and appreciate the larger world in which they live and make a difference."
At The Salvation Army, a group helped sort and stack donated canned goods to make it easier for volunteers who prepare them for distribution.
"Our average volunteer is 5-foot-4," said Sarah VanRheeden, social ministries director. "Our donations come in these (tall, deep) boxes, and you can see where we've cut out a hole so we can reach in."
The students pulled cans from those tall boxes and stacked them in flats, and stacked the flats on pallets, and VanRheeden said they made short work of a task that would have taken the volunteers many hours to complete.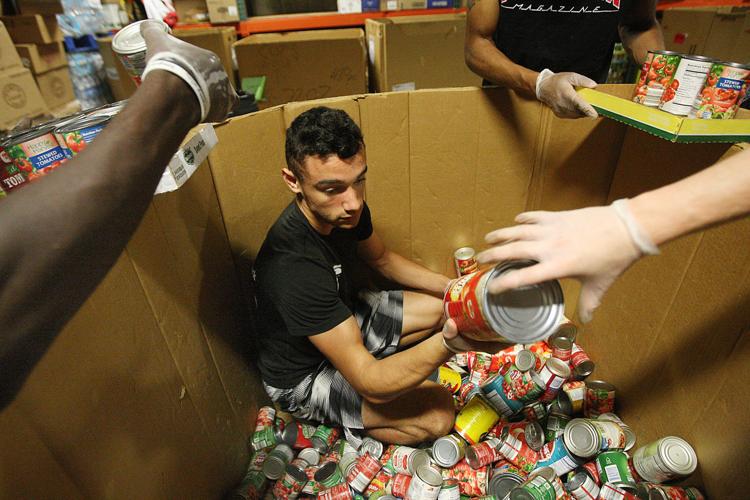 Mentor Fred Bartuch said he and about 40 other upperclassmen provide guidance for the new students, not just during welcome week, but throughout their first semester.
"We just kind of show them the ropes," he said. "We give them all the resources we have to help them be successful."
Besides showing them around campus, said mentor Aimee Frost, the mentors also meet with their group alone, and helping them feel at home. Most of them have never been on their own, and it's important to provide support.
"We're here to help them," said Jay Geanopoulos. "We want to make sure they're situated. We know it's a tough transition, so we're here to help them out with that."
Marc Joseph is from Florida and chuckled about learning to cope with cold weather this winter, but the business major said he thinks he'll be OK on that front. He's not a bit nervous about being away from home and starting college, thanks to the warm welcome he's had at Millikin. His plan is to start a nightclub once he finishes school.
"I'm looking forward to meeting new people and getting degrees," Joseph said. "When I came out here the first time, I felt comfortable. So far, I like Millikin. I think it's good."