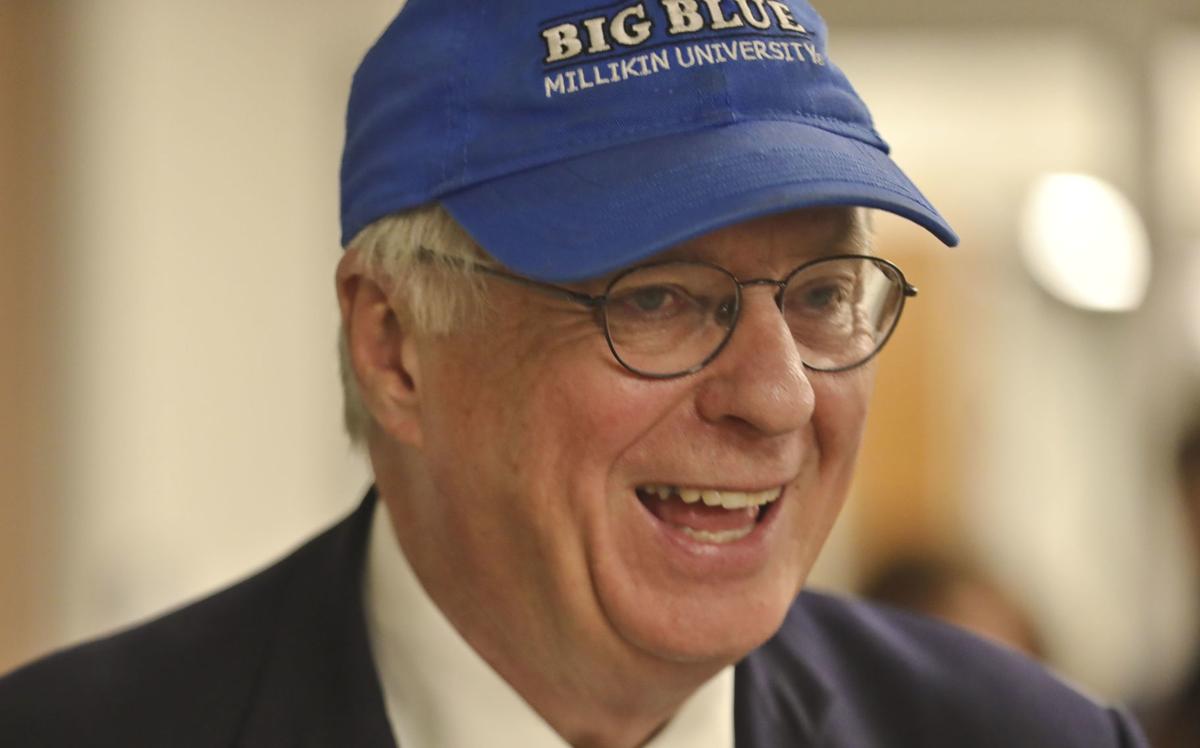 DECATUR — Kalli Farmer doesn't even have to see President Patrick White's distinctive blue ball cap in a crowd to know he's nearby.
"You know by his voice or his laugh," she said. "Or in a crowd, you can just see him. You just know right away because he's all over the place. He's hard to miss."
White, president of Millikin University since 2013, is known around campus for his approachability and tireless support of all things Millikin.
"He has great conversations with us," said Farmer, a Columbia native and No. 22 on the girl's softball team. "He comes to softball games, music and dance events, just supports the students and everything we do.
"The fact that he can do that is incredible. He works all day and still, you see him at all the events. He makes the students a priority and it's just awesome to see that in the president of a university."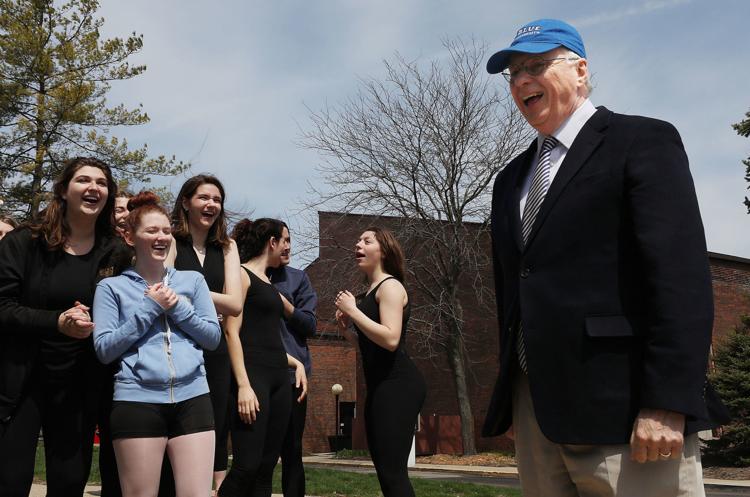 White's tenure as a Millikin man is coming to end, though. He announced in February that he will be stepping down in June 2020, giving the school a long time to prepare and search for its next leader. It will be a tall order. 
During his time at Millikin, White has overseen the Transform MU capital campaign, the opening of the University Commons, new turf on the football field, the completion of the Workman Family softball and baseball fields, the construction of the Center for Theatre and Dance set to open in 2020 and the renovation of the Westown Square property into the Exercise Science and Sports Pavilion.
"I would not be able to list every little thing," said Gina Bianchi, vice president of alumni and development. "We surpassed our goal and he was one of the reasons we were successful."
Students respect White, she said, and still feel comfortable enough to give him nicknames like "PW" or "P White." He knows many of them by name and by major — and he knows their stories.
"He's very much a people's president," Bianchi said. "He tries to be everywhere at everything and that's demanding on his time, but that's the way he likes it."
White is quick to point he's got plenty of time left.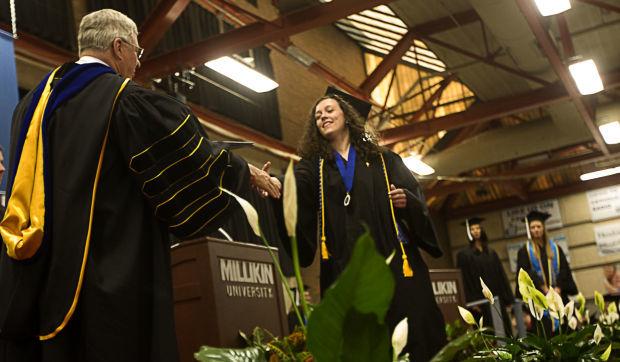 "I still have about 12 percent of my presidency to go," White said. "There's a lot of of work to get done even as we move into the search and transition process, we're continuing to work on raising funds for the Center for Theatre and Dance. We're beginning to raise money for our additional changes in athletics. We haven't completely announced that yet, because we need to get a groundswell of raising funds for locker rooms and a weight room for what we're calling Griswold Phase I. That'll be part of a multi-million-dollar renovation and re-do, rethinking of our indoor athletic facilities over the next couple of years, and that's very exciting."
'100% percent committed all the time'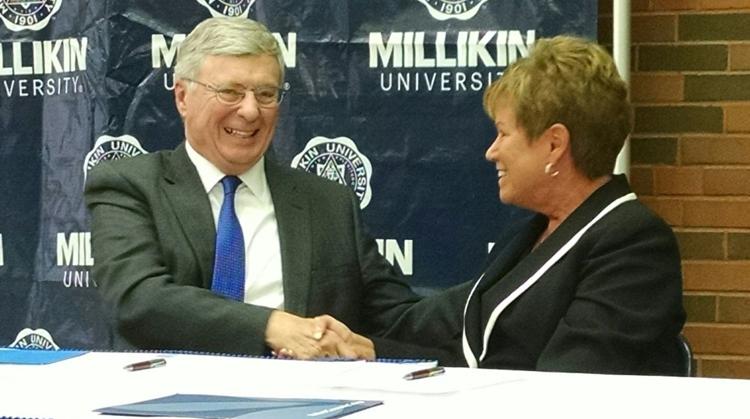 A large part of the job, White said, is raising money and it's also a large part of ensuring the ongoing health of the institution. It takes a lot of money to run a university, and while some comes from tuition, Millikin has a lot of students with financial need who receive scholarships and financial aid. That means donors are critical to the university's success. White visits alumni and friends of the university throughout the country to thank them for their support and to encourage continuing contributions.
But White doesn't want to take all the credit.
DECATUR — Pat White, the retiring president of Millikin University, will deliver the keynote address at the Herald & Review's Community Le…
"One of the things of which I'm most proud is, I like to point out, it's not just me," he said. "It's my leadership team, the cabinet, the faculty and staff, the board of trustees that helped Millikin get its momentum back and going again. Our students and our alums are excited about the future of Millikin, and our present, and what we're doing, and the key to that is the work that the faculty and staff have done to define and articulate and highlight our understanding of performance learning."
Performance learning — hands-on experiences in which students take what they've learned and put it into practice in real-world situations — is a key component of a Millikin education, White said, and the idea goes all the way back to founder James Millikin.
"We have a greater sense of Millikin's confidence, in a tough environment for higher education," White said. "We have the confidence that we are moving forward with great momentum. Our best days are ahead of us. We have enormous opportunities and we're not just 'blue-skying' these, but actually accomplishing change and growth on our campus when many other institutions are struggling to think about who they are and what they should be. Millikin is moving forward."
Provost Jeff Aper describes White as "100% committed all the time." He's a tireless advocate for Millikin, Aper said.
"He's a guy who really, really wants, every day, to figure out how to take a forward step to make some good thing happen," Aper said. "He keeps his eye on the small things, like being sure he is directly responsive to students one on one and in large groups, to details like thinking about real big items like putting together planning and funding for project like the (University) Commons or the Center for Theatre and Dance. Those are huge projects, but he gives the same energy and attention to all things that matter, and that's why he's a remarkable guy as president."
As the university begins the search for a successor, Aper said, there are several issues to consider.
"One is financial," he said. "The cost of providing a high quality education seems to just continue to rise. We try to control costs, but our costs continue to rise. For many students and families, how to pay for all of this is very difficult. The state went through a period of uncertainty with a long budget impasse and that made people uncertain whether state support was reliable. It made a lot of people nervous."
That problem seems to be solved now, he said, or at least much improved. Another issue is that some students are delaying college or taking different paths because there are so many other options. At Millikin, as at most universities, the number of women far exceeds the number of men. Of this year's incoming honors students, about two-thirds are women.
"Well over half of the entering class is women and that's surprising," Aper said. "It does make me wonder what's going on in our system generally that is maybe somehow contributing to young men deciding college is not something they're ready to do, want to do, or care to do."
'He bleeds blue' 
Aper himself considered pursuing a career as a plumber instead of in higher education after he worked in the field as an undergraduate.
While Board of Trustees President Randy Blackburn can't discuss criteria that might be used to search for a successor to White, he spoke in glowing terms of White's leadership.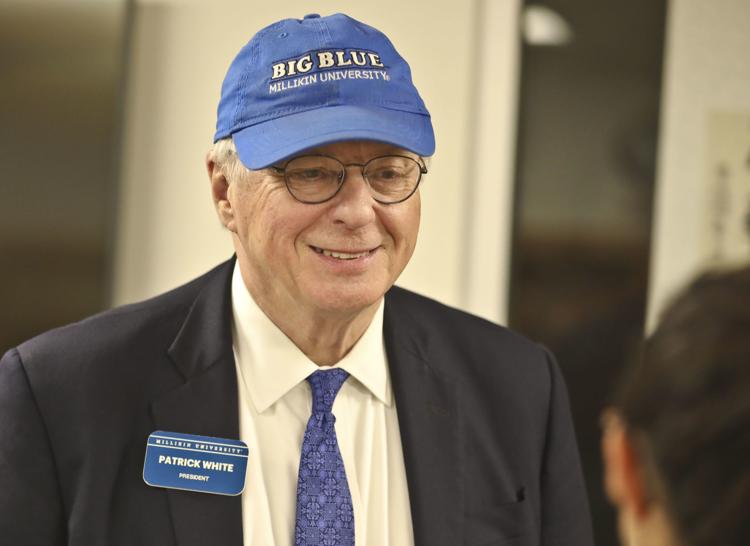 "I think the most important thing is, he has a message of growth and growing the university in all aspects," Blackburn said. "He really supports the mission and the vision of the university and really comes down to Millikin is a national leader in performance learning, student engagement, preparing students for professional success, and a personal life of meaning and value."
White's chief of staff, Marilyn Davis, has been on the Millikin campus for 29 years and marvels at how quickly he became part of the fabric of the institution, when he had no prior connection to it.
"He will sometimes just leave the office and go walking around to see who he runs into," she said. "He introduces himself, asks who they are and what they are studying. He makes that effort all the time.
"I can't tell you how many times he's walked out without his (Millikin) cap and he'll text 'bring my cap' because it's very important to him. He's Millikin. He bleeds blue."
---
PHOTOS: Millikin University President Patrick White
Contact Valerie Wells at (217) 421-7982. Follow her on Twitter: @modgirlreporter
Be the first to know
Get local news delivered to your inbox!