DECATUR – The lobby area of Cancer Care Specialists of Illinois features two towers displaying ceramic tiles made by patients.
Some feature Bible verses; others, inspirational messages. A few have images of hobbies and aspirations. All are a way for people being treated for cancer to express their feelings, frustrations, fears and hopes.
And that's what art therapy is all about.
"For people who have trouble expressing themselves through words, they can learn to do it through the arts," said Deysha Barber, 22, of Danville, who is a junior art therapy major at Millikin University and volunteers at the Cancer Care center. "Clay, painting, drawing, anything that is artistic. Some people like to do it with photography."
Eliska Kostelny, 23, of Elgin, also a junior at Millikin, said she was always interested in art, even as a small child, but as she grew, she found a second passion for helping people. When she discovered that she could combine the two interests into a career in art therapy, she knew she'd found her calling.
Art therapy is adaptable for many different needs. Patients with serious illness is only one.
"I think we're both open to moving from place to place, depending on where we're needed," Kostelny said. "You could work with PTSD victims, you could work with children with learning disabilities, there's a very wide range."
Millikin's emphasis on performance learning gets students out into the community to put their learning into hands-on practice, and the two young women are doing that at the center.
"What we do is, we go to the waiting room, the infusion room and the lobby," Barber said. "We do mostly collages, so we ask the patients how are they feeling today, how do they feel about themselves and things like that."
While there is a room devoted to art therapy at the center, the students have been going to the patients instead. They create a different project each week and offer the opportunity to participate to anyone who wants to. The projects not only provide a creative outlet, they also provide a way to pass the time during lengthy waits or treatments.
To work in the field, said Kathleen Buday, assistant professor of art therapy at Millikin, a master's degree is required. Students study both art and psychology.
"A lot of the patients say (art therapy) is a good distraction, especially in the infusion room," Kostelny said. "They're just sitting there doing the treatment. Sometimes their family is with them and we also get their family involved in the prospect and that enhances the communication aspect of it."
Both expect to return to the center for further internships in the fall, and say they could see themselves working in such a facility once they're ready to begin their careers.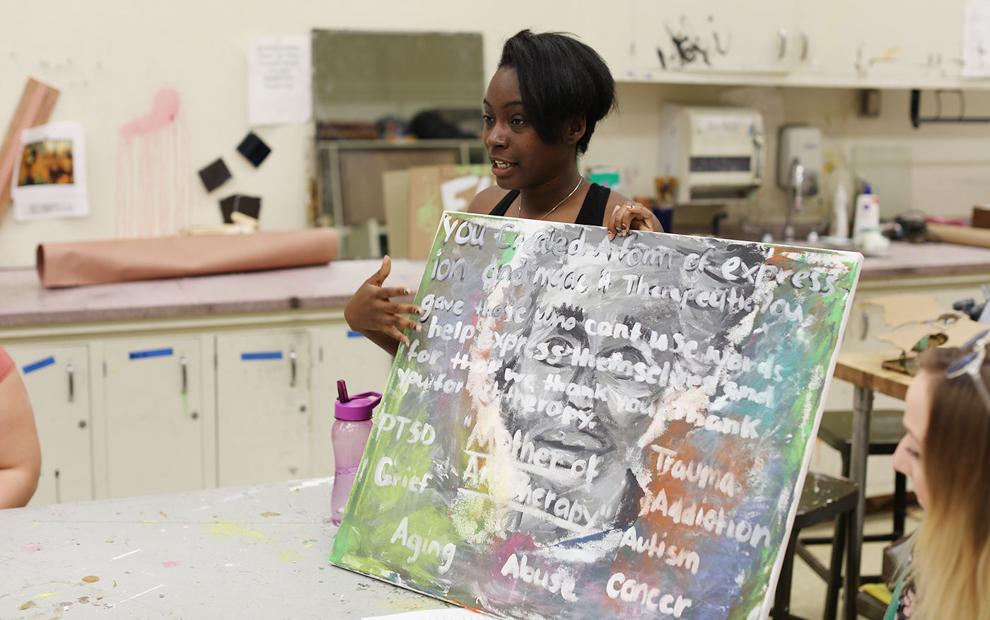 Barber said she enjoys offering projects that allow the patients to make things they can give to family and friends. One patient wanted to take her project home to finish with her grandchildren as a way to spend quality time with them.
"That's great to see," she said.
One project they've done recently is the What Are You Grateful For? Tree, a construction paper tree with leaves contributed by various patients, and that, Kostelny said, gave them a chance to think about the people who support them and help them get through a difficult experience.
Part of their studies includes using art as a calming activity for themselves, too, she added, because it helps them relate to the people they work with and see what it's like on the other side.